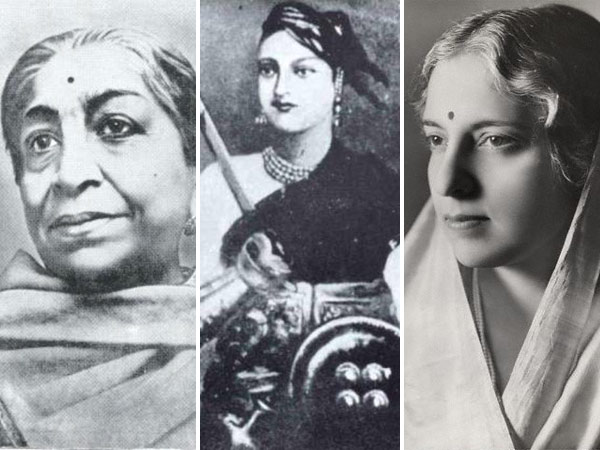 Women Freedom Fighters of India
Introduction
India achieved its freedom from the British Raj on 15th of August 1947. The road to freedom however, was a long and arduous one which saw a lot of loss of life. There are many men and women from different regions of British-occupied India who participated in the freedom struggle. While a larger number of male freedom fighters are more widely known, there are only a few female freedom fighters who hold cult status. Examining the lives of these women from historical accounts as well as artwork with these great women as their muse, brings to light certain personal, cultural and geographical distinctions in their dressing styles.
Rani of Jhansi Laxmibai
Rani or Queen Laxmibai was the leader of the Maratha-ruled state of Jhansi, after the death of her husband Raja Gangadhar Rao. A fearless warrior, her attire usually consisted of a saree draped in the Kashta style, along with a full-sleeved blouse. The Kashta drape allowed her to ride her horse without worrying about managing her clothes. Her battle armor included a sword, shield and protection below her elbows. Her headscarf was as much a functional accessory as it was a statement of bravery and a fighting spirit. It kept her hair out of her eyes during battle and later on, became a symbol of resistance for men and women alike. In all literary and artistic depictions, she can be seen wearing minimal accessories, i.e. a two or three string neck piece along with jhumkis or dangling earrings, in gold. She is also seen wearing a cummerbund in either metal or cloth, which served as much as a placeholder for her sword as it did a band holding her attire together while she engaged in vigorous combat.
(Also Read: Brinda Karat – One Of India's Strongest Politicians)
Begum Hazrat Mahal
Known as the Begum of Awadh, she too was a key leader in the Revolt of 1857. Hailing from the region of Awadh (present day Lucknow in Uttar Pradesh), her attire was quintessentially Awadhi. Right from royal hues (as seen in artwork depictions) and rich materials used in her attire i.e. gauzy odhani and heavy brocades for the rest of the ensemble, to intricate embroidery all over, her appearance declares regalia and splendor. Awadhi royalty and nobility were particularly fond of precious-stone jewelry and Begum Hazrat Mahal was no exception. Her portraits depict her as being decked in elaborate ear cuffs, dangling earrings, multiple neck pieces and a maang tikka.
Annie Besant
Although an Englishwoman, Annie Besant firmly believed in India's right to rule its people according to its own laws. Hence, one can see Victorian trends reflected in her personal style. Right from the ruffled collar, cuffs and lapel to the slightly coiffed hair, Annie Besant's personal style remained largely British, despite her personal affection for India. Pictorial depictions of Besant echo English fashion, as layering was a huge trend at that point of time.
(Also Read: Barkha Dutt- The Face of Indian Media)
Madam Bhikaiji Cama
A Parsi social worker, Madam Bhikaji Cama was an activist for many causes; however, she was most well-known for contribution to the Indian freedom struggle. Her cultural background can be best seen in her saree draping style. Though the sarees themselves were largely plain, the draping style was known as the seedha palla drape. In this style, the pallu is pulled around the back, draped over the head and left loose at the front. She wore absolutely minimal to no accessories, at any given point in time (as seen in her pictures).
Kamala Nehru
Wife of Jawaharlal Nehru, Kamala Nehru is known for her stellar efforts in organizing women's groups and aggregating their efforts towards the freedom struggle. Usually seen in a cotton full sleeves blouse, a plain saree and bindi, her style statement was more towards the clean, efficient and subtle side of the spectrum. Born in New Delhi and wife of one of the most powerful politicians of the time, her attire was well-suited to the political-atmosphere of the country during the early 1900s. Together with Pandit Jawaharlal Nehru, who was also a simply but smartly dressed man, the duo represented power in simplicity and sophistication.
(Also Read: Indira Gandhi- Woman of the Millennium)
References
Categories: Popular Faces