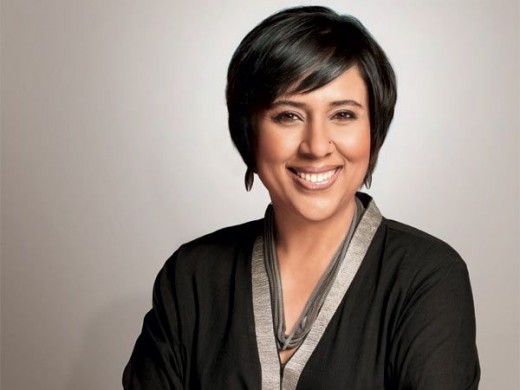 Barkha Dutt
"This is Barkha Dutt reporting live from the battlefront". This is a line which not many can forget if they remember the Kargil war. That was the defining moment when Barkha Dutt became a household name across India. Known for her gutsy approach, she has been associated with New Delhi Television through her career. Her energetic approach and enthusiasm towards covering the developments in highly perilous situations have earned her a cult following in India. Barkha has been known for her simplistic approach towards fashion. Nevertheless her overall style of attire has been appreciated and especially ladies in journalism tend to mimic her with their clothes and accessories.
Background
Barkha was born in December 1971 in Delhi. Her journalistic inclination received an early impetus through her mother – Prabha Dutt who was a journalist.
She completed her graduation with a degree in English literature from St. Stephen's College in New Delhi. Barkha followed it up with a Master's degree in Mass Communications from Jamia Milia Islamia Mass Communication Research Center in New Delhi. Later on, she earned a Master's degree in journalism from the Graduate School of Journalism at Columbia University.
She started her journalistic career with New Delhi Television (NDTV) in 1991 and has remained with the firm for more than 20 years now. She rose through the ranks with her gutsy coverage of dangerous assignments. The defining moment in her career came with her coverage at the battlefront of the Kargil war in 1999. Specifically, it was her interview with Captain Vikram Batra which earned her accolades from all quarters. Today she heads the English News section at NDTV.
Her talk show – We the people, is a highly awarded show in the Indian Television circuit.
Barkha, personally, has won numerous awards and citations which include an award for Journalist of the Year from the Commonwealth Broadcasting Association, the Indian News Broadcasting award for the Most Intelligent News Show Host, the Best TV News Anchor award for her show `We the people'. Her most impressive achievement was when she was awarded the civilian honor of Padma Shri by the Indian Government for her coverage of the Indian Tsunami.
Barkha Dutt has worked very hard at achieving her present status today as one of the most iconic faces in journalism.
Style
Barkha Dutt's style statement has, for the most part, been simplistic. Her choice of clothing is either a  full sleeve kurtis teamed with denim jeans or trousers and kurtas with churidaar or salwars. Sometimes, she is seen sporting a light jacket in contrasting colors with a kurta and a pair of jeans. Her fabric of preference is cotton and all vibrant kurtas with minimal decorations or embroidery. It is evident that she dresses for comfort and is loyal to Indian ethnic wear.
Barkha has been for a while wearing kurtas in solid colors with a paneling of zari work on her kurta collar and sleeves. The cut of the kurta is simple, though on occasions the kurta kas been cut in the style of a caftan (a kind of tunic). The rare occasions where she has worn silks have been in bright single colors with fine print and minimum embellishment.  Lately she has worn cotton or silk kurtas with floral patterns on it or a silk kurta in a solid color with a printed dupatta. The style of draping her odhni or dupatta is around her shoulders with both the ends in front, or one portion of her dupatta looped over her left shoulder and the other end in the front. This is a style that has been imitated in Hindi films and television serials for depicting journalists. Barkha's large bindi on her forehead has been her personal styling.
Her choice of accessories would lead one to believe that the retailers at Janpath, Delhi would be one happy lot as they are famous for selling chunky jewelry and it looks apparent that Barkha loves traditional accessories. She sports hooped earrings and a lot of danglers too. Chokers are a favorite as neck pieces.  Barkha wears a lot of tasteful imitation jewelry and doesn't seem hung up on wearing heavy ornaments.
With a hectic lifestyle Barkha has a low maintenance hairstyle which has alternated between stylised bob to a blunt or a short pageboy cut.
Barkha has been seen in trousers and cotton shirts, sometimes with a jacket for her outdoor news coverages.
Of late she has been spotted on occasions, sporting light woolen shawls and sometimes makes an appearance in Nehru suits at formal functions.
She has inspired ethnic styling, especially amongst working ladies, which is a blend of simplicity, comfort, and a chic look.
Given the nature of the journalistic profession, Barkha seems to prefer cotton wear which is basically an all season fabric. The silks kurtas too drape easily and are essential for prestigious events.
Interesting Facts and Comparisons
Barkha Dutt has inspired characters in Hindi movies which are modeled around her appearance and personality.
In Lakshya, Preity Zinta and in No One Killed Jessica, Rani Mukherjee played journalists who had more than enough shades of Barkha Dutt's style and attitude.
The Hindi film 'Satyagraha' by renowned filmmaker Prakash Jha, has a popular actress who emulates Barkha Dutt in the forthcoming movie as a journalist.
References
Categories: Fashion Cults, Popular Faces