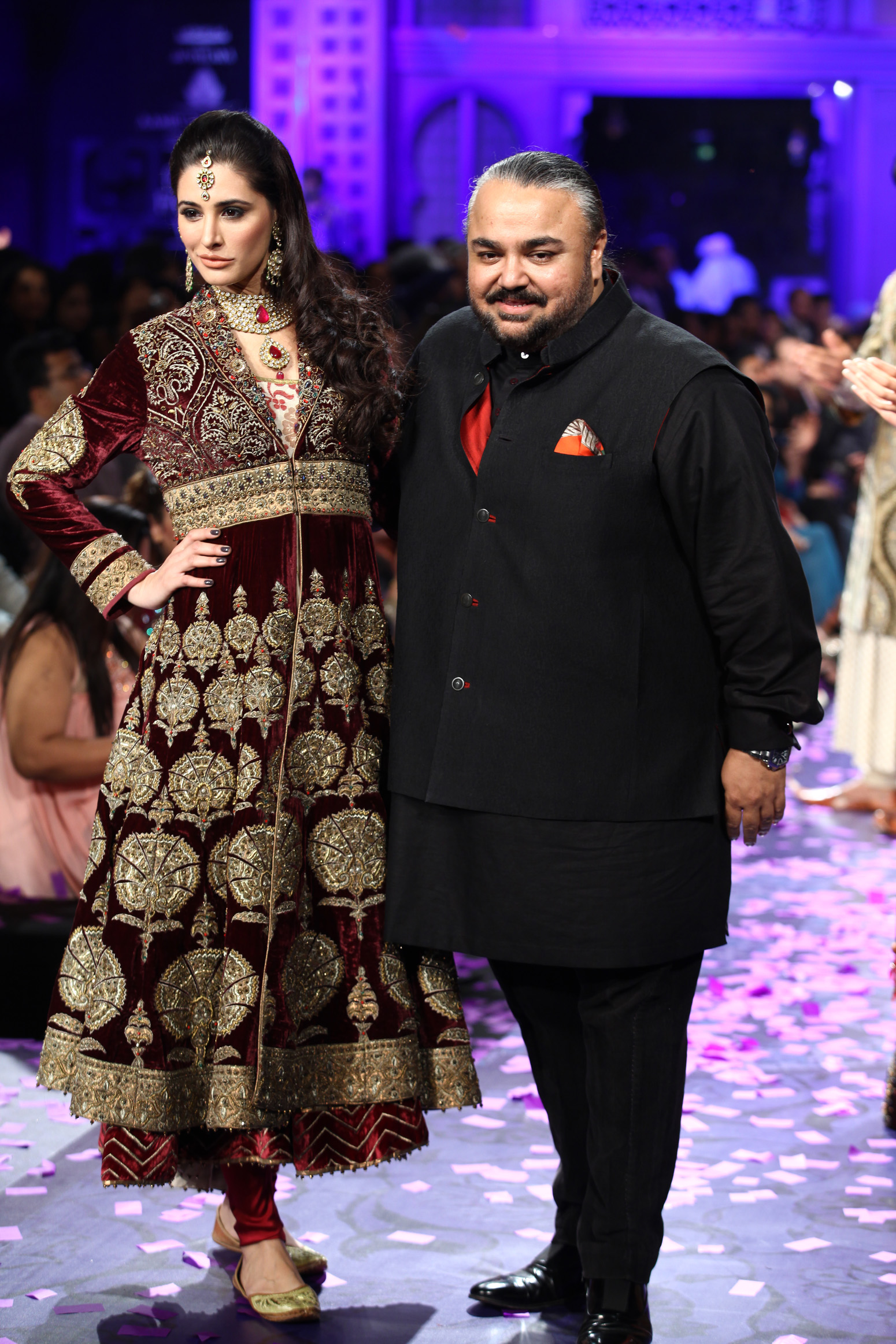 JJ Valaya
JJ Valaya was born on the 8th of October, 1967 and is one of the most popular fashion couturier and designer from India. He is often called the 'Monarch of Indian Fashion' due to his distinctive fashion trends that exude royalty, opulence and pre-independence charm which has been twisted with a touch of contemporary sensibilities to make it unique. JJ Valaya and his brother TJ Singh founded the House of Wallya. This maestro designer has been working on the fashion scene for two decades designing haute couture for men and women with his forte in evening and bridal collections, apart from ready-to-wear and daywear attire. JJ Valaya is the first global brand ambassador of Swarovski, a leader in the Crystal business, apart from being a founding member of FDCI (Fashion Design Council of India).
Childhood and Career
JJ Vallaya has reached the pinnacle of success with his flawless designs which include the true essence of India that can be seen in the exquisite hand embroidery, the rich fabrics and Indian heritage motifs which have taken the country and the world by storm. JJ Valaya was born in Jodhpur, Rajasthan and he has always been inclined towards fine arts since then. Later, he graduated from the National Institute of Fashion Technology and became the first fashion designer to conduct a solo show in India, which was the first feather in his cap. His innovative and unique style won him many accolades and thereafter his personal fashion label 'JJ Valaya' was officially launched.
JJ Valaya later took this as a step ahead and founded The House of Valaya along with his brother TJ Singh in 1992 and together they realized their vision and turned it into a luxury brand of international appeal. By 2003, he was retailing fashion and lifestyle merchandise under the brands – JJ Valaya, Valaya Home-Life, and Studio Valaya apart from launching his new prêt line.
He is admired for his knack of mixing clothes and putting together two different things to produce something entirely extravagant and surreal. This fashion czar has not only achieved great heights in terms of his clothes, but he has actually been the real trendsetter in the Indian fashion industry. This designer's headquarters are located over a sprawling area of 40 thousand square feet in Delhi and he also has 250 craftsmen and embroiderers who work entirely for him.
The Style
JJ Valaya has a very distinctive style which sets him apart from his contemporaries. His unique blending of traditional with modern and a seamless fusion of these two diverse styles is what has made him acclaimed both nationally and internationally. This trendsetter infuses his garments with exotic styles, vibrant and bold colors, classy silhouettes and authentic embroidery which adds a 'timeless' quality to his clothes and makes them a work of art.
The House of Valaya, his very own fashion boutique, offers a wide range of luxury merchandise ranging from furniture to shoes to cuisine which is the first of its kind in India.
Making a Style Statement
JJ Valaya has a style that is based on innovation in terms of elegance, quality, and classiness, which is everlasting and permanent. He is firmly rooted to the past and therefore his inspirations are derived from the royalty of Rajasthan, but he cleverly metamorphoses it with an element from this era to create something never seen before. He enjoys opulence, grandeur and a larger than life element in his couture and has successfully showcased his collections at fashions shows in India and abroad- such as Hong Kong, Dubai, Singapore, London, New York, Paris and Johannesburg.
JJ Valaya's creations have been donned by many GCC royals as well as celebrities such as Kareena Kapoor, Hrithik Roshan, Cate Blanchett and Joseph Fiennes.
ALIKA, Valaya's collection in 2010 was presented in Dubai at various events and won a lot of appreciation. Valaya's collection always relates a story and at that time he expressed how the female courtesans and musicians in the royal courts of India used to entice the princes with their craft. ALIKA showcased Anarkali-churidars, kaftans, sarees and jalabiyas. Through this collection came the signature Alika Jacket.
In 2011, TASVEER which was Valaya's Winter/Festive collection at the Lakme Fashion Week got a lot of acclaims as he chose to combine fashion with photography by exhibited his journey through colors starting with black and white.
In 2012, Valaya displayed his collection AZRAK (meaning 'rare and common') at the Wills India Fashion Week. The collection again had a historical element as it was inspired by the Ottoman Empire of Turkey which was juxtaposed with Indian and Western silhouettes and motifs. The showstopper was the popular actress Kangana Ranaut. This collection gave birth to another signature style, the AZRAK jacket.
In 2012, JJ Valaya launched his Salwar Kameez collection at the Lawn 2012 Collection by Meena Bazar with vibrant clothes and prints. He also initiated the popular 'Diasun' pattern that resembles two inverted Vs and the sun motif.
The Trendsetter
The signature of JJ Valaya's style is essentially the genius in his fusion of contemporary couture with traditional crafts to create a novel handiwork that is beyond compare. He has essentially redefined Indian crafts and given them a new purpose by incorporating them into the cosmopolitan niche market and helping them survive the effects of globalization. JJ Valaya has always wowed his critics by producing groundbreaking innovative styles that trace back to the pre-independence grandeur of Indian royalty. In spite being a trendsetter, JJ Valaya firmly believes that there is no such thing like trends.
References
Categories: Fashion Cults, Fashion Designers