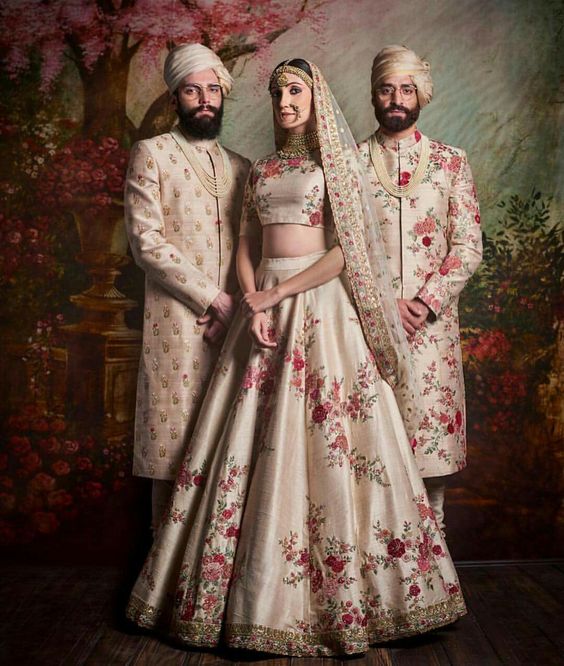 Sabyasachi Mukherjee
When one thinks Sabyasachi, one thinks saree, and that is how closely the two are connected and have been for several years in Indian fashion. What has reshaped and revamped traditional Indian outfits has been Sabyasachi's creative vision which has soared to great heights while staying rooted to all the inherent glamor and tradition that India has to offer in the realm of fashion. Sabyasachi's designs are the designs of the past, present, and the future, and that's what makes him one of the leading contemporary Indian designers.
Origin and History
Sabyasachi Mukherjee was born on 23rd February 1974 to a middle-class Bengali family in Kolkata. His mother worked in a government supported Art College and had a keen interest towards handicrafts. When Sabyasachi was 15 years old, his father lost his job, and paying for education was a tough road. When he expressed his interest in designing clothes, his parents could not fathom that and refused to pay for his tuition, since they wanted him to be an engineer. Sabyasachi then sold all his books and paid for his own education while he pursued a degree at one of India's most prestigious fashion schools, NIFT.
Once he completed his education with numerous awards as a student, he opened up his own workshop and a career that today marks a milestone in Indian fashion began.
Style and Design
In one of his interview's Sabyasachi described his style as 'personalized imperfection of the human hand'. He has drawn most of his ideas from his surroundings and his childhood. Kolkata's scenic backdrops and imprints that have left a never changing impact on his mind is what comes through beautifully in all his creations. Traditional and very 'Indian' is his style and he makes the most of it.  Gypsies, deserts, antique use of fabrics, textiles, and embroideries get beautifully woven into each sari, lehenga or salwar kameez, which are his areas of expertise.
What gives his designs a twist is his unique blend of colors and fabrics. One may never think of putting 4 different shades in four different sections of a sari with different designs, but when Sabyasachi comes out with the final product, one gets compelled to believe that it is possible and achievable. Fusion of different patchwork designs on vibrant colors is his trademark.
Vintage and old world Indian charm is extremely apparent through all the motifs and techniques used. He describes it as "International styling with an Indian soul. While the whole fashion industry has taken a plunge in modern day designs and techniques, Sabyasachi's designs stay completely rooted in what India really is. He also regards international artists such as Monet and Henry Matisse as sources of inspiration.
Some of his popular trends include Bandhani work, gotta work, block printing, and hand dyeing.
Present Day Scenario and Global Appeal
There isn't a single Bollywood actress who has not worn a Sabyasachi. From Aishwarya Rai, Vidya Balan, Sri Devi, Rani Mukherjee, Deepika Padukone, Bipasha Basu to the timeless beauty Hema Malini, they have all donned a Sabyasachi sari or salwar kurta.
Other than dressing the glamorous Bollywood divas, Sabyasachi has also designed costumes for several Hindi movies like Guzaarish, Babul, Raavan, Black, and Laaga Chunari Mein Daag. Several of his designs have also been showcased on international platforms such as New York Fashion week, Milan Fashion week, and Miami fashion week.
Even in the recent Cannes film festival held in Paris, popular Bollywood actress Vidya Balan wore only Sabyasachi designs in the form of either sari's or lehengas.
Some of the international actresses like Reese Witherspoon, Rene Zelleweger have greatly supported his collections.
Chronicles of the future Foretold
Other than designing fabulous looking saris, suits, and lehengas, Sabyasachi has also taken great initiatives in reviving certain embroidery types and textiles in India. He started a project by the name 'Save the Saree', where he produces hand woven saris which are made on a nonprofit basis, and are priced between 2000 to 4000. The entire remuneration earned goes to the weavers living in Murshidabad. He has also greatly revived the use of Khadi in the world of textiles and fabrics.
Interesting Facts
–    Sabyasachi's nickname is Pepsi.
–    Sabyasachi loves food and wishes to be a food writer or host a show based on different cuisines some day.
–    He is the youngest board member of the National Museum of Indian cinema.
–    He has recently started a collection of kid's wear as well known as 'Chota Sabhya'.
–    All or most of his creations have a unique fusion of different geometrical patterns or colors.
References
Categories: Fashion Cults, Fashion Designers