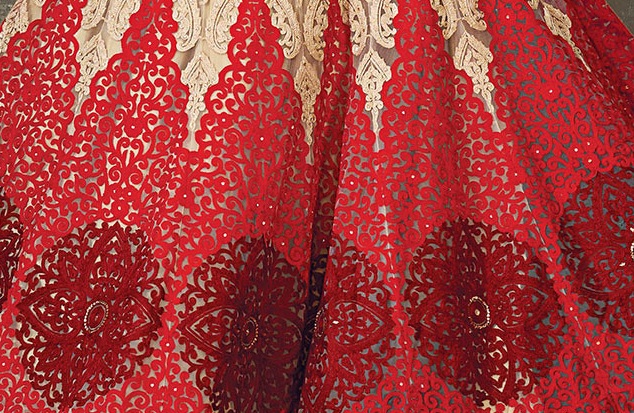 Dori Work
Threading itself into the world of name and recognition, Dori work known for its unique essence is referred to as one of the spectacular kind of Indian embroidered artwork which implemented through a strong and powerful cord or thread. Zardozi stitches and couching stitch-works are taken under the wings of Dori work, accompanied with multi-colored and finest quality of threads. Basically these threads are used to enhance the designs and motifs on the fabric, by innovatively and creatively crafting it with the latest designs.
Origin and History
The original existence of Dori work digs itself centuries back which was historically stated to be the Cro-Magnon Era. As per the archaeological findings, there were many fabric discoveries which contained a 'stitched work' essence. At the same these fabrics were also studded with precious stones and gems of different colors and kind that were creatively stitched to the fabric, giving the attire a royal, majestic and a splendid look. Special types of threads, yarns and embroidery needles were put to use that produced this fine outcome produced by this artwork.
Present Day Scenario
In today's day and age, many professional and trendiest of designers have taken up the task of transforming the Dori work on fabrics with a difference. Embroidery machines are being put to work, to enhance the designs and the look of the fabric. Catchy Dori work designs are being implemented on the outfits, in order to be way ahead in the competitive fashion league of today. Crediting to the advancement in technology, Dori embroidery has taken to the fast track route, which has enhanced and improved this artwork in heaps and bounds.
Sources of Inspiration
In this type of artwork, a galore of colored threads, more specifically metallic threads are put to use with which motifs and designs are delicately outlined especially in the case of couching.
Faces behind the fabric
Traditionally this kind of artwork attracted mainly the royal inmates of the countries. Especially the Mughals and the royal emperors patronized this kind of artwork, as they preferred these embroideries for their royal robes and costumes, more so because these fabrics not only had this artwork innovatively stitched, but also had gems and stones studded with the help of Dori embroidery. These embroideries basically denoted the class of the society which ranked the society and its people accordingly.
Varieties
Metallic rich color threads, as well as threads in gold, copper, silver and many more of such shimmering colors, basically defined the slices of this artwork. These threads were used to make the designs and motifs grab more attention of the onlookers and create a mesmerizing effect of the fabric altogether.
Innovations
Tunics, dori embroidery salwar kameez, kurtis are being witnessed with this artwork, besides saris and other traditional garments. At the same time dori work in these advanced times can now be found on caps, blankets, bags, shoes, purses, dress shirts, etc. With more and more trends hitting the fashion industry, sequins, pearls and different other semi precious stones are being implemented on this artwork, giving the entire feel and look a richer essence.
Suitability
Bridal wear dori embroidery lehenga, either with a traditional fall or a fishtail tapering fall, get enhanced and beautified with Dori artwork. Besides, lehenga blouses with a full neck cut, also gets complimented with delicately crafted Dori work.
Maintenance
Light hand washes and dry cleaning washes during the initial rounds of cleaning is generally prescribed. Gentle ironing helps in maintaining and retaining the wellness of the artwork.
Global Wearability
Dori work has gained a lot of international scope since the past few decades. More and more people abroad have begun to go in for garments containing this artwork, as a consistent feeling of all year comfort, convenience, elegance and beauty is experienced through this fabric.
Accessorizing
Keeping in mind the bridal attributes of this artwork, gold and diamond jewelry is considered to be the most suitable option of accessories which can go well with the fabric for any kinds of occasions, rituals, ceremonies and celebrations. Be it traditional, formal or even informal gatherings.
Chronicles of the future Foretold
With the growing scope of this artwork, even the middle east countries have found a sense of attraction towards it, as this work has not only uplifted the look of the garments, but also of different kinds of handloom artifacts as well.
Interesting Facts and Comparisons
Other kinds of embroidery works like phulkari, chikan, and mirror have always been in the competition league with this artwork. However the intricate designs and motifs outlined by this artwork, makes this embroidery work stand apart from the rest.
A dori machine interestingly bears the capability of weaving 3 chain stitches at one go which can mold into moss or drop stitch without the need to unthread the machine.
Categories: Motifs & Embroideries