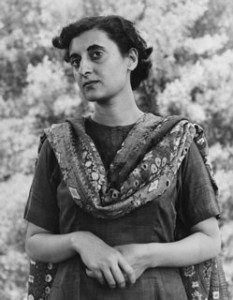 Indira Gandhi
Surviving in a period when India was still a Man's world, Indira Gandhi stood tall. Her brilliance and prowess made her the leader that India truly misses today. No wonder people still call her the "Woman of the Millenium". She was indeed a woman who can be called strong and soft at the same time. A radiant woman, a great leader and an epitome of kindness and generosity, Indira Gandhi is what the modern world calls a balanced woman. 
Origin & History
Born in the month of November in 1917 to Jawaharlal Nehru, Indira Gandhi grew up with her mother in Anand Bhavan. Good education and an excellent command over life made her a supreme leader. She stuck as the prime minister of India for a period of 15 years making her the longest serving prime minister in the history of India. Her death was indeed a shock to one and all. Simplicity and humility are the two words that come to one's mind when we think of Indira Gandhi's style statement. She never wore loud colors or complicated designs. Her dressing sense was true to her personality, endearing yet composed.
Style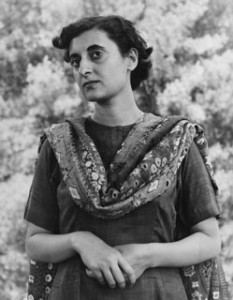 She wore the simplest sarees that marked the touch of Indian National Congress. One would not see her jewelled in gold ever. She wore simple jewellery, yet there was something remarkable about her style. The elegance with which she carried herself made her a style icon among people of that era.
What Indira Gandhi made popular was the way she wore her sarees. For the most part, she covered her head with the pallu, which is now a leading trend for most female politicians in India. At other times, she draped the pallu on one side of her shoulder, rather effortlessly which also became an inherent way in which she carried the saree. She always wore hand woven sarees since she had been brought up with Gandhian ideologies and beliefs. She represented rural India through the various handloom sarees and the patterns were never over the top or pompous in style.
Occasion Dressing
For events that involved grandeur, Indira Gandhi did opt for pure Silk sarees, which were understated and chic. One of her favorite kinds was the Silk Kanchipuram saree from Tamil Nadu. She always wore a Rudraksh beaded necklace around her neck at all times, which was another distinct trademark in terms of her style.
Global Influence
When we speak of her style and persona, we always think of her modern day face which is represented though her daughter in law, Sonia Gandhi, who has till date carried on the same dressing sense and has stuck to the roots established by Indira Gandhi herself. Simple Cotton and Khadi outfits have always been in vogue and Indira Gandhi has been the main face to influence hand woven textiles and in particular sarees. Indian women at large follow in Indira Gandhi's footsteps when they seek simple yet elegant forms of clothing.
Chronicles of the future Foretold
What has greatly flourished and continues to do so is the rising success of the Cottage industry in India. In spite of technology setting new and expansive grounds in the world of fashion and style, handmade products have not lost their weighty space and have in fact prospered to such an extent that women across the Indian subcontinent opt for the beautiful hand woven sarees and suits since that has more value. Indira Gandhi's love for the rural settings and for what truly represented India had marked a beginning for the success of various handloom fabrics and textiles that continue to reign the fashion industry in remarkable ways.
Interesting Facts and Comparisons
She was jailed for illegal practices during the election campaign and made to resign in 1977.

She came back to power in 1980 and created a record of 15 years of ruling as a PM.

She was a skilled politician as said by many including foreign diplomats.

She rarely tolerated dissent of any sort and had an authoritarian streak associated with her.

When one thinks of this quintessential leader, the thick gray streak across her black hair always strikes a memory in one's thoughts since that was her distinct style.
Reference
Categories: Fashion Cults, Popular Faces