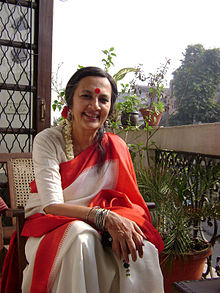 Brinda Karat
Brinda Karat is one of India's strongest female communist politicians. A true Bengali at heart, Brinda Karat is a fine example of the quintessential Indian woman who represents intellectual power with a refined sense of tradition. Her simple, yet bold approach towards Indian politics has always been a reflection in the way she carries out herself. Whether it's her taste in cotton sarees or ethnic designs in Indian jewelry, Brinda Karat has always been true to her roots and has exemplified the fact that a woman does not need too many embellishments in order to look graceful or elegant.
Childhood/Career growth
Born in Calcutta on 17th October, 1947, Brinda Karat spent her childhood amidst 4 siblings, one of whom is a famous journalist Radhika Roy, who is married to the founder and CEO of NDTV, Prannoy Roy. Schooled at  Welham girl's school in Dehradun, and graduation from the renowned Miranda College in Delhi University, Brinda didn't stop her learning and took up her Post graduation in London where she worked for the Air India office. She even campaigned against the mandatory rule implied on Air hostesses for wearing skirts. Ultimately, the Air India head office saw eye-to-eye with her and made the rule more flexible, which gave the liberty to the air hostesses to choose whether they wanted to wear skirt or sari.
After spending 4 years in London, Brinda Karat returned to India motivated to work for the people and the country. She started working for anti-war and anti-imperialist protests, and that started her political journey. Over the last couple of decades, Brinda Karat has been an active social and political leader and has driven many campaigns for the betterment of people, especially those who live in rural India. Apart from making a social and cultural change, she has also written the book 'Survival and Emancipation: Notes from Indian women's struggles.'
Style & Attire
Fierce, yet impressive political stance, Brinda reflects a striking image of elegance. Draped in a simple and crisp Cotton Sari, a large red bindi, and some oxidized silver jewelry that adorns her ears and hands, with quarter sleeve blouses gives her just the perfect Bong look!
Trendsetter
Brinda Karat's style of wearing saris may be simple and ordinary, but they possess a great deal of elegance and understated sophistication that have been an inspiration for many women across the country and past Indian borders as well.  Simple and basic Cotton saris have always been a trademark for Indian ethnic fashion, and with several innovative designs and techniques, the sari has become a fashion statement for women of all generations, cultures, and countries.
Global appeal
Brinda Karat is not only well-known in India, but in countries outside as well due to her ambitious political leadership, and the social changes she has brought about, especially for women in rural India. Whether it's her eloquence in speech, or whether it's her ability to carry off a Cotton sari in great panache and ease, Brinda Karat is a woman of substance who believes in the uncomplicated ideology of 'simple living and high thinking'. And this belief reflects in the way she dresses as well.
Personalization
Brinda Karat does not use heavy makeup or too many accessories to adorn her Cotton saris. Instead, she goes for chunky silver bangles, or small silver jhumkis (earrings). In addition to that, the large red bindi adds a traditional vibe to her overall appearance.
Categories: Fashion Cults, Popular Faces