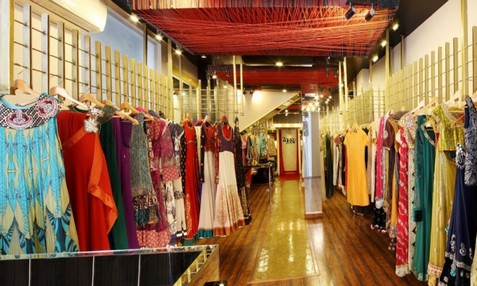 Hauz Khas Village
Introduction
Hauz Khas Village is a hangout spot in New Delhi with a traditional yet trendy vibe and a modern take on shopping, clubbing and dining. This however is the modern day Hauz Khas Village as the world knows it. It was initially a complex in the Mughal era that had one of the largest excavated water bodies in the city to cater to the needs of the people. The name of the area comes from its earliest function, i.e. 'Hauz' means 'water tank' and 'Khas' means 'royal'. Today, Hauz Khas Village is essentially a slightly more upscale bazaar attracting shoppers with its unique fashion options and upbeat party scene. It has a host of boutiques and high-end custom shops and a range of restaurants, night-clubs as well as cafes that have a splendid view of the lake or the fort. People from all over Delhi, Gurgaon, Noida and other areas of the NCR visit Hauz Khas Village for these two reasons alone. It surrounds the Hauz Khas Fort and the Hauz Khas Lake, which are two of the main attractions for those who love history, archaeology and bird watching.
History and Background
Even before the modern day urban village existed, Hauz Khas Complex (consisting of the forest and the 123 acre lake excavated to fulfill the needs of the city) was surrounded by a small inhabitation. It was then developed and essential infrastructure was made in the region by renowned builders, DLF, during the 1960s. The 80s saw the modernization of the area when fashion designers started to set up shop and designer boutiques here. Restaurants and cafes however joined in much later i.e. in the 1990s. In today's day Hauz Khas Village boasts of more than 50 restaurants, cafes, bars and pubs along with numerous designer stores.
(Also Read: Akbar The Great)
Variety in Fashion Stores
The specialty of Hauz Khas Village lies in its uncommon options for shopping. Since most stores are boutiques, one of a kind items are usually made available to the public. Moreover, they also offer the option to customize any clothing or jewelry item that one might need.
Bridal Trousseau
The National Institute of Fashion Technology (NIFT) in Delhi has produced many a young designer who has set up shop in Hauz Khas Village and is interested in creating the most beautiful bridal gown, lehenga, saree, cocktail dress, shoes and all other necessary items. Customized wedding items are readily created and sold at the Village which showcases an interesting mix of traditional needlework and prints with modern silhouettes. The uniqueness of the items is one of the main reasons for shopping for bridal wear at Hauz Khas Village. The same goes for groom's wear too.
Designer Garments
Whether a saree, a sherwani, a lehenga, a bespoke suit, a salwar kameez, Indo-Western wear for women or shirt and trousers, Hauz Khas Village offers it all but with a twist that attracts many purchasers. There is no one specialty in the range of designer garments that are up for grabs at the Village, although contemporary textiles and silhouettes are more popular among buyers who frequent this place. For instance, sheer textiles such as net, chiffon and georgette are more in demand than silk. Silhouettes in ethnic wear such as the empire-waist phenomenon i.e. the Anarkali salwar kameez, is very popular among young buyers.
Accessories
Handbags, designer shoes, junk jewelry, precious jewelry and all other forms of accessories are available for any who wish to sport uncommon yet becoming accessories.
(Also Read: Ethnic Footwear- Jutti, Mojari and Nagra)
Other Things To Do
Home Décor
Artsy home décor showrooms are a common feature in Hauz Khas Village. In keeping with the vibe of the area, the showrooms are also upscale and sell selective home décor items that are tasteful and uncommon.
Wining and Dining
There are many restaurants that have been operational for a few years and others that are continuously cropping up that offer sophisticated dining that is usually combined with a fabulous view of the Hauz Khas Complex. Hauz Khas Village is known for housing some of the more sophisticated yet reasonably priced restaurants.
Clubbing
Some of the most popular yet affordably priced clubs and pubs in Delhi are located at Hauz Khas Village. College goers as well as young professionals prefer to frequent clubs located at the Village due to its reputation as Delhi's most happening clubbing scene.
Special Events
Every year there are specially organized events that take place within Hauz Khas Village in order to attract greater footfall. These events are often related to popular culture so that it attracts a younger demographic. For instance, graffiti or wall art events that attract renowned artists from around the globe are organized once every couple of years.
Present Day Scenario
Hauz Khas Village is a paradise for art and nature lovers. The whole vibe of the bazaar is very Indian in terms of the narrow alleyways, hole-in-the-wall restaurants and prized antique stores tucked away in little corners. This deliberation in planning has resulted in an ever-increasing amount of footfall every year. In fact such is its popularity that tourists tend to frequent the place a lot. The ambiance and the décor of the restaurants, the authenticity and the traditionalist nature of apparel and memorabilia in the showrooms, the music in the clubs and pubs are all an intelligent mix of Indian and Western that attracts visitors and locals alike. In keeping with the increasing modernization of the younger working class, Hauz Khas Village has also revamped itself to become more modernized and yet retains an old-world charm to it.
(Also Read: Floor Length Anarkali Suit)
Facts and Trivia
The success of Hauz Khas Village has resulted in the setup of smaller global villages like Lado Sarai and Shahpur Jat Village.
Hauz Khas Village is currently the hot-spot for the top 3 affordable clubs in New Delhi.
The cuisine served in the restaurants at Hauz Khas Village is mostly Western with a touch of reinvented Indian food. This has resulted in acquainting the locals with a more global flavor.
Heritage Walks and Nature Walks are among the more traditional yet increasingly popular things to do at Hauz Khas Village.
References
Categories: Bazaars