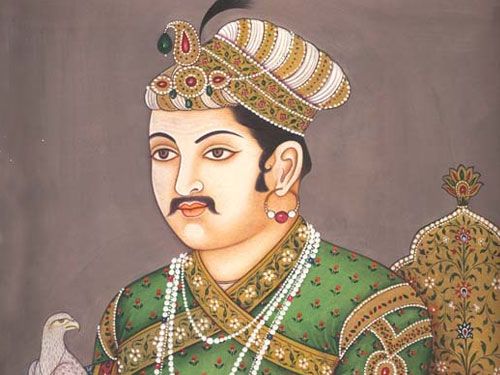 Akbar
Akbar the Great, as he was famously known, was the third Mughal emperor (The Great Mughal Emperor) and indisputably its most illustrious. He reigned from the year 1556 to 1605, and wielded great power and influence over the entire country. Under his rule, the Mughal Empire became more powerful, both politically and militarily. Akbar was a great patron of art and culture, and his court had several luminaries serving him.  He promulgated Hindu-Muslim unity and propagated a new religion Din-i-Ilahi. Akbar had a distinct sartorial style and his persona continues to inspire Indian Ethnic Fashion even today.
BACKGROUND
Origin and History
According to historical accounts, Akbar reigned from 1556 till the time he died, which was in the year 1605. Out of all the Mughal emperors, Akbar was perhaps the greatest in terms of his ruling strategies, leadership, and his fair and just approach towards people, which made him a favorite amongst the masses. He was very young when he was given the responsibility of being a king, which was right after the death of his father, Humayun.
The majestic aura that surrounded Akbar always worked like a spell on his subjects who he took great care of. He was a great general and under his sovereignty the Mughal Empire expanded far and wide. The economy was very stable since he instilled a cooperative manner amongst his people, and what made his ruling more commendable was his tolerance for those who were non-muslims. He was very fond of art and architecture and had an avid appreciation for paintings as well. His tolerance for other religions became even more apparent and appreciated when he established a marital alliance with a Hindu queen named Jodha Bai, from the Rajput dynasty in order to better the Hindu-Muslim relationship.
All in all, religious freedom and harmony among people flourished to great extent under Akbar's benefaction and he contributed to the Mughal dynasty triple the wealth and triple the success, which even his precursors could not achieve.
Style
In spite of being one of the greatest kings in India and having all the wealth and nobility, Akbar was a simple man, and was deeply inclined towards religion and philosophical matters. Akbar was fond of comfortable things and had an inclination towards shawls, especially a kind that was known as the 'Dorukha' shawl, which was a two sided or double faced shawl which if worn from any side would represent the same embroidery. These shawls were of Kashmiri creation and certain references have been made in an autobiography written by Akbar known as 'Ain-e-Akbari'. He had an extremely large collection of these shawls and was often seen wearing one.
Even though Akbar was simple in his thoughts and a man who did not indulge in pomp and show, his clothes of that era definitely marked a distinct style in the way they were designed. Akbar wore a small rounded turban on his head studded with precious stones which was a clear mark of his prestige and honourable persona, along with which he wore a long Kurta, on top of which he wore a jacket which resembled the modern day Sherwani.
According to certain historical artifacts found from that period, Akbar wore pearls around his neck and also as a waist band, with large pieces of emeralds adorning them. He also wore rings on his fingers which were extremely ornate and spectacular to look at, besides being heavy. All his clothes possessed intricate Zari or Kundan work which brought out his majesty's regal persona to the fore front.
Source Of inspiration and Global Appeal
Besides Akbar's personality and historical accounts which exhibited utmost grandiose, it was his style of clothing and the way in which he carried himself, which till date has a profound place in Indian fashion and heritage. Several movies and television shows have reminisced over the greatest Mughal ruler and his fascinating stories and style. Even children's cartoons have time and again portrayed the ruler's divine presence and what made him stand apart from the rest of the Mughal rulers.
One of Bollywood's most popular movies Jodhaa Akbar, directed by Ashutosh Gowariker, which came out in the year 2008 and starred two of the most popular actors from Indian cinema, Aishwarya Rai and Hrithik Roshan paid complete justice to the emperor's stately mannerisms and dress code. The authenticity of the movie made it one of Indian cinema's most epic cinematic experiences.
The extravagant Sherwani's with fine Zari embroidery and studded Kundan work has become exceedingly popular with the way bridegrooms dress for their weddings. Akbar's majestic style and royal appeal have made him a major source of inspiration even today for several designers across the globe, who love to play up the ornate and vintage style in their clothes and various designer collections.
Interesting Facts
Akbar was born in Sindh, which is now a part of Pakistan.
Akbar was only 13 when he became king.
India is now the home to several magnificent pieces of architecture which were built during his time such as Agra fort, Lahore palace, Fatehpur Sikri, Bulan Darwaza, and Allahabad fort.
He was very religious and devoted to Islam, but had great tolerance for non-Muslims which made all his dealings just and worthy of admiration and praise.
Birbal, who was one of his nobles helped Akbar in making wise decisions and was also known for his wittiness. There was a popular television series made based on these two called Akbar-Birbal.
References
Categories: Fashion Cults, Royalty