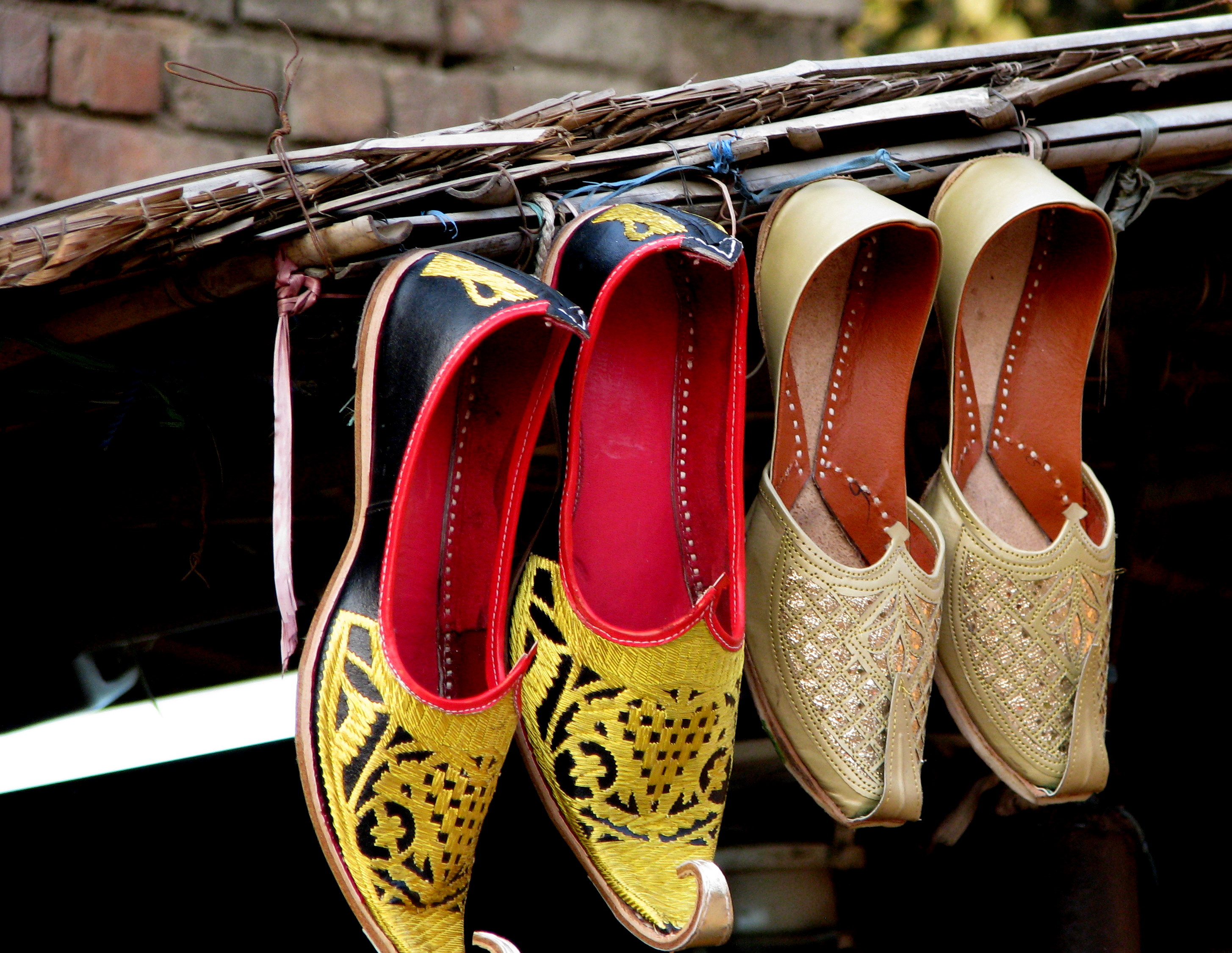 Jutti, Mojari & Nagra
"Jutti" (also spelled as Jhutti, Juthi, Juti) is an Urdu word for a shoe with a closed upper attached to a sole. Inherently Punjabi and typically Indian, the jutti, also known as 'mojari and 'nagra', is traditional footwear worn mostly in North India. Originally made out of pure leather and have exquisite embroidery and additional embellishments that give it a unique appeal. From day to day wear, weddings, religious occasions, to parties and festivals, juttis provide an essential ethnic appeal to the person wearing them.
Origin
Jutti or nagra was first patronized by the Mughals and were extremely popular amongst the kings and the queens who belonged to the richest era of Indian history. Rajasthan in particular was a hub, where the making of these exquisite shoes first originated. The style of Jutti back then was far more ornate and rich in texture and design which incorporated fine gems, stones, and precious pearls. With the passage of time, nagra shoes gained a lot of popularity in Punjab, and underwent through various forms of experimentation and innovation.
The Making

Exclusively handcrafted by skilled craftsman who primarily hail from Punjab, the making of Juttis is a tedious task. Construction of one pair of juttis involves people from different communities: the "Chamars", who process raw hides which are used along with a vegetable dyeing process. The "Rangaars", color and paint it while the "Mochis" assemble the pieces together and do the final stitching and embroidery. Earlier, Juttis were embroidered with pure gold and silver wires all over, popularly known as 'tilla' covering the entire surface of the pair.
The process begins at a tannery where raw hides are processed using the method of vegetable tanning. For this, a substance called tannin, extracted from the bark of Kikkar or Babool trees, is used. It is in the tannery that an animal hide becomes strong, flexible, water resistant and consequently, wearable.
For coloring, sarfoola (yellow) and arsi gulabi (green) powdered pigments are mixed in water to create a thin solution of different shades of red. These are then applied to the leather-pieces using a local shaving brush. After this, the painted leather is cut out into different shapes accoring to the requirement of the shoe design. The shoe upper for instance, is made of one piece of leather or textile, embellished  or embroidered with cowries, mirrors, brass nails, bells, ceramic beads and other adornments. Clubbing the upper and back (known as Adda) to the sole (known as Talla) is done using cotton thread which enmeshes the leather fibers with efficiently.
Embroidering the jutti involves the use of stencils, for cutting and tracing designs on to the leather parts of the shoes. They range from simple cut-out shapes to be filled with simple embroidery, to intricate punches, weaves and embroidered designs.
Style & Variety
The jutti has an M shaped front which is known as 'Panna' which is usually intricately embellished or designed with similar patterns on the side and back of the shoe. Nagras on the other hand, had a soft rounded front which was closed and resembled the modern day ballerina footwear. Most of the designs were inspired by Mughal architecture and Rajasthan's rich flora and fauna. Common motifs used to embroider the nagras with, include flowers, leaves, birds, and other ornate designs. Also, Nagras were initially made with simple and elegant thread work. Various types of Juttis are available which suit every occasion. From hand-painted, to embroidered, sequined designs, Juttis are gradually taking on a contemporary style too. Some juttis come with a pointed and curved nook in the front which are for men, while the one's for women have a simple and plain rounded or squared front. Juttis made for men usually have a single pattern and do not have the additional bling factor, also known as 'Nagra'.
Innovations
Since juttis are very popular all over India, different styles, patterns and adornments have been added to keep up with the changing generations. One can find a vast array of juttis that come in all kinds of colors. Several modern day inspired patterns have been added along with a traditional touch, and this has become a style craze with women across the world. Apart from the traditional thread and bead work, motifs and images have been used to stylize the jutti with a more modern twist. Cartoon characters, retro images and pop art scenes have also been experimented with, to a large extent. Shoes in colored threads and beads, shells, cowri, etc. are weaved too in modern day today.  Some designs are intrinsic and delicate, while some juttis showcase plain or colored leather with just a few additional add-ons.
Several Indian fashion designers such as Ritu Beri, Ritu Kumar, and JJ Valaya have finished off their creative ensembles with the evergreen and ever stylish jutti. Fine embroidery, pearls, beads, and stones have been used to give the jutti a touch of elegance along with the essence of true Indian tradition.
Global Appeal
Juttis are an ethnic alternative for the long established ballerina shoes that are popular world over. Several people living in countries like US, UK, Canada, Pakistan, Middle East, and Europe have been fascinated with this Indian footwear for the last several years, and some of the popular shoe brands in the west have copied Juttis in their own designs and craftsmanship.
Reference
Categories: Attires, Costume Accessories