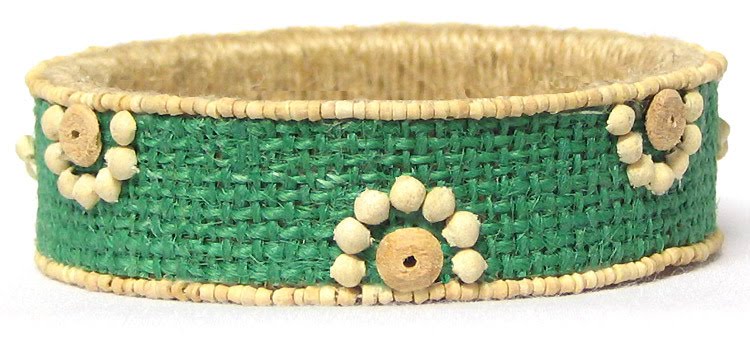 Jute Bags & Accessories
Jute is one of the most used natural fibers, spun into long, coarse threads. Popularly known as the 'golden fiber' it is one of the the strongest in natural fibers and can be dyed in any color. It is produced from the plant family Corchorus. Besides being a textile fiber, it is also a raw material for non-traditional and non-textile products, like home decor, accessories, and jewelry. West Bengal, Bihar & Assam are the leading producers of Jute in India.
Origin and History
It has been used since ancient times in Africa and Asia as a weaving fiber. The British East India Company was the first Jute trader during the 19th century. The first mill was established at Rishra, on the banks of River Hooghly near Kolkata in 1855. By 1869, five mills were operating with 950 looms. France, America, Belgium, Italy, Austria, Russia and later Germany, turned to Jute manufacturing in the latter part of 19th century. After the fall of British Empire in India in 1947, most of the Jute mills were taken over by the Marwari businessmen. Nowadays, the trade is centered around the Indian subcontinent with West Bengal being the largest producer. From just being used in the making of clothing, to being used for making accessories like tote bags, jewelry & more, it has indeed evolved.
Style & Types
With the massive production of jute yarn especially in South Asian countries, the industry is expanding. From lampshades, table-mats, penholders, decorated photo frames & candleholders, to kerchiefs, wall hangings, coasters and footwear, there's no end to how innovatively it is being used in the making of all kinds of accessories.
Talking of bags, tote & sling bags and clutches made from jute have been quite the trend for the college-going crowd, with these painted in bright shades, modern prints & motifs, touched up with fancy embellishments.
Then again, ornaments make a great fashion statement. From earrings decked in beads to long neckpieces done up with sequins & stones, to bangles & rings painted in bright shades, there's a whole plethora of jewelry out in the style streets, popular among the young crowds who like to team it with both Indian ethnic & Indo Western outfits.
Present Day Scenario
From being restricted to the production of textiles earlier, it has made a global impact in the recent decades with the variety of things it is used to make. The accessories & jewelry are a popular & preferred across the globe for its sturdy and durable nature.
Maintenance
It tends to expand or shrink in size owing to increase or decrease in humidity levels. It is advisable to use/store such accessories in dry, less-humid and sun-lit areas, to make it last longer.
If placing a rug under direct sunlight for a couple of hours every day, the rug must ideally be turned every few days as fibers tend to change under extreme heat. Vacuuming articles regularly also help keep them clean.
Interesting Facts
 One hectare of Jute plants consumes over 15 tones of Carbon-di-Oxide, several times higher than trees.
 In December 2006 the General Assembly of the United Nations proclaimed 2009 to be the International Year of Natural Fibre, so as to raise the profile of jute and other natural fibers.
Reference
Categories: Attires, Costume Accessories