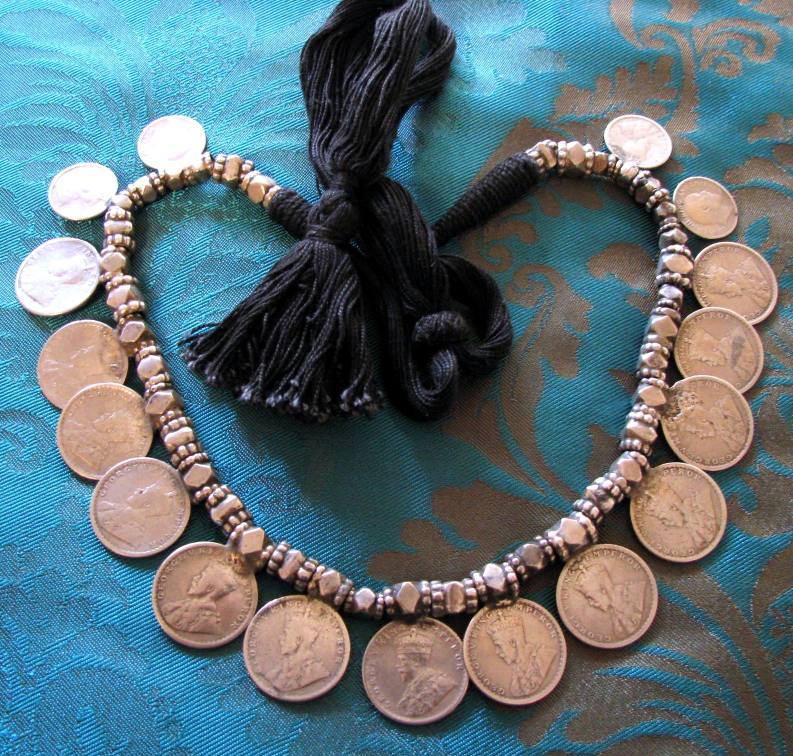 Coin Jewelry
Old Indian currency in the erstwhile denominations of 20 paise, 10 paise and even the earlier pai and aana has become the latest rage in ethnic jewelry creation.  These old coins are being reused and revamped to create some stunning pieces of adornments such as necklaces, bracelets, waist belts, earrings and even rings for an exquisite ethnic look.  For the thrifty buyer, there are also replica coin jewelry pieces that look as good as the real deal.
Origin
Coin jewelry, in fact, is not new as coins have been punched to create jewelry pieces since the invention of currency.  There is also historical evidence and old artifacts of coin necklaces dating hundreds of years back.  In fact, coins in any kind of metal, be it gold, silver or bronze have always featured as an adornment in several types of cultures related to an Indian origin.  The old coins that were minted in the era of the Vijayanagar Kingdom have Hindu gods and goddesses inscribed on it and were also used in jewelry.  The same is the case of the coins minted during the time of Akbar that had phrases from the Quran inscribed onto it and were used in amulets and were considered lucky.
In fact, a lot of the hilly tribes in Himachal Pradesh, Uttaranchal and the Seven Sisters have a culture of donning coin jewelry which is still made in a rustic style using threads and basic tools.
Quite recently one kilogram of old 20-paise brass coins was unceremoniously scrapped by the Reserve Bank of India and were sold for Rs. 2000 which was the worth of the metal.  In fact, other than these brass coins, a lot of antique bronze, gold, and silver coins are traded everyday which bear the impressions of the British Royalty, the Nizam of Hyderabad and can also be dated back to Hampi, Akbar, Portugal and the Pandyan era.
In fact, coin jewelry in recent times has become a great way of celebrating Indian currency and keeping the vintage era alive.  The 'chavanni' or 25 paise coin has become a part of history like other coins, but to have such rare coins transformed into a piece of jewelry or adornment would make the currency immortal.
The Making
Dents and cavities have been created in such coins to create wonderful necklaces and these have also been used to adorn clothing. From necklaces to rings, brooches, cufflinks and buttons, these coins have been innovatively used.  In fact, if you are unable to invest in an authentic coin jewelry piece, then there is no need to worry as you can easily find yourself a cheaper replica.  In fact, a lot of the gold sovereigns are used to create the majestic 'temple jewelry' with the intricate coin necklaces.  However, despite the growing popularity of coin jewelry, a lot of people are skeptical of using old coins and ruining them by running holes through them.  In fact, a lot of coins are broken and destroyed during the piercing process.  So is it worth sacrificing such prized possessions?  The answer to this can be an open-ended debate, however, no one can ignore the beauty of the coin adornments as it gives these old coins an opportunity to reveal their glory.
Trendsetter
Coin jewelry when made using silver or any other metal apart from gold, imparts a rustic look which can be teamed up with Western attire to get that perfect Bohemian style.  Armlets, big chunky necklaces, and waist belts are all in vogue and look extremely stylish with long flared Indian skirts or perhaps Western wear.  On the other hand, gold coin jewelry imparts a very traditional look and is the perfect accompaniment to Indian traditional attire.
Style & Variety
Belts weaved in 10, 20, 25 Paise coins, rusted, rugged and untidy ones sell like hot news. The neck piece flaunting a curvy 10 Paise coin, Bracelets with cubical 5 Paise coins, the Polygon-shaped 20 Paise coin, the contemporary fashion has found another gateway opened with coin art. Not-so-expensive, these could be found on street markets, government emporiums, etc.
Global Appeal
A lot of cultures across the globe have used coins in jewelry and adornment pieces from times immemorial.  Just as in India, coin jewelry is also becoming a rage in the West.
Maintenance
Although coin jewelry might look very effortless, it is a tedious process when it comes to cleaning, since the metal or silver coins get oxidized.  Hence, it is important to wrap coin jewelry in cotton and store in a moisture-free box to prevent the discoloration of the metal.
Reference
Categories: Accessories, Ethnic Innovations