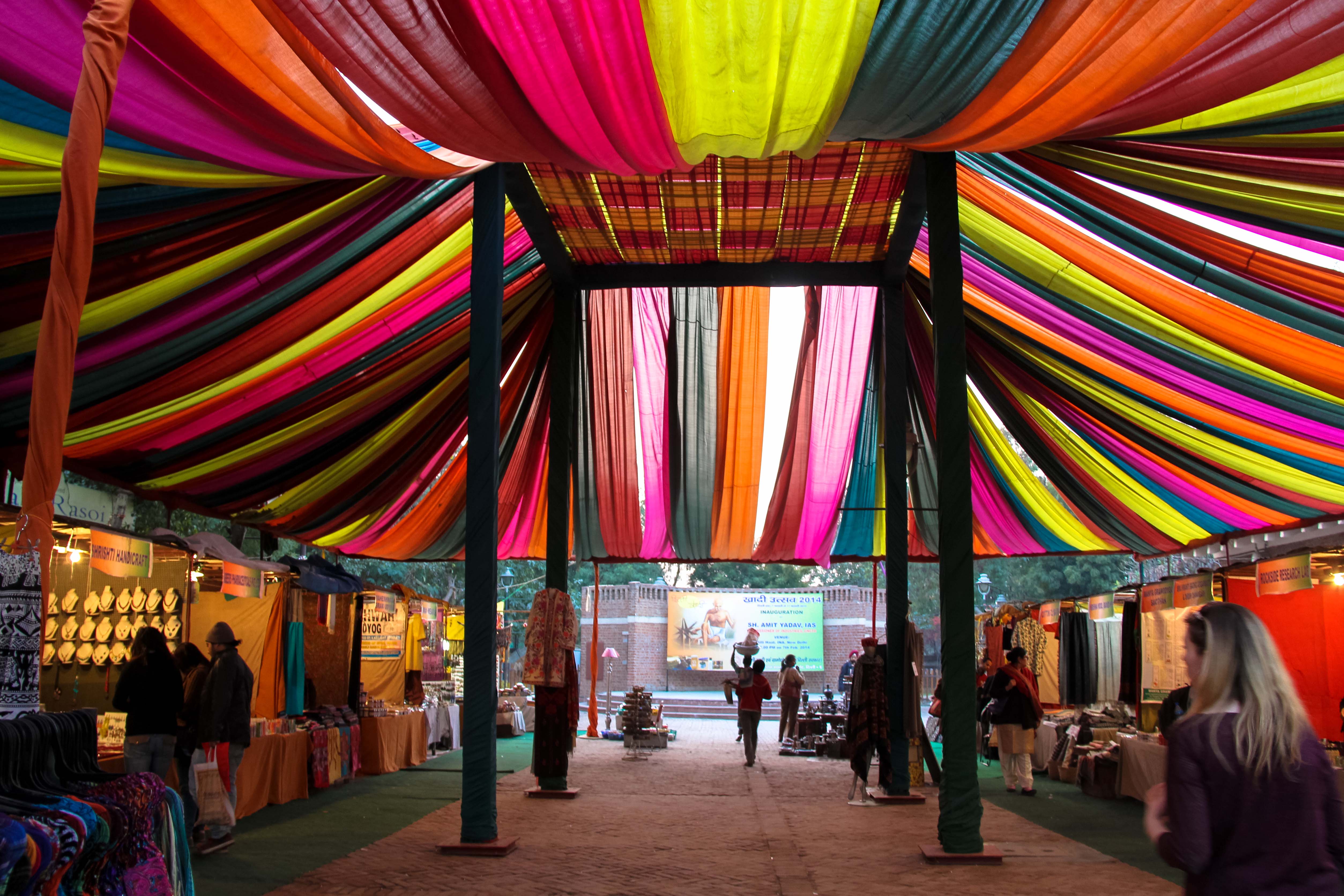 Dilli Haat
Dilli Haat is a bazaar/marketplace that has entertainment, food and shopping, all of which is laid out as stalls in a large area cordoned off with boundaries (unlike organic bazaars where concrete shops are established in a significantly larger area). Along with being a shopping bazaar in Delhi it is also a brand name. While Dilli is the Hindi name for Delhi, 'Haat' in the local language translates to 'market'.
Set up as an initiative of the Delhi State and Indian governments to increase the tourist value of the city, Dilli Haat is frequented by the locals as well. It has been set up as a means to promote regional handicrafts and cuisines by providing a platform for regional artisans to congregate and sell their wares. Moreover, Dilli Haat also hosts a number cultural festivals throughout the year that promote regional and traditional as well modern art forms.
History
Dilli Haat is a joint venture of Delhi Tourism, D.C. Handicrafts, New Delhi Municipal Corporation, D.C. Handlooms along with the Ministry of Tourism and Textile (GoI). The very first outlet was set up at INA in Delhi in 1994. From there on, Dilli Haat has opened up branches across the city in areas like Pitampura in North Delhi and Janakpuri in West Delhi. It is also noteworthy that with each new branch, Dilli Haat has expanded the area it occupies.
It was intended to be a platform for the promotion of Indian ethnic art forms and crafts. The textile, handloom, drapery, leather footwear, jewelry shops in the exhibition and shopping section of the Haat is very popular with visitors, both local and foreign. The artisans and traders who sign up to exhibit their wares at Dilli Haat pay a sum of Rs. 100/- every day for a maximum of 15 since the roster of exhibitors is rotated.
Gradually yet steadily, however, the nature of the events that have been hosted at Dilli Haat have diversified. For instance, it has also become a launch pad for small-scale businesses and entrepreneurs in the fashion industry. In recent times, Dilli Haat has also played host to India's first comic convention known as Comic Con, which is an internationally renowned annual convention.
Things To Do at Dilli Haat
Shopping
Economic exposure to local artisans was the basic premise behind the setting up of Dilli Haat. Whether locals or foreigners visiting Delhi, both kinds prefer to go to Dilli Haat to shop. This is not only because it is a great place to acquire some traditional Indian pieces for one's wardrobe or home, it is also because the quality of the wares is good and are priced fairly. The categories of products for shopping range from fashion to home décor, food stuff, antiquities, furniture and art.
Within the fashion section one can choose from sarees, suits, stoles, dupattas, footwear, shirts, kurtas, regional costumes, silk garments, cotton garments, woolen outfits, herbal make-up, jewelry, accessories such as bindis, mehendi or henna (or artists who will apply these temporary tattoos on-the-spot) and DIY pouches, ethnic handbags, leather items like belts and shoes and much more.
(Also Read: Silk Fabric)
Dining
Although eating at Dilli Haat is not a fine-dining affair, the food offered at the state stalls are authentic and delectable. Besides regional delicacies, one can also find preserved food items for sale such as an overwhelming variety of pickles and mouth fresheners.
Miniature Cultural Fairs
All through the year, Dilli Haat is a hotspot for cultural fairs that can last anywhere between two days to a fortnight. These fairs usually follow an exhibition model where one can witness the culture of a certain region of India firsthand in the midst of the bustling city. However, there are smaller stalls that are set up during these fairs that sell products in accordance with the theme of the fair. For instance, one gets to see Rajasthani costumes and customs in a miniature fair that is centered around the regional dance of Kachi Ghodi.
Sources of Inspiration
The look and feel of the market has been tailored to look like the bazaars of India; although it has been classed up with the addition of well-maintained public conveniences as well as clean eateries. In keeping with the overall theme of Dilli Haat, the eateries too promote regional cuisines. In fact there is only one stall from almost every Indian state that offers dishes that are peculiar to the state. The overall look of the market consists of an open plaza paved with stone. While certain stalls have been set up with a wooden structure and tarpaulin, others are made of exposed brick.
Faces Behind the Making
There is no particular community that is responsible for the overall popularity and success of Dilli Haat. In fact a number of small sections of artisans and traders congregated at this market selling everything from textiles to toys, home décor items, furniture and jewelry make Dilli Haat the brand name that it is.
Nevertheless, there are a number of people behind every art form that is on display at this bazaar, and the faces can be identified based on their trade. For instance laac bangles are created by artisans from rural Rajasthan, Phulkari dupattas, suits and sarees are sold by craftsmen hailing from Punjab, Matka silk sarees are exhibited by weavers from Bihar, so on and so forth.
Style and Variety
Clothing Items
Some of the most popularly-purchased items of clothing at Dilli Haat are stoles and dupattas, especially when teenagers and young adults come calling. However, besides these traders at Dilli Haat also specialize in sarees, unstitched salwar kameez pieces as well as woolens such as warm shawls. The specialty of all these items of clothing are that they have one or more elements of specialized regional craft, whether in the form of the loom, weave, fabric,embroidery or motif.
There are any number of state-specific handicrafts that are available at Dilli Haat in the clothing category. Below is a list of the most commonly seen crafts, however not exhaustive.
•    Matka silk and Ghiccha silk sarees
•    Warli print sarees and dupattas
•    Phulkari dupattas and salwar-kameez pieces
•    Pashmina Shawls
•    Chikankaari kurtas, kurtis, dupattas, salwar-kameez pieces
•    Kutch work salwar kameez pieces and kurtas
•    Bandhani dupatta
•    Gota work salwar-kameez pieces
•    Pipli or appliqué work salwar-kameez pieces
•    Zari work sarees, dupattas, salwar-kamez pieces, kurtas and kurtis
•    Kantha work sarees and salwar-kameez pieces
•    Cotton sarees and salwar-kameez
•    Tunics in cotton and other fabrics
Footwear
The footwear one commonly finds at Dilli Haat are kohlapuris in leather. They can be plain or embellished with embroidery in leather itself. This is available for both men and women. In keeping with the latest trends however, many traders have also begun selling kohlapurs and mojaris with thread-work and mirror-work on them.
(Also Read: The History of Kohlapuri Chappals)
Accessories
Dilli Haat sees many seasonal traders in jewelry items with precious and semi-precious jewels. These are often embedded in precious metals like gold, white gold and silver. Besides this, there is an abundance of oxidized silver accessories like earrings, bangles, hair pins and necklaces. Other than this commonly found jewelry there are other regional specialties such as laac earrings and bangles, bead-work earrings and necklaces, semi-precious stone earrings, nose pins and finger rings.
Handbags
Cloth handbags with mirror work and kutch embroidery on them is one of the most common sights at Dilli Haat. Leather, jute and bamboo handbags and clutches with motifs like blossoms, leaves and vines on them are also featured.
Present Day Scenario and Global Appeal
Dilli Haat is one of the first and foremost shopping sites that guides and locals take foreigners to visit. Not only is the sight of the artificial bazaar authentically Indian, the items sold at Dilli Haat are genuine and of good quality. Besides, Dilli Haat is the quintessential melting pot of culture and people. Outside Dilli Haat are many women who apply mehendi tattoos as well as braid hair with different colored thread.
(Also Read: Shantiniketan – Beautiful Handicraft Leather Handbags)
Facts and Trivia
There are a total of 62 stalls at Dilli Haat.
The most recent addition to Dilli Haat is an Exhibition Hall that is specially used when there are exhibition fairs to be organized at the venue.
There are miniature musical instruments that are played by local musicians for the entertainment of passersby. These instruments can also be bought.
One will often spot a caricaturist at the venue.
INA is one of Delhi's most populated metro stations as Dilli Haat is right next to it.
References
Categories: Bazaars