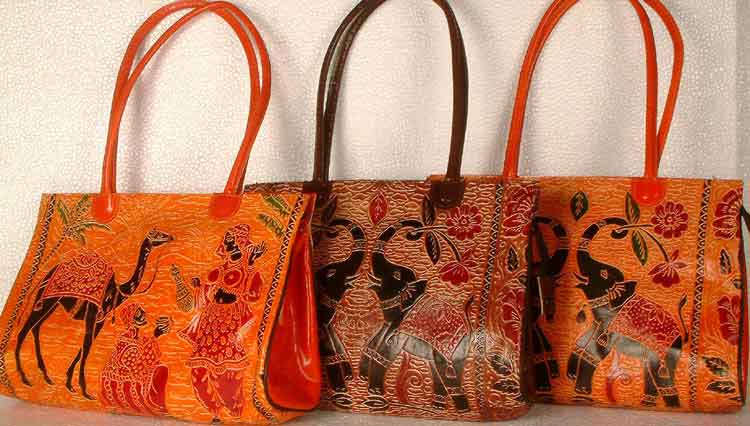 Shantiniketan's Handbags
The Shantiniketan region in West Bengal is famous for its beautifully handcrafted leather handbags and other accessories. Available in a wide range of colors, patterns and sizes with traditional motifs, a Shantiniketan bag displays the rich cultural heritage of India gracefully. It is a perfect example of superior workmanship of the local artisans.
Origin & Making
This particular craft employs the cutting, polishing and embossing of leather by hand painting and was first introduced in West Bengal during the 1940s. It derives its name from the place where it was first introduced Shantiniketan and was patronized by Shri Rabindra Nath Tagore who revived a number of crafts that were nearing redundancy in Shantiniketan.
Rabindra Nath Tagore and his wife, expert craftsmen came together to revive leather bag making in an innovative manner. Shantiniketan leather craft uses embossed batik work and traditional patterns and is very different from the usual leather bags.
After the final leather piece is made, it is then stitched into the desired product coated with a lacquer finish for making the product shiny and long lasting.
Present Day Scenario
Today, Shantiniketan leather is a successful industry and is a craft that is practiced only in 24 parganas of West Bengal. The Shantiniketan style evolved as a result of the Art Movement and these products have now become world famous for their appliqué, batik and embossed craft work.
The raw materials required for making these elegant leather bags is leather (vegetable tanned), PCP free chemical and vegetable-based pigment colors. The process of giving the leather its finishing is akin to what the Italians do. The process of burnishing the leather gives it an elegant sheen and brings out the colors and enhances the overall look. The major embossing craft is done by hand and is an intricate process. The final stage of this craft is the lacquer finishing which is used to polish the Shantiniketan leather product and prevent it from being attached by mould and fungus.
The most appealing quality of these Indian leather bags are the traditional motifs that depict floral and geometric designs and the natural dyes used in the process give it a very classy look.
Shantiniketan bags are not only beautiful in appearance, but are also very affordable. There is a wide range of bags available in the market in terms of colors, shapes, designs and forms. As the industry has become competitive many modern trends have been incorporated. From belts to juttis and mobile covers, there is a host of other things that are made with this craft.
Innovations
Shantiniketan purses and bags are particularly sought after amongst the local womenfolk and the tourists who are absolutely enamored by the colors and aesthetic quality of these bags and carry them back home as valuable souvenirs. In fact, a lot of bag designers have come out with innovative collections to create sophisticated and stylish Shantiniketan designer collections. From wallets to bags, purses and coin holders, Shantiniketan leather is used in wide range of products.The vibrant colors, designs, and high-quality leather have also made it a preferred product to export overseas. However, since this craft is relegated to the rural villages of West Bengal with limited artisans, their capacity to cater to overseas markets in a big way is rather limited.
Global Appeal
Shantiniketan products have a creative interpretation of nature and an inimitable style that is appreciated by craft enthusiasts all across the globe. This thriving industry is now being given a considerable financial and technical help from both the Government and NGOs to enable its further expansion globally.
Categories: Attires, Costume Accessories