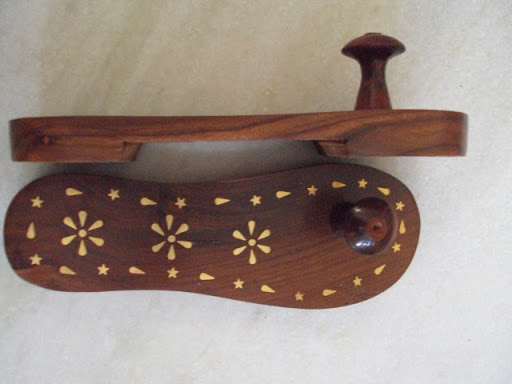 Khadau Chappals
Much like how the name sounds, Khadau chappals have a kitschy quality about them. These shoes are perhaps one of the oldest form of footwear worn by men and women across many Asian countries like India, Middle East and China. Khadau chappals were traditionally worn by saints and priests. They are made of wood and truly an archaic inspiration for many designers and craftsman across the world.
Origin and History
The Khadau chappals have been referred in the Vedas where wooden planks were used as a base surface with one carved block in the front to support one's toe fingers. Such planks were carved and made out of wood, and had little or no engraving. Khadaus during the ancient era were simple and were meant for one's day to day use.
Legends and stories from the bygone era suggest that Khadau came into existence because saints believed that electric currents flowing in the body are absorbed by the earth due to gravity. They also knew that wood was an insulator for electricity. Therefore, to save the biological potency, our ancestors crafted beautiful wooden slippers, which featured a toe section for added comfort. These sandals were initially worn by saints, but due to non-popularity of leather (Leather was objected because of social beliefs) and non-durability of cloth shoes, most people began preferring Khadau over others.
Gradually, Khadau chappals became more of an inspiration for the craftsman who created several imitations of the Khadau with a more comfortable approach, and with softer and more wearable materials such as leather, rubber, and cloth.
Present Day Scenario
There are various imitations available in the market which resembles the age old Khadau Chappal. Leather shoes with one toe slip on's are extremely popular amongst women and men. Such chappals are made out of soft leather and have beautiful and intricate embroidery. Various states in India like Rajasthan, Gujarat, and Punjab widely practice the skill and art of making Khadau footwear.
The current style of chappals in the Indian market resemble the ancient Khadau chappals in terms of style. The materials used however are extremely different. Velvet, fur, leather, and rubber are the sole ingredients that go into making these chappals. Various embellishments are also used to adorn them such as large floral and leaf motifs made out of glittery cloth, beads, stones, crystals, or metal such as copper, bronze and iron. Since most people are unable to carry wooden Khadau, it has evolved to include different varieties and styles of Khadau.
These sandals are made from raw wood, mostly heavy to durable, since it reflects that the saints traveled and walked throughout their lives. Most of these sandals are hand crafted, feature minimalistic design with a nail like a thumb holder for keeping the foot in place.
Personalisation
Women, especially from the younger generation love flaunting these chappals with various attires such as Kurta Pyjamas, Lehengas, long flowy skirts or dresses, and even with a simple jeans and T-shirt combination.
Thin straps can be added to a Khadau for better grip and comfort.
A popular form of Khadau is the acupressure Khadau, which is specially designed for treatment of foot related medical conditions and overall health benefits. Crafted intelligently, this type of Khadau sandals feature elaborately detailed pressure points for the feet ensuring many health benefits and relief from pain.
Khadaus for special or ceremonial occasions can be made from ivory, leather, and silver. They are expertly carved and quite luxurious and may feature some eccentric designs.
Global Appeal
Recently, historians discovered an ancient pair of Khadau chappals which belonged to the great Sikh saint Kabir. These chappals were made out of ornate silver and were extremely heavy. The chappals had some engraving which the historians could not decipher, however, these chappals have been kept in a museum as part of Indian heritage and pride. Apart from this, Khadau chappals are available in the original form throughout the world, and people from different countries like America, China and England love buying them since they give off a rich traditional and vintage appeal. Similarly, the one toe chappals or slip-ons are popular amongst the youth who love wearing these chappals on a day to day basis.
Over the years, Khadau has established itself as one of the most popular form of traditional collectibles around the world. The rising popularity of Khadau inspired leather shoes is now popular among men who wear trousers for semi-formal purposes. Khadau are also popular among those who walk to work or have to travel around regularly. Around the world, Khadau sandals with elaborate designs, including mythical styles are used for non-wearable and collectible purposes.
Categories: Attires, Costume Accessories