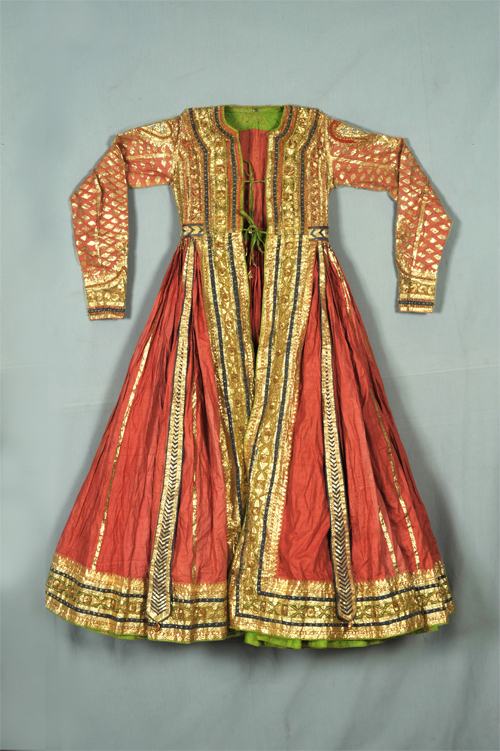 Peshwaz
A Peshwaz is one of the most opulent forms of Mughal clothing designed for women. This garment can be described as a tunic and is comprised of a fitted bodice and skirt. Similar to a robe, it was worn and tied at the waist. At times, there were transparent layers of soft muslin cloth that were used to create a layered and textured look while, at other times, women were required to wear cholis under the garment since it was designed in a way that opened in the front. Historically, the Peshwaz is strongly identified with the Mughal era and is cited as a garment of value in cultural references pertaining to the era.
The Peshwaz was accompanied by a churidar at the bottom along with a dupatta or an odhani that matched the garment itself. Some Mughal women also wore headgear and turbans as accessories when wearing a Peshwaz.
Origins and History
The Peshwaz is said to be introduced to India under Babur's reign (who was the first Mughal Emperor). However, the first recorded reference to this garment can be found in the Ain-i-Akbari, a noted record of the life and reign of Emperor Akbar. In an effort to preserve their Persian culture, the Mughal emperors were known to strongly hold on to their native forms of food, music, lifestyle and even costumes. These forms of preservation of their culture lead to the Peshwaz becoming a part of what is now considered to be Indian ethnic attire.
The Peshwaz was worn mainly in the state of Rajasthan. This garment was popularized in this region by Akbar when he married his wife, Jodha, who was a Rajput princess. Thus, historians have noted that this garment, under Akbar's reign, shows Jodhpuri influences and was worn in Rajasthan as well. The garment is also worn in the Himalayan and Chamba regions.
While its original creation revolved around making it suitable for women, men from that era also have been known to wear it. Mohammed Shah, son of Aurangzeb, is said to have worn the Peshwaz during court and performances meant for entertainment.
Sources of Inspiration
The Peshwaz has traceable Persian ancestry, according to literature. From the time it was brought into India, work done on the garment has shown strong Persian and Islamic influences. Motifs that were embroidered on the royal Peshwaz of the day, generally depict floral motifs as well as patterns depicting animal and bird life.
Styles and Variety
Peshwaz, as a garment, was mostly worn for formal occasions, which is why wedding Peshwaz and bridal Peshwaz are extremely popular types of this garment. They were ornately embroidered and made of heavier fabrics such as silk. The embroidery was usually made using zari (threads of gold or silver) to add to the opulence of the garment. When designed to be worn by the bride, they would be accompanied by a lusciously embroidered odhani along with a relatively plainer form of churidar.
As these garments are somewhat rare in India in the present day (when compared to other Mughal garments such as the Anarkali), wearing them is considered to be more glamorous than wearing other forms of Indian ethnic attire for formal occasions.
Present Day Scenario
Globally, information and knowledge regarding this attire is quite sparse. References in popular culture to Mughal clothing usually pertain to more mainstream garments such as the Anarkali and the Peshwaz, in turn, is slightly neglected.
Innovations
Some of the modern innovations to the Peshwaz include the introduction of the Anarkali. Drawing its influences from the famous Anarkali, the skirt of the Peshwaz is made to be more frock-like with alterations to the length in order to make it reach the ankle. Although the garment still has the traditional bodice and skirt look and is still tied at the waist, the modern appearance is somewhat different from the original archetype.
How to Wear the Attire
The Peshwaz is worn with churidar pants and a dupatta or odhani in order to complete the ensemble. More often than not, the garment is worn for formal occasions by women and is therefore accessorized with heavy and intricate jewelry in an effort to echo the Mughal imperial look. Necklaces, earrings and bracelets are the most commonly worn forms of jewelry. However, women who really want to look like royalty from the Mughal court also tend to add a mang tikka or a jhoomar to their head-adornments.
The Peshwaz is accompanied by juttis that are embroidered or have stones embedded on them. Matching bags in the forms of pouches are usually carried with this garment.
Interesting Fact
Although the Peshwaz is a garment for women, many men also wore this garment on occasion.
Categories: Clothing Styles & Drapes