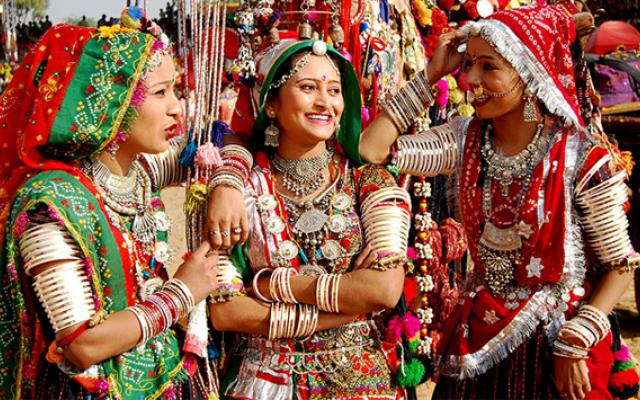 Teej – Traditional Monsoon Festival
Teej is a three-day long festival. It is a part of the grand Indian tradition of Northern and Western India. Celebrated with much gusto, it is observed primarily by Hindu women. The festival itself has a dual, overlapping significance that revolves around the reunion of Goddess Parvati and Lord Shiva as well as the onset of the monsoon season in India. The remarkable thing about this festival is that it is celebrated in similar yet distinct ways in different states. The grandeur of the festival is reflected in the finery adorned by women on this day.
History and Origin
According to Hindu Mythology, on Goddess Parvati's 108th birthday, Lord Shiva accepted her as his wife after seeing her dedication towards him. It is said that Goddess Parvati herself marked this day as auspicious and will bless the married lives of all who invoke her on this day. Symbolic of the penance that Goddess Parvati went through, women observe sleepless nights along with a nirjala vrat i.e. a fast in which one doesn't take in even a sip of water.
During this time of fasting, women dress up like newlyweds in all the finery they own, in combination with red, green and yellow attires. However, the exact colors of the sarees vary from region to region. Women also tattoo elaborate designs using mehendi and henna as part of the celebrations.
Another aspect of the background of this festival is the time at which it is celebrated. Since 'Teej' translated means 'third day', the third day of the Shraavan or Saavan month (the month of monsoon) is celebrated as Teej. This marks the arrival of the monsoon season and the respite from the summer heat, which is especially significant for arid states as well as those that largely invested in agriculture.
Owing to these two aspects of the background, the festival is celebrated with a lot of zest and enthusiasm in Rajasthan, Haryana, Uttar Pradesh and Bihar. Teej is a minor festival in Delhi NCR, Gujarat, and Madhya Pradesh as well.
Sources of Inspiration
The sources of inspiration for the entire look of the women during this auspicious festival can be traced to two beliefs about the festival itself:
Deriving from the marital reunion of Shiva and Parvati, the women from Bihar dress in attires that are usually worn in weddings i.e. hues of red. These hues figure prominently in Indian wedding ceremonies. The look is completed with heavy gold bridal accessories on the hands, neck, feet and head. Mehendi and henna tattoos are essential to complete the bridal look.
Inspired from the onset of the monsoon season, especially in states like Rajasthan and Uttar Pradesh, the women dress in glamorous green outfits that display a variety of elaborate motifs and embroidery in Zari and Zardozi. However in these regions too, jewelry and accessories in gold feature very prominently along with mehendi or henna on the hands and feet.
(Also Read: Nath & Nose Rings)
Style and Variety
Rajasthan
One of the most prominent festivals in the state of Rajasthan, women perform traditional dances, the community organizes fairs and processions, making the festival a grand affair. All womenfolk are dressed in green, festive apparel along with karhas made of silver.
Huge open markets are set up during the three-day celebration, during which time leheriya prints in tie and dye as well as kundan and meenakari jewelry items are the most popular. Several other forms of jewelry and clothes are also sold. A special procession is also carried out wherein six men dressed in traditional red attire carry Goddess Parvati's statue in a palanquin.
Gujarat
A large part of the festivities in Gujarat are inspired from those in Rajasthan since these are neighboring states. Fairs are organized throughout the state and festivities include dances like the Garba and Dandia in the state's traditional ghaghra-choli. The fairs are also a hotspot for the sale and purchase of ethnic Gujarati fashion items like clothes, jewelry, and other embellishments.
As a symbol of their married lives, women accessorize their sarees, lehenga cholis and suits with yellow, red and green colored dupattas. These dupattas showcase intricate zari or gota work on it. However, most women choose to wear multi-hued lehengas or red colored sarees that are draped in the typical Gujarati manner i.e. with the pallu on the front. Women receive sweets and clothes from their husbands and in-laws as gifts of blessings.
Punjab
Teej in Punjab is awaited all year long and is one of the main festivals of Punjabi women. In fact, such is the status of this festival that colleges and schools organize competitions and cultural programs with competitive categories such as beauty pageants, dancing, singing, art, mehendi, rangoli and more.
In the rural areas, women perform the Gidda (Punjabi folk dance) dedicating it to their husbands or fiancées in classic Gidda dresses. The fairs organized at this time sell everything from traditional dresses to accessories like bangles, earrings and jooties.
Bihar
In Bihar, women wear as much finery in the color red as possible complemented by heavy gold jewelry. A lot of women go so far as to adorn as many pieces of jewelry as they own.
Teej holds such a grand stature in this state that women fast during the three day festivities for the longevity of their husbands; making this occasion secondary to only Karva Chauth (one special day of fasting, observed across India by married Hindu women wherein the fasting is accompanied by prayers for their husband's long life).
(Also Read: Weddings in Bihar)
The Complete Teej Look
Since the typical Teej attire involves achieving the bridal look, women begin their shopping for the festival days beforehand. There are certain types of dresses, accessories, embroideries and styles that are more popular and acceptable than others. Whether from shopping malls or the local open markets, shopping for the occasion of Teej is an opportunity for women to pamper themselves.
Dresses
The dresses worn at the celebration include sarees, lehengas, and salwar suits. Although heavily embroidered and stylized designer attires are becoming increasingly popular, the color scheme remains in sync with the region it is being celebrated in. Red and pink designer dresses are popular choices as these are considered auspicious. Although green sarees and lehenga cholis outweigh the other color schemes in terms of popularity.
Jewelry
It is common practice for husbands and in-laws to gift the bahu (daughter-in-law) of the house, jewelry items. There are no particular norms on the kind of items that are to be gifted, although jewelry made of gold and embellished with precious or semi-precious stones is preferred. These can be necklaces, anklets, maang tikkas, earrings as well as other items.
Attire Accessories
To go with their dresses, women also purchase matching dress accessories such as footwear and purses. Although it is not customary, it is now popular for women to wear jewel studded footwear or fancy footwear that adds to the grandeur of the attire. Purses follow similar fashion wherein jewel studded, sequined, beaded bags and other fancy clutches are purchased to complement Indian ethnic wear.
Bangles
Conventionally, bangles are also accessories to the attire. However, on the occasion of Teej, this accessory takes on an identity of its own as it is an integral part of Indian ethnic and Indian bridal looks. Glass bangles in colors that complement the color of the dress are the most popular types. These can be found easily in open market and local shops that tend to mushroom at the advent of this festival. However, these are recently being replaced by bangles and karhas made of precious metals.
Beauty Accessories
The beauty accessories that women adorn themselves with include bindis, stone studded clips and hair pins and other such ornamental items.
Teej Shringaar
Shringaar i.e. adornment is a customary gift that is given to married or engaged women by their father-in-laws. These adornments could include jewelry, clothes and other items of ladies' fashion. Along with the shringaar, sweets are also given.
Global Influence
Teej is a festival of colors, second to only Holi. Good food, great traditional music, religious processions and buzzing fairs make it one of India's brightest and most anticipated festivals. Shopping malls and local markets are milling with people who are waiting to purchase colorful clothes and beautiful jewelry as well as other accessories during this time.
It is celebrated by Indians settled all over the world, irrespective of which country they are in. So much so that women of other nationalities who are invited to the celebrations not just enjoy the festivities and the food but also attempt to dress up in the way that Indian women do.
Facts & Trivia
Teej is a highly regarded festival in Nepal.
It is customary to apply alta or mehendi during Teej.
Traditional households also set up ornate swings in their backyards or gardens where the women, decked up in their finest, sing traditional and/or religious songs.
A woman is to keep an oil lamp lit throughout the night. It is considered a bad omen if the lamp dies away and implies that the husband might die soon too.
Teej is called 'Teeyan' in Punjab.
References
Categories: Festivals, Weddings & Festivals