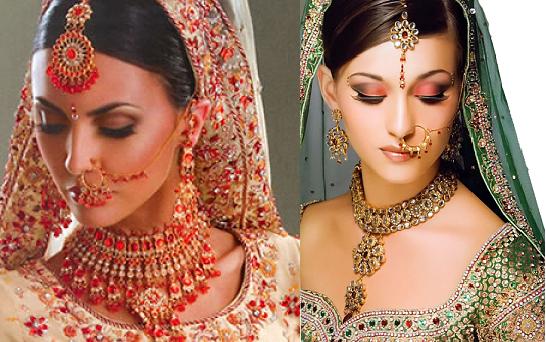 Nose Rings Or Naths
Nose piercing refers to the piercing of the nose skin for the purpose of wearing jewelry. From Aishwariya Rai in Jodha Akbar to Kareena Kapoor in Ra.One, to models on the runway and celebs at Cannes or Oscars, all have one thing in common which is adorning of beautiful nose rings. More than a tradition, nose rings today are a fashion statement. Available in
Available in an assortment of shapes, sizes, designs and styles, nose rings and studs can suit all face shapes and types, ensuring that the wearer looks stylish and attractive.They are now such a pivotal part of dressing that they tend to accentuate overall beauty of wearer.
History
Along with ear piercing, nose piercing is one of the most popular forms of piercing around the world. Septum piercing and side piercings are quite popular. These piercings, unlike eyebrow, navel or tongue piercings are more acceptable and emphasize on the facial beauty and feminine looks of the wearer. Nose rings, whether in the form of a stud or staple-shaped septum retainers are one of the most popular forms of ornamentation around the world.
Present Trends
If you are planning to accessorize yourself with the artistic looking nose rings, then all you have to do is follow a few nose rings' trends. Currently, they are one of the most experimented and innovative forms of jewelry. Despite their limitations in terms of size, they use a variety of textures, stones, and precious metals along with beads, designs, and themes for adding an elegant, attractive and ornamented look to one's ensemble.
Currently, one of the most common styles include l-shaped, bone, nose screw, fishtail and nose hoop types of nose rings. These rings are normally worn on the side of nose and mostly feature studs at the end.
For daily wear, one of the popular forms of nose rings includes nose studs, which may feature basic to floral designs. They are usually quite small and are either made of metals or precious stones. Such nose studs along with septum rings of simple circular design are one of the most popular forms of rings around the world.
Another trend followed in nose rings is the use of 'Nath'. A Nath is basically a small ring with stone embedding and can be easily worn with or without nose piercing. These kinds of rings are often used for daily use and the minimalistic design to ensure that they can be amalgamated with Indowestern attires as well as ethnic attires like Saree and Lehenga.
Classic nose rings are circular in shape and tend to be thin and large in diameter. Mostly used along with a golden thread or a chain, these rings are worn by brides for wedding ceremonies. Other kind of nose rings may feature earring style of design with use of studs and floral designs.
Global Appeal
As mentioned earlier, nose rings are one of the most popular types of ornamental accessories. From studs to septum rings, nose rings are worn almost by one-third of the women in society. Nose hoop have recently become quite popular in urban societies, because they offer a distinctive look to one's facial features. Perhaps, that's why these hoops are quite popular in the world arena. Apart from this nose screws with elaborate design and the use different studs, floral designs or abstract shapes are quite popular. Foreign celebrities, including Miley Cyrus, Britney Spears, and Christina Aguilera have been seen wearing nose rings. Because of their elaborate detailing and an array of designs and styles, they can suit all types of faces. That's why they have a unique global appeal.
References