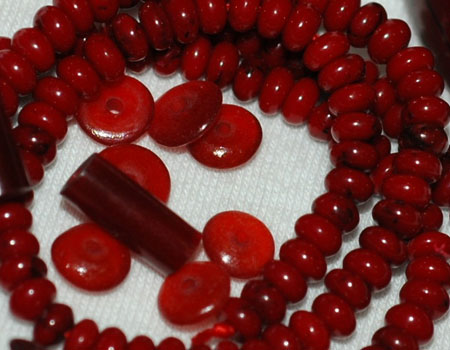 Coral Beads Jewelry
Corals are actually living marine animals, and the jewelry that we derive out of them is actually their skeleton, which is referred to as "coral". The color, hardness, porosity and luster of the corals are what distinguish them into precious and semi-precious. The red precious corals known as Corallium Rubrum, have a high demand and are the most valuable corals. They are imported from the Mediterranean countries. The other types of corals are pink, gold, black and bamboo corals. Corals are also imported from Japan and China.
There are essentially two types of corals – precious and semi-precious and both thrive in the deep sea waters. In fact, the coral reefs underwater are a habitat in its own to millions of marine flora and fauna. Deep-water corals are primarily used in the jewelry industry although its other major application is in the pharmaceutical industry.
Coral jewelry is in vogue with its summer shades of oranges and reds. It's here to stay and has gone notches above in terms of designs and craftsmanship. From bracelets to necklaces and earrings, coral jewelry is essentially the kind to wear during the hot summers which lend an element of color as well as organic charm along with its natural shape and texture.
Origin
Coral is usually matte in its original texture; however, it is polished to a shine in order to use it in jewelry. Coral exhibits various hues ranging from pale pink to dark red. In fact, coral jewelry has been found since the times of the Egyptian civilization and also in prehistoric European burial sites.  Coral jewelry was popularized during the Victorian age. Due to its soft and opaque form, coral is usually shaped into beads and then used in jewelry making.
Historically, there has been a significant trade between the Mediterranean and India as the latter imported coral due to its sacred astronomical properties. According to the Vedas, coral represents Mars and bears the element of heat. Hence, it is said to bring warmth to those living in cold climates, helps to boost energy and helps in speeding the healing process. Hence, as per Hindu astronomy corals encrusted in rings and necklaces have medicinal and therapeutic properties.
Coral jewelry is an inherent part of the Northeast tribal jewelry such as the Khasis and the Jaintias who use thick coral beads for their necklaces and earrings.
The Making
Due to their soft and porous structure, corals are usually fashioned into beads- round, rectangular, uneven and other shapes. They are then strung together to form a necklace or encrusted into metal earrings or rings.
Making a Style Statement
Coral, both the color and element are essentially the most popular summer accessories. From tribal jewelry of the Northeast to the more elegant designer necklaces, there is plenty to choose from in Coral jewelry as it suits everyone's budget.
Global Wear-ability
Coral jewelry is a global fashion trend and a lot of designers have implemented chunky coral necklaces and bracelets as accessories in their ramp shows.
Accessorizing
Coral jewelry can be used with both formal and casual wear. A chunky tribal coral necklace or big earrings can be teamed up with a pair of jeans or skirt for the perfect casual look. On the other hand, an elegant coral choker set can be used as the perfect accessory to wear with a Saree or Salwar Kameez for the perfect evening look.
Maintenance
Coral is an organic product and should, therefore, be preserved in a cotton bag, which offers it plenty of oxygen.  Furthermore, try to clean the beads with a damp cloth and wipe with a dry cloth.  Do not use abrasives and other cleaning agents as they will tarnish the beads.