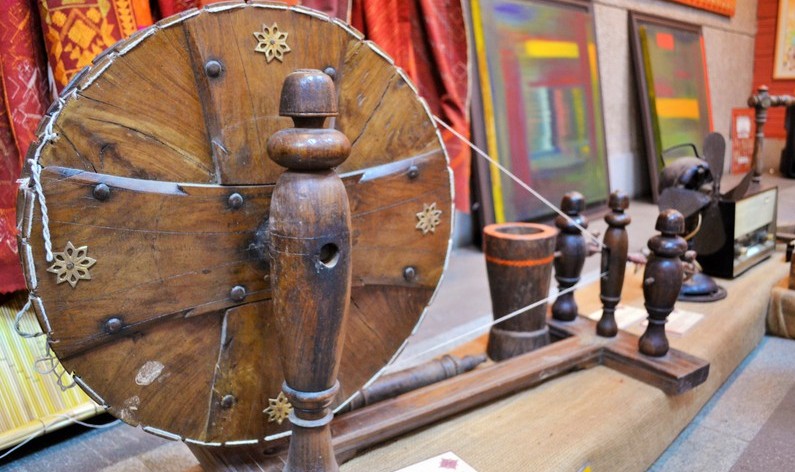 Cult of Charkha
Moving past the mustard fields of the villages in Amritsar, I came across a huddled group of women spinning magic on the earthy spinning wheel, called Charkha. Nothing short of a symbol of India's tryst with independence, it is in wooden frame, weaved everyone together, from the housewife to the craftsman. From being second skin to the Swadesi freedom fighters, the Charkha spun Khadi with its humble yet passionate beginnings in Indian households, gradually weaved in a fashion revolution across India.
From little school kids decked in Nehru topi or caps or the typical neta figure donning a Khadi jacket portrayed in the 70's Bollywood movies, the Khadi and cotton weaves had fanned out on the runway of Indian ethnic fashion. Initially woven out of cotton and khadi, it  transformed into the nucleus of Indian ethnic fashion with the contemporary flavor of numerous fabrics.
Down the years, the Charkha's tryst with the young janta – from the college crowd to the workaholic lot, have been spotted flaunting Charkha-spun attires on streets. And with young designers refashioning Khadi in new hues and silhouettes, covering shift dresses, long skirts,wide leg trousers and traditional saree at events like Lakme Fashion Week Summer Resort 2014; the Charkha cult has indeed undergone a makeover. Despite having mellowed down in front of the high-on-technology machine looms, the Charkha still possesses a vibrant Indian connect and continues to spiral up the style charts on the global fashion scenario.
Categories: Ethnic Alley, Indian Enigmas