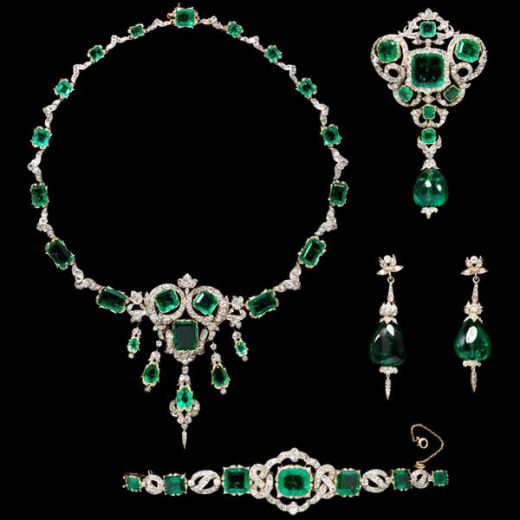 Gemstone Jewelry
Gemstones are a form of mineral which are cut and polished to make beautiful jewelry. Precious and semi-precious gemstones have always been an innate part of Indian culture since the Indus valley civilization which dates back to 2000 years and evidence of this has been given in our recorded history. Gems have been used in India for various embellishments and in jewelry, and are appreciated for both aesthetic and investment values. In fact, India is the first country that introduced diamonds to the rest of the world and is presently a leader in mining, cutting, polishing and trading of diamonds. India dominates the diamond segment and is the hub of diamond processing, wherein 11 out of 12 diamonds in the world are cut and polished in India alone. Gems and Jewellery (G&J) is a major contribute to Indian foreign exchange and is also a formidable employer both directly and indirectly. Apart from being a producer, India is also a great consumer of gems, particularly with the increasing disposable income of its burgeoning middle class.
Origin
India has a long history of gem and jewelry appreciation, which is evident from the precious jewelry pieces and gems with their various styles of craftsmanship. In fact, the rulers of India have always been passionate towards their collection of unique gems and jewels. The Mughals had a great affinity for the green gem, Emerald which is believed to bring good luck. The unique Mughal Emerald which dates back to 1695 during Emperor Aurangzeb's reign was a fine specimen that was later sold at an auction by Christie's of London in 2001 for an astronomical 2.2 million USD.
In fact, before the advent of the British in India, the country was abundant in gems and jewelry, which is what attracted a lot of travelers and invaders. The dazzling wealth and riches of India, in terms of gems and jewels, were enough to entice plunderers to the country. The stories about the riches of India are what gave the country the epithet 'Golden Bird'.
The Mughal dynasty holds a great place in Indian history because of the various changes and stability that the rulers introduced during their long reign. The Mughals amassed great wealth during their reign, and it is said that Akbar organized a special 'treasury for precious stones' wherein the gems were categorized under 12 classes and pearls into 16 classes. The subsequent rulers, Jehangir and Shah Jahan, were also great connoisseurs of gems and jewels. In fact, Aurangzeb possessed jewels worth 4 million pounds at that point of time. One of the finest specimens of diamonds known as the Koh-i-Nur diamond is well-known. The unique 158-carat oriental topaz was used to embellish Aurangzeb's turban during his coronation, apart from many unique gems that were the properties of the Mughal rulers.
Precious gems were also used to embellish various other artifacts and items- such as the Peacock Throne which had rich inlays of emeralds, rubies, and diamonds along with a thick canopy of diamonds and pearls. The throne was estimated to have cost Rs. 4-10 crore during that time, but it was later acquired by Nadir Shah and taken to Persia in 1739.
Jewellery and gems were a status symbol for the royalty during the Mughal reign and since the Maharaja's were supposed to be the 'anointed ruler by the Divine Power', hence, their adornments comprised of the most precious and unique gems and jewels such as the 'Navratna Ring' (comprising of 9 gems). In fact the Maharaja and the other royal family members exchanged gems with people that they were closely associated with and no one else. The Maharajas and Maharanis of the various Indian Kingdoms were also great patrons of gems and jewelry and under them thrived some of the most authentic Indian jewelry crafts that have enriched the legacy of India in terms of culture and heritage. Even semi- precious stones like garnets were equally popular in India, as the garnet mines in Rajputana produced large-sized and good quality garnets.
India has the distinction of being the first country to have mined diamonds dating back to 296 B.C. The Mughal rulers inscribed their names and worldly titles on diamonds, to ensure immortality. Diamonds have also been used throughout Indian History for bartering, for purchasing arms, rewards, ransoms and even for fermenting revolutions. Despite, India being the highest producer of polished and finished diamonds with its diamond mining- the industry lost it monopoly as the Brazilian and South African diamond mines proved to be strong competitors.
Furthermore, the exhaustion of diamond-bearing rocks proved to be another main factor that reduced the output of diamond production apart from backward methods and techniques. However, today, there is an increasing demand for diamond jewelry the consumption of which has become commonplace in weddings and functions.
Sources of Inspiration
Another aspect to gems, which has been propagated in various ancient scriptures, is the hidden qualities that each one possesses. Hence the so-called 'magical properties of gems can cure anything from poverty to providing a cure for ailments, as proposed by the ancient treatise on gems called 'Hora Sara' by the great Indian Astronomer/Astrologer Varamahira. Hence, the study of astrology assigns each gem with particular healing properties through its energy vibrations, along with scientific explanations to establish the same with stunning results.
Accessorizing
Diamonds and other precious stones have since time immemorial complemented any and every outfit and have graced the wearer with an unmatchable grace and sophistication. Weddings, engagements, religious and other festive occasions are always a grand time for women of all ages to splurge and indulge in buying precious stones, and to flaunt them with elaborate looking attires such as Sarees, Lehengas, and Kurtas.
Present Day Scenario
Despite the shortfalls and drawbacks, India has always been a massive consumer of gem-enrusted jewelry with a global market that crossed USD 100 billion. India is the hub for cutting and polishing diamonds and with the establishment of a Diamond Bourse in Mumbai, which is at par with international standards, India is poised to become a world jewelry hub for diamonds, gems, gold, and jewelry, in the years to come. Furthermore, the rising consumption in India for gems and jewellery is least likely to dip in the years to come, as they have become an innate part of Indian culture and tradition.
Reference