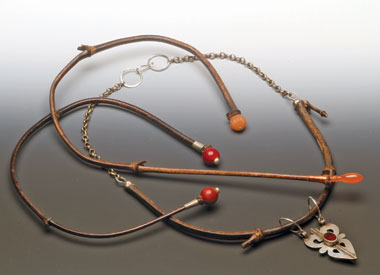 Latest Trend of Bamboo Jewelry and Handicraft
Bamboo is a type of plant which is widely used for making furniture, handicrafts, and jewelry. Being perennial in nature throughout the year and its strength and beauty has made Bamboo quite popular in various facets of life since several centuries.
Background
Once an icon of the orient, the Bamboo a plant of the grass family is one of the fastest growing plants. The bamboo can be sub-divided into 1450 species. It has been in use in diverse ways since more than 500 years. The bamboo has its origins in China where records show it being used to make everyday items. Being an inexpensive and quickly renewable source the bamboo was utilized in almost every industry. Artifacts found to show that the bamboo was used to create cave paintings, scrolls, carvings and a lot more. Bows, arrows and other household objects made of bamboo, from the Shang Dynasty (16th-17th century) have been found as well which denote its regular use. In 1972, Chinese writing instruments made from bamboo strips were discovered in burial tombs. The world's first plant tissue paper was made by Cai Lun of China in 105 AD.
A major source of food for animals, it later became a part of Asian cuisine. Bamboo shoots, stems and leaves are a chief food source of the red panda of Nepal, the giant panda of China and the bamboo lemurs of Madagascar.
The bamboo plays a very significant part in the construction business. Bamboo has been used for scaffolding for a long time and still continues to be in use for the skyscrapers in Hong Kong. Places such as Philippines, India, United States, France, Indonesia, Bali and some others use bamboo to construct houses. Japanese architecture uses bamboo as a decorative element and/or a supplement for fencing, fountains, grates and gutters.
The Making
Though the craft of bamboo jewelry is ancient, the intricate designs made by the artisans of Assam are a rendition of their skills, developed in the past two decades. The technique of splicing, polishing and weaving is painstaking and smaller the piece, the more difficult it is to make. The warm yellow sheen of bamboo makes it a perfect choice as an accent to precious jewelry. Its ability to retain dyes expands its variety in colors. Bamboo adds natural elegance to jewelry crafted in gold especially when combined with pearls or diamonds.
Bamboo jewelry is hand-crafted by talented artisans using sterling silver, fine braided wire, and kiln-fired cloisonne enamel. They have multicolor blending to give a picture of three dimensional contours to take various attractive forms and realistic shading. These are especially enameled on the reverse with counter enameling which minimizes tarnishing, strengthens pieces, and enhances appearance; this practice is uncommon in bamboo's price range.
Variety
Kerala has a lot to offer when it comes to bamboo products. Bamboo objects include files, folders, pens, flower pots, business card holders, bamboo mat file folders, trays, bread baskets, bottles with bamboo woven on them, ash trays, menu holder and bottle holders too. Jewelry in bamboo consists of necklaces, cuff bracelets, earrings, good luck charms, rings, hairpins and bangles. Each piece of jewelry is hand painted and decorated by talented artists.
Musical instruments like flutes, drums, didgeridoos and even saxophones are made from bamboo. Bamboo handicrafts such as lamps, photo frames, gift boxes and lanterns are light, attractive and sturdy and are crafted in a variety of designs. The jewelry boxes in bamboo have designs that reflect the local cultures and come in various sizes and shapes of fish, ox-cart and some others.
The picturesque North East Indian state of Arunachal Pradesh is famous for its tribal jewelry made of cane and bamboo. The tribes of Arunachal Pradesh also use brass, bone, ivory, silver and gold in their jewelry. In addition, colorful beads, blue feathers of birds, green wings of beetles are also used to decorate their ornaments. The local Wanchos make earrings of glass beads, wild seeds, cane, bamboo and reed.
Present Day Scenario
For its use in construction the bamboo is dried and treated, making it extremely light and strong.  Structural uses include rafts, flooring, furniture such as garden chairs and coffee tables, bridges, fencing and even clothing.  Other conventional uses include paper, musical instruments, baskets, paint brushes, kites, pipes, hunting tools, baskets and knitting needles.  It can be rigid or flexible, so the uses truly are endless. Bamboo cutting boards, flooring, floor mats, curtains/blinds, fishing rods and furniture are just some of the uses of this versatile material. Its culinary usage includes bamboo steamers, chop sticks, skewers, sushi mats and drinking vessels. The fabric made from bamboo is highly absorbent and comparable with softness of cashmere.
Assam in the North East of India has a lot to offer in bamboo, having rich reserves. Jewelry, furniture, hats and much more. The hat which is called 'Japi' is used by the outdoors workers locally and has become quite a popular souvenir for tourists. These products have are sought after and are exported to UAE, Singapore, Malaysia, Japan, Europe, USA and Thailand.
Innovations
The laptop cool pads available in bamboo can be knocked down to three pieces. Another novelty in bamboo is the rain stick that is indigenous to Chile (South America). These rain sticks are durable and painted in beautiful designs of flowers, leaves and abstract patterns. The sound of the rains and streams coming from the rain stick is considered auspicious. Other articles in bamboo include bamboo health products, bamboo tea, mirror frames and planters. Bamboo has been promoted for having properties of being a good stimulant and an aromatic. It is used as a tonic and for respiratory disorders. Bamboo leaves are used for intestinal worms; stomach disorders and a poultice of bamboo shoots are used to clean wounds and ulcers.
Bamboo has been reinvented and used in making T-shirts, socks, robes, rugs and boxers too, going the Eco-friendly way. A diaper made with bamboo cloth has anti- bacterial properties and said to stay that way even after 50 washes.
Bamboo has been launched in cloth as Eco-friendly couture dresses that start from Rs.2500/- and go up to Rs.12000/-.
Dressing
The cylindrical shape or the round ring of bamboo symbolizes the continuation of the life cycle and in China it is said to be a symbol of longevity; whereas in India it is a sign of friendship.
Bamboo with its stunning look, sophisticated style and attractive designs creates an effect for those who like to be different by standing out in a crowd. Jewelry made from bamboo starts at Rs.450/- and can go to an upward of Rs.2000/- and above. These attractive pieces can be bought from local boutiques, handloom emporiums and at online stores.
Accessorizing
Bamboo jewelry is unique and stands apart. It can be worn with ethnic attire as some pieces with tribal art are a compliment to a traditional Saree or a Lehenga. Western wear or casual outfits also go very well with bamboo jewelry that has modern funky designs.
Maintenance
Bamboo jewelry needs to be handled with care, as they cannot adhere to usual wear and tear that metal jewelry can cope with.