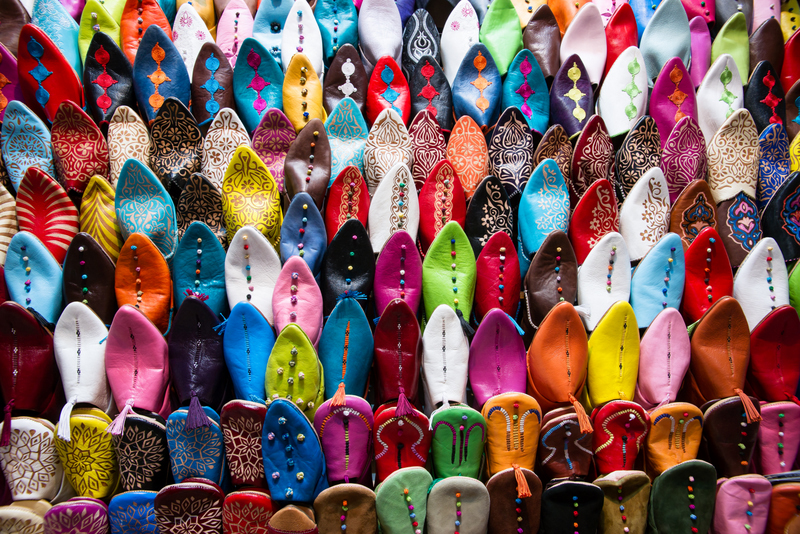 Hand Painted Shoes & Other Accessories
Hand Painted Shoes, also known as Graffiti Shoes are usually hand-crafted. From ornate flower and leaf motifs, to funky cartoon and pop characters, these shoes are available in both traditional & modern styles. Hand-painted accessories like bags, clutches & jewelry are also hand-crafted.
Origin and History
Hand painted shoes and accessories first came into fashion in the West. Tyler Capen Ramsey, a young artist from the 19th century is also associated with the colorful, eclectic and abstract Hand Painted Footwear. Indian artists from prehistoric times also used colorful paints, textures, natural beads and leaves to create artistic representations such as peacocks, floral prints and motifs on footwear.
Present Day Scenario
Hand painted accessories have been in India for a long time but the trend picked up momentum in the last decade. Nowadays women love to wear flip flops and hand painted ballerina shoes as formal wear, to college or for parties. Indian retro art is another popular motif to be imbibed in hand-painted accessories. Unique designs which showcase intrinsic Indian culture such as auto rickshaws, trucks, motor bikes, women in sarees, and actors & actresses of old times are the most commonly used motifs & designs by various artists today. Shoes with large floral motifs, camels, elephants, human figures, and geometric patterns are quite popular.These days, traditional chappals like the kolhapuris and juttis are designed in Hand Painted styles with urban motifs.
Hand-painted accessories like neckpieces, chunky earrings, bracelets & bangles, anklets are found in hand-painted avatars. From earthy shades to chirpy neon tones, patterns & stripes, hand-painted accessories are a great accessorizing option to go with both Indian & Indo Western attires. Home decor items like hand-painted bottles, pen holders, lampshades have also come up in recent times.
Trends & Personalization
In India, floral prints are perhaps most popular when it comes to hand painted footwear.  Quite often, hand painters use canvas shoes to narrate stories depicting nature. Ethnic footwear with floral prints, landscapes, color blots and portraits are quite popular. Sandals and heels with designer themes; colors such as black & red; classy tones or paints with landscapes & cityscapes and other designs look quite chic for evening parties. Special, customized shoes are perfect for wedding ceremonies, as they reflect one's  sense of style.
Global Appeal
Owing to the creative variety in hand-painted accessories and footwear, the international appeal of the same has only increased in recent times. Imbibing Indian motifs on western footwear or jewelry, these have been captured on the global runway, teamed with both Indian & Indo Western attires.
Maintenance
Maintaining hand painted accessories can be tricky as the colors tend to fade away after a while. Hand painted shoes on rubber textures are perhaps the most durable, since rubber can truly stand the test of time. The shoes made out of synthetic material or from cloth need to be kept away from sunlight and dust in order to ensure its longevity, besides brushing the same with soft cloth to clean it. Avoiding contact of the footwear & accessories with water is important.
Categories: Accessories, Ethnic Innovations