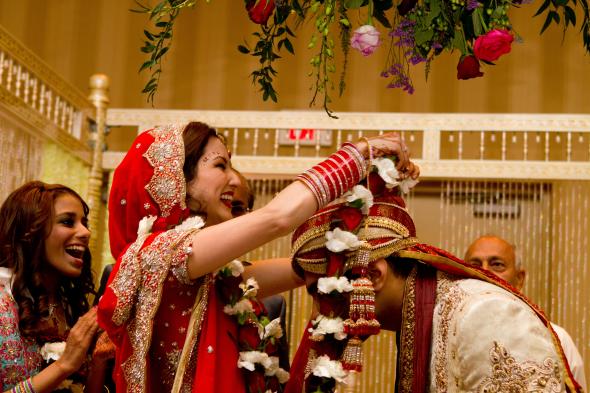 Jaimala or Varmala
Jaimala is a wedding ritual in which, the bride and groom put fresh flower garlands into each other's necks, followed by exchange of gifts. The ceremony is not just the meeting of two souls, but is a union of two families, a merge of traditions, values and customs that make the entire wedding complete. The jaimala or also known as 'varmala' is an ancient tradition which has been practiced and followed ever since Indian weddings originated.
Background
If we look back in history, then the jaimala has several references in Vedic literature, and even in religious references which primarily include Hindu scriptures and texts. Jaimala has been of great significance to the Indian culture and tradition and has been practiced widely across the nation. Regardless of region or state, the jaimala ceremony is what marks a Hindu marriage and all that it entails.
The ceremony takes place once the groom has arrived at the wedding venue along with the baraat. The groom is then greeted and welcomed by the bride's mother post which the ceremony is held. The groom and bride exchange elaborate looking garlands and put them around each other's neck. In order to tease the bride, the groom's friends keep him from getting the garland around his neck which adds the fun element to this tradition. Relatives, close family members, and friends are present during this time and rejoice with the newly married couple.
The Jaimala Ceremony
A jaimala, or in other words the wedding garland comes in various styles, designs and with a vast variety of flowers as well. The market is flooded with all kinds of jaimalas to suit any and everyone's personal requirements. These days brides and grooms go for extremely elaborate looking jaimalas that complement their wedding attire.
If the bride opts for a red lehenga she prefers to have red flowers with a similar color scheme that would match her overall attire. The garlands have to be the same for both the bride and the groom. At times the 'about to be married couple' prefer to go for something delicate and simple if they have very heavy or intricate looking attires since the garlands balance out the overall 'bling factor.
It is always advised that the couple takes the season into consideration while narrowing down on the required jaimala. Although flowers of different varieties and colors are available throughout the year, there are some that are not. Therefore one must pick and choose the flowers that would not wilt away during the wedding ceremony.
A typical jaimala is made up of jasmine flowers along with roses or marigolds. Vibrant colors like red, orange, pink, yellow and white are usually used along with certain embellishments such as pearls, stones, gold threads and strings that tie the flowers together. These days one can also go in for artificial or synthetic flowers that are made using fine fabrics such as crepe, silk or net. They look extremely authentic and are easier to maintain. The artificially made jaimalas are also useful for those who might be allergic to pollen present in real flowers.
The overall size of the jaimala may differ from one community to another. In the southern part of India jaimalas are heavily loaded with flowers and are extremely long as well, while in the north the jaimalas are less heavy and are more delicate in appearance and style.
Different flowers indicate different emotions and can represent the couple's bond as well. Pink roses are an indicator of sheer happiness, while red roses represent true and passionate love. Orchids showcase magnificence, while marigolds indicate prosperity. On the other hand, Arabian jasmine (mogras) are an exhibition of piety, while orange roses represent passion.  A lot of thought process goes into the overall making of a jaimala because it is a true illustration of what the couple feels for each other and their marriage.
Global Appeal
The jaimala ceremony has been highlighted due to Indian movies and songs and has been shown as a moment of climax when a couple gets married. The jaimala, or varmala ceremony is a symbol of love and shows the sacredness of a marital bond. Indian weddings are extremely popular all over the world and this ceremony is yet another ritual which is regarded as a beautiful tradition besides many others.
References
Categories: Wedding Rituals, Weddings & Festivals