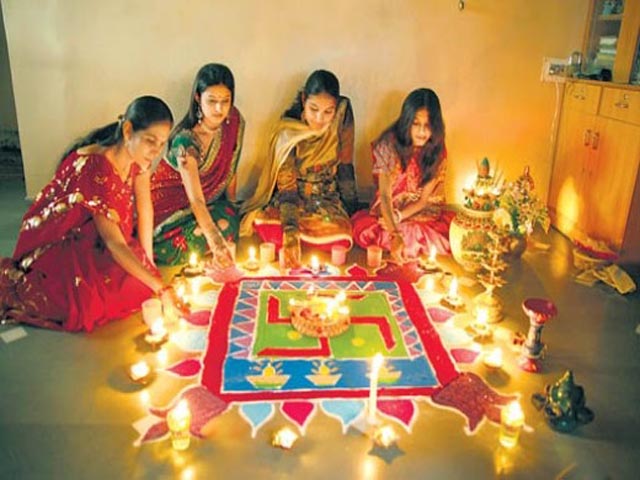 Rangoli Designs
Rangoli (also known as Kolam or Muggu in southern India), is a folk art from India and is a celebration of colors! It is used as decoration during festivals like Diwali and Onam. Colorful patterns are created on the floor usually near the in living rooms or courtyards using colorful flower petals, flour, rice or colored sand.
Rangoli is said to bring good luck and is a beautiful depiction of various cultures, traditions, and folklore.
The Making
From the simple geometric designs and deity impressions to abstract art, rangoli designs have come a long way. Other designs like flower and petal shapes are also made.
The basic color used in rangoli is usually white (also called chirodi), it is dyed different colors creating an attractive, multi-colored design. The base material is usually dry or wet rice flour to which colors are added. colored sand and flowers and petals are also used nowadays.
Traditionally, a square grid Rangoli is made in Northern India and a hexagonal grid rangoli is made in the Southern India. The rangoli made on the eve of Onam is usually circular.
In terms of color, Gypsum (also known as chirodi) is used in Northern India whereas rice flour is used in Southern India. The flower based rangoli is made on the Onam festival. With the despread mingling and migration of cultures and  people, the designs are colors are now freely used across India.
Besides creating a freehand rangoli design, readymade rangoli stencils are widely available these days which makes it easy for making elaborate rangoli patterns in a jiffy.
Variety
The art has many different forms in different states of India. Some popular variations are as follows:
Tamil Nadu – Kolam
Rajasthan – Mandana
Chhattisgarh – Chaookpurna
West Bengal & Maharshtra – Alpana
Bihar – Aripana
Uttar Pradesh – Chowk Pjan
Andhra Pradesh – Muggu
Karnataka – Rangavallie
Kumaon – Alikhthap
Kerala – Kolam
Gujarat – Saathiya
In Maharashtra, rangoli is drawn on the doors to repel any evil forces. In Kerala, during the Onam festival, the flower based rangoli is made. In the states of Andhra Pradesh, Karnataka and Tamil Nadu, rangoli is drawn on the floor on a daily basis using rice flour. In Rajasthan, the mandana is painted on the walls.
The Fashion Element
Rangoli is made on special occasions and festivals. Women dressed in ornate Sarees and Lehengas prepare the rangoli designs as per their tradition. Primarily made by women, wearing traditional ethnic wear and celebrating an occasion or festival with rangoli making has long been a tradition in various states of India. Men wear Kurta Pyjama or Sherwani on these occasions.
Reference
Categories: Cultural Connections, Traditional Practices