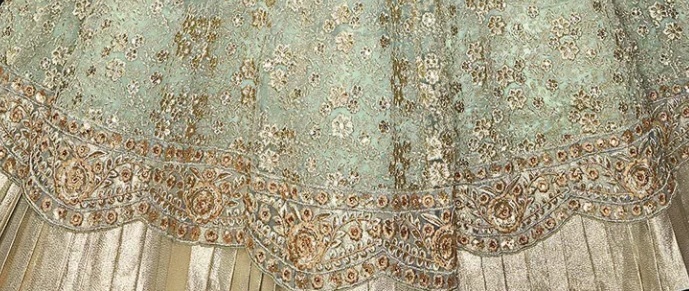 Zari Work
Zari or Zari Work as it is known, is an intricate art of weaving threads made of fine gold or silver. These threads are further woven into fabrics, primarily made of silk to create intricate patterns. The designs are so exquisite that apart from the monetary value attached to these threads, the fabric also gets an overall rich & a beautiful look.
The art of Zari has been associated with the Aristocratic & Royal Persona in India for a long time. It is one of the most famous & elaborate techniques in metal embroidery. For long, Zari has been an art associated with the aristocratic and royal persona in India. In Persian, the art is known by the term – Zardozi.
Origin and History of Zari Work 
It is believed that the word Zari originated in  a village by the same name in ancient Persia (Iran of today) where artisans used the skill of weaving thin threads of gold and silver onto fine fabrics of silk. The art was brought to India by Persian migrants between 1700-1100 BC – the period of Rig Veda. However, zari work flourished during the Mughal era under the patronage of Emperor Akbar.
Current Scenario
Due to a decline in royal patronage, Zari which was once the jewel in the crown of Indian fabric craft, has now become restricted to some pockets in the country.
It is sold mainly in urban cities like Lucknow and Chennai, where silk fabrics in the form of zari work sarees and Lucknowi suits are quite popular. Nowadays, Zari is not made of real silver & gold, but has polyester or cotton yarn at its core, wrapped in silver/golden metallic yarn. It has now been recognised by the Government of India as one of the most ancient forms of handicraft.
It is produced in 20 colors & is available in a variety like Zari on wood, glass, etc. There is a huge market for Zari threads & other metallic articles. The leading Indian markets for Zari products are Kolkata in east, Mumbai & Nagpur in the west; Jaipur, Amritsar, Delhi & Varanasi in north and Mysore, Bangalore, Salem, Chennai, Madurai, Kanchipuram & Kumbakonam in the south.
The consumption of Zari is the most in South India. Surat nowadays is the world's largest producer of all types of Zari like threads, cantile, ribbons, borders, etc.  Also, for festive occasions such as Durga Puja, Zari is known to adorn the attire of goddess Durga.
Sources of Inspiration
Elegance is what lies in the intricate patterns of Zari work. If we trace the actual inspiration behing this technique, it would lead us back to the Medieval times where Zari was used on silk fabric. The patterns were inspired by ancient beliefs and rituals but they vary from place to place & are passed down over the centuries.
The Making 
Zari is produced by twisting a flattened metallic strip made from pure gold, silver or a metallic polyester film around a yarn made of silk, cotton, polyester etc.These zari threads are processed to increase the brightness of gold plating, giving it an aesthetic  look.
Faces behind the Zari Work
The intricate art of Zari is passed down from generation to generation and is protected by a few only. The old teach the young and the skill continues. Zari work is the result of amazing talent & needlework and purely reflects the traditions. The artisans sit on the floor behind the equipment working on a piece of saree or suit. The speed at which they do the task is simply amazing. Kinari work done by men & women of Muslim community also formed the original faces behind this art form redefining the essence of traditional artistry.
Variety
Zari, which once enjoyed a lot of royal patronage, has slid down due to high costs of precious metals such as gold and silver. In keeping with the times and in a bid to appeal to various income groups, Zari has gone through some changes and extensions.
Zari is categorized into 3 types:
1. Real Zari: It is made of pure gold & silver. Due to the high cost of pure gold and silver, Real Zari is sought after by the very rich and discerning.
2. Imitation Zari: It is made of silver electroplated (thinly) copper wire. Imitation Zari was used as a replacement for silver. However with increasing prices of copper too, even Imitation Zari is produced in a rather limited way.
3. Metallic Zari: It is made of slitted polyester metallized film. Metallic Zari is the work which is in vogue as it weighs quite lightly compared to pure gold and silver or for that matter copper. It is also affordable and more durable compared to Real Zari and Imitation Zari.
Clothes with Zari are generally made-to-order in case of Real Zari or Imitation Zari, whereas Metallic Zari can be bought off the shelf.
The price range varies anywhere between Rs. 20000/- to Rs. 150000/- depending on the work needed for Real and Imitation Zari. For Metallic Zari, the price range is between Rs. 1500/- to Rs. 12000/-.
Wearing Zari Work Attire
Sarees, kurtas and salwars with zari are essentially worn during very special occasions such as weddings, and festivals.  Fabrics with Zari lend a regal look to the person wearing it.
Zari work lehengas are the essence of bridal trousseau. They are known for the refined work, exquisite patterns and exceptional grace.
Maintenance
Zari contains the weaves of gold and silver. The metal, specially the silver weaves react to the atmospheric air and looks dull & old. To maintain its shine, the best thing is to wrap them in soft cotton or a muslin dhoti. This prevents them from any reaction.
Dry cleaning is the best for Zari embroidered dresses. If there is a need to wash these dresses, it should be done in mild soap water, then dry these in shade. It is also advisable to avoid spraying perfumes or deodorants directly on these dresses.
Global wear
Zari work clothes have been gaining  popularity worldwide by appealing to the discerning tastes of people, especially in the western hemisphere.
References
Categories: Motifs & Embroideries