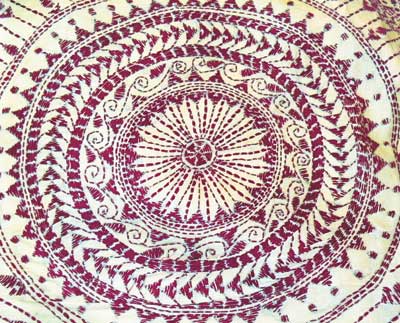 Kosa Silk
Kosa silk is obtained from an Indian silkworm – Antheraea mylitta and is a variety of Tussar silk. It is drawn out of cocoons which are especially grown on specific trees known as Arjun, Saja and Sal. Kosa silk is known for its sturdiness and is preferred to pure silk in the state of Chhattisgarh.
Known the world over for its soft texture and purity, this version of Tussar silk is produced exclusively in India. Known for its dull golden brownish look, it is available naturally in shades of pale golden, dark honey, orange, fawn, cream and many more; all similar to the description of dull golden brown. From the original color of Kosa silk which is dull gold, the finished product is dyed using natural dyes from the palaas flower (Fire flower), the red pollen of the Rora Flower and the deep rose red from lac and some more natural contributors.
Origin and History
Two places namely, Korba and Champa in Chattisgarh state of India are known for producing high quality Kosa Silk. The Kosa silk produced in "Champa" is treated as the best silk all over the world, and exported in many countries.
The Making
Drawn from cocoons specially on Arjun, Sal or Saja trees, the production of a single metre of Kosa Silk is a painstaking process and becomes even more complicated due to the rarity of the Kosa worm. As a result, a lot of times, the raw silk yarn is mixed with Cotton or Polyester. A simple kosa saree may take about three to five days to produce from yarn extraction to the weaving depending on the number of people working on it.
Present Day Scenario
Kosa Silk is used not only to design traditional Indian attires like Sarees, Lehengas in present times. The same is used by designers the world over while designing fabrics, outfits in Western styles.
Faces behind the Fabric
The Devangan community are the original proponents of products made from Kosa silk. They hail from Bilaspur, Raigarh, Korba and Champa towns of Chattisgarh and are by and large dedicated to the fabrication of Kosa silk. True, that the Devangan community is not only engaged in production of Kosa silk. With the new generation stepping in, they are also into other trades.
Modern Uses
Kosa silk is used for making sarees, kurtas, dhotis and other ethnic wear besides being used for furnishings.
Authenticity of Fabric
The best way to check the purity of Kosa Silk is by burning a few threads of the fabric. If authentic, the burnt threads leave a residue quite unlike ash which is black in color, and has an unpleasant odor.
Occasion Dressing
Kosa Silk is considered an ideal and auspicious fabric to be worn to weddings, religious ceremonies and other ceremonies as Sarees. This is especially true for those who cherish the heritage of Chattisgarh.
Suitability
Clothing made of Kosa a.k.a. Tussar silk is heavy and not recommended for daily wear. This is important especially of places like Chattisgarh where the temperatures go high in summers.
Maintenance
For Wash:
– Always wash with mild washing gel, which is used for woolen and silk.
– Always use soft water in normal temperature for washing & rinsing
– Do not rub the cloth.
– Always dry in shade.
For Iron:
– Iron with low medium heat and never iron on folds.
For Storage:
– Change folds at regular intervals.
– When storing for long time in a box, wrap with paper.
– Always use hanger for storage.
Global Appeal
Kosa Silk has been cherished by the international community and has been accepted with open arms in USA, U.K., rest of Europe, The Middle East and more countries.
Interesting Facts and Comparisons
Every single cocoon woven by the Kosa silkworms creates 1-2 grams of raw silk yarn which is equal to about 300 yards of silk thread.
There is another variety of yarn attributed to Kosa silk which is woven on twigs of a tree by the Kosa larvae. This is the sturdiest version of the Kosa silk yarn and is used for making a whole lot of utility items and décor objects such as doormats, rugs and cushion covers, which at times are decorated with mirror work.
Reference

Categories: Textiles