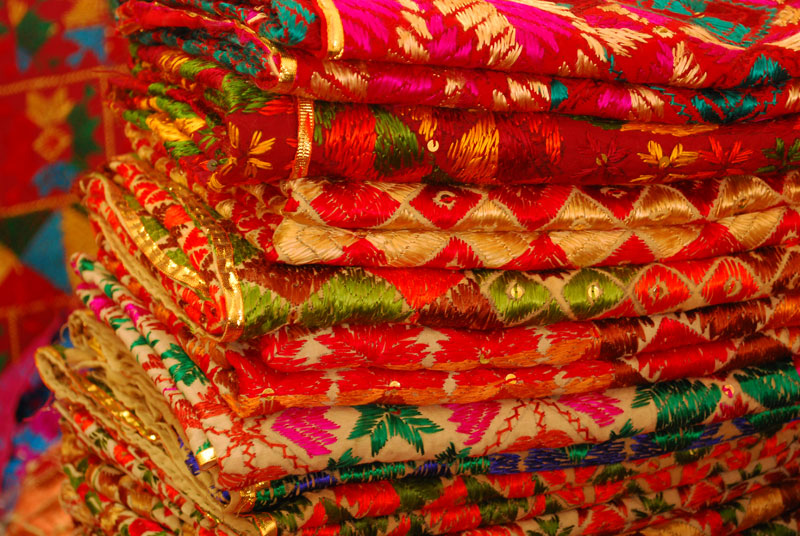 Phulkari
Phulkari, which literally translates into 'flower work', has a history etched in the culture of Punjab. Spun from the charkha this spectacular style of embroidery is patterned on odinis, shawls, kurtis and chunris. The main characteristics of this embroidery are the use of darn stitch on the wrong side of cloth with colored silken thread. A face of fashion that finds its first mentions in Punjabi folklore of the romantic protagonists Heer and Ranjha, Phulkari is a dream weaver for every Punjabi girl.
Origin and History
Phulkari is brought to the Indian Subcontinent by the migrant Jat people of Central Asia in ancient times. Techniques and patterns were not documented but transmitted by word of mouth. The tradition was associated with the Sikh heritage but was also shared with Hindus & Muslims.  It has it's origins in the famous love story of Heer & Ranjha (a love tale) by Waris Shah. It's a present form and popularity goes back to 15th century. The embroideries were a mere reflection of a woman's life and every woman had her way of representing.
In the days gone by, it was an art that offered complete freedom of creativity. Motifs used were an adroit representation of the dear and sundry values of Punjab. Since it was essentially a communal activity, colors and shades were somewhat run-of-the-mill, however, the fact that most of the women were experts in Phulkari would even make mediocre look exquisite. Back in the days, it was a reflection of routine and regular life of a typical Punjabi woman. She embroidered on a cotton cloth a tale of her tryst with the gardens.
The Comeback of Phulkari
The embroidery took a backseat with the division of India and Pakistan. However, it soon sprang back up like an evergreen style statement. Even though there is an inimitable demand for Phulkari work till date, there are limited credible sources left from where one can purchase a hand-woven Phulkari fabric. With commercialization of the needlework, quicker methods of production were devised.
Sources of Inspiration
Thread by thread, each motif was created in a geometric grid, which was a peculiar technique for coming up with a curvilinear final output. Long and short darn stitch was put to clever use for creating horizontal, vertical and diagonal thread work, inspired by routine of the artists, flowers, and animals.
Faces Behind The Fabric
It was never made for commercialization. Fabricated for familial customary obligations, Phulkari became famous mainly by word of mouth. For the people of Punjab, Phulkari is not just a style of embroidery. For them it is a traditional family culture, a pious ceremony that begins with the birth of the male child. The grandmother of the baby boy weaves a fabric of love, spinning dreams of his wedded future with a beautiful bride to whom the Phulkari will belong eventually.
There is little common between how Phulkari work was done in the past and how it is done now. Having completed the household chores, women of the conventional Punjab got together for friendly gossip and long hours of undisturbed weaving. On a coarse cloth of homespun khaddar the ladies embroider vivid patterns from the darn stitch. They took cue from anything around them, be it the scenic beauty of their homeland, the natural surroundings or a lively dialogue between a mother and child.
The dyeing pigment used at that time, however, was not colour-fast, a problem for which the modern times held a solution. Modern Phulkari is a more serious business. From a leisure activity it has progressed to become one of the major sources of employment for the women in Punjab.
Variety
The motifs spun out of the untwisted floss of silk, which is known as the pat, are cleverly fitted within the grids, representing the life in the hamlets of Punjab. Different Phulkari designs are reserved for different occasions. While Chope is a gift from the maternal uncle to the bride, the Wari da Bagh represents happiness.
Similarly Chamba, Suber and Ghunghat Bagh all have a specific meaning and value attached. Pachranga and Satranga varieties are available in each of these types, which, basically means that the needlework used on most Phulkari works makes use of five or seven different colors of threads.
Various types of Phulkari in India:
Thirma: Symbol of purity, worn by elder women & widows, but at times, the choice of white is made for esthetical reasons.
Darshan Dwar: Made for a temple as an offering to thank god after a wish has been fulfilled.
Bawan Bagh: Mosaic of fifty­two different patterns which decorate the piece and is the rarest of all.
Vari­da­Bagh: Made on an orange reddish khaddar with the main pattern being a group of three­ four small concentric lozenges (diamond) of growing size.
Chope: Embroidered with one color, usually on the borders.
Surajmukhi: Sunflower refers to the main pattern of this Phulkari.
Kaudi Bagh: Chains of small white squares representing stylized cowries.
Panchranga: Decorated with chevrons of five different colours.
Satranga: Decorated with chevrons of seven different colours.
Meenakari: Made of gold and white coloured pat, is decorated with small multicoloured lozenges referring to enamel work (meenakari)
Innovations in Phulkari
Burgeoning demand of this fabric from various parts of the globe has been the nucleus of change that the tradition of Phulkari has witnessed. Having bagged a contemporary label, the Phulkari today is a lot different. For example, no longer is the darn embroidered on the wrong side of the cloth. A coarser style of embroidery that showcases mechanical work rather than detailed handwork, is being largely deployed by the industry owing to the bulk demand of the embroidered fabrics. Likewise, Khaddar is being replaced by a variety of other textiles such as chiffon, georgette, cotton, etc.
New designs for outfits are being established by several modern designers to reach out to the new segments of customers. Presently, machine­made Phulkari attires are being manufactured in Amritsar and Ludhiana which is affordable for low end customers. Almost twelve Phulkari suits can be made in one day by machines which all the more lowers the price of the product. Nevertheless, the machine made products have not reduced the sale of traditional Phulkari, instead new markets have opened up popularizing it, making it available to masses.
Wearing Phulkari
A Phulkari suit or sari mixed and matched with ethnic jewelry in contrast colours looks admirable. Accessorize your Phulakari outfit with oxidized silver jewellery for a complete traditional look.
Traditionally considered a bridal outfit, the Phulkari is till date widely worn during the wedding season in a family. Bright reds, oranges and blues add a vibrant and joyous touch to their celebrations. Nonetheless, lighter Phulkari works dyed in sober colours make elegant daily wears. Since Phulkari is a form of embroidery that can be done on almost any fabric, seasonal variations are not a limitation for its suitability. Phulkari Odinis/Dupattas can be teamed with plain kurti-patiala or a cotton top worn over rugged denim for a contemporary look.
Global Appeal
Phulkari work is a trending global wear option. With people from all around the world exhibiting enthusiasm to indulge in Indian culture, Phulkari has easily slipped into the Western countries. Owing to its wearability all around the year, the style rates quite high on the global wearability factor. Depending on the occasion the Phulkari can be customized for occasional or regular dressing.
The Future of Phulkari
Phulkari work has spread its fabric from Odinis to full-length suits. The time is not far when we will see it being used on curtains as an essential part of the interiors industry. The rural crafts industry could see Phulkari developing as a trend in designing handicrafts and ornaments as well.
Maintenance
Phulkari is one of the most detailed and intricate kinds of needlework that needs proper care. A phulkari garment should we washed with delicate hands and should be ironed on the reverse side. Occasionally, getting it dry-cleaned will keep the fabric bright and lively.
Interesting Facts and Comparisons
The silk thread that was traditionally used in Phulkari work was straighter than an uncoiled steel wire
A heavy phulkari work dupatta can cost almost as much as a Banarasi Silk Saree
Phulkari embroidery makes use of the least complicated patterns to create extremely intriguing designs
Originally Phulkari was done as a pass time by women of Punjab
It takes at least 80 days to finish a Phulkari salwar kameez
The first mentions of Phulkari work were found in the Punjabi text on Heer and Ranjha
The patterns of Phulkari are neither drawn nor traced
Bollywood actor Priyanka Chopra adorned a Phulkari Churidar Kameez in the movie 'Teri Meri Kahani'
Reference
Categories: Motifs & Embroideries