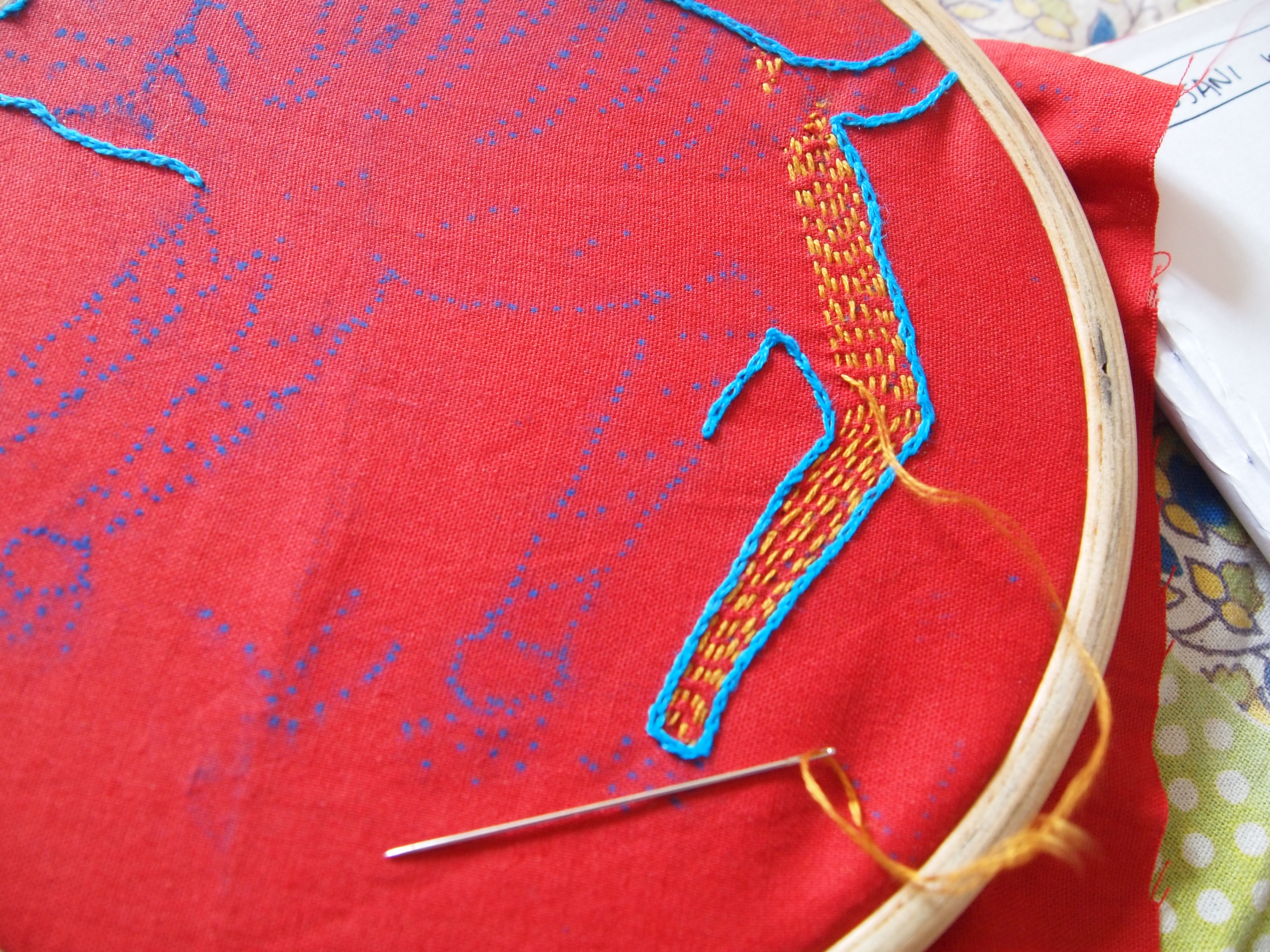 Sujani Embroidery
Sujani (also known as Sujini) is a form of embroidery originating from the Bhusura village of Bihar in India. In ancient times, it was considered as a form of quilting wherein old sarees and dhotis were used as the creative canvas, the cloth was folded twice or thrice and then simple stitches were done on these used clothing to add newness to them. Today, Sujani embroidery is also practiced in the southern part of Rajasthan for making patterns on Sarees, dupattas and other clothing and home furnishing.
Origin and History
In a diverse country like India, embroidery has always been the expertise of women, both working and homemakers. For every important moment in a woman's life like wedding, birth, and religious functions, stitching continues to be a promising skill. That's how Sujani embroidery came into existence in the state of Bihar.
Sujani is said to have originated around the 1920s and was only practiced by the Rajput women. The word "Sujani" is derived from the words 'su' which means facilitating and 'jani' meaning birth. Quilts for new-born babies were made by stitching together colorful patches of old clothes and then Sujani embroidery was done with colorful threads to create motifs and designs.
Process & Technique
The most important requirement is to use easily available raw material as the base fabric. The process begins with tracing down the designs on the base fabric using tracing wheel and tracing sheet. Then artisans start drawing background by fine running stitch. And finally black or brown threads are used for outlining the motifs and colorful threads are used to fill in colors in the motifs. Materials required for Sujani kantha stitch include a needle, frame, scissors, threads of various colours, inch tape, tracing sheet, tracing wheel, pencil, rubber, blue chalk and kerosene.
Difference between Kantha Stitch & Sujani Embroidery
This style of embroidery is similar to the Kantha stitch of West Bengal. Difference in use of colors, themes and motifs differentiate these two embroideries from each other. One of the prime difference is that in Kantha embroidery, artisans can stitch in any direction of the fabric, while in Sujani embroidery should always be done in straight lines. Going deep into the intricacies of Sujani style stitch, one will find that this embroidery is done only on cream colored fabric with stitched motifs outlined by black colored thread while multiple colored threads are used to fill in colors.
Various Uses
The craftsmen used fine running stitch to make beautiful embroidered motifs of deities, flowers, and peacock designs for wall decoration. With the evolving times, the craftsmen started embellishing Indian ethnic outfits like sarees, kurtas, dupattas and other clothing items with Sujani embroidery. Home decor items such as cushion covers, bedspreads, and wall hangings are some of the popular items decorated with Sujani embroidery. Winter wear clothing like Stoles and Jackets with Sujani embroidery are made using the Tussar silk fabric.
Sources of Inspiration
The Sujani embroidery form, which involves layered bits of old cloth material being stitched together, has its origins coming from ancient practices. For instance, these old cloth pieces stitched together were considered most suitable for the newborns to be draped in, serving the purpose of a cover, or quilt. Besides, another ritual was supposed to invoke a goddess named "Chitiriya Maa, who was hailed as the 'Lady of the Tatters'. From sun and cloud motifs, which symbolized forces of life, to other patterns like that of sacred animals and fertility symbols which were supposed to evoke blessings from gods. Even colors had thematic significance, with red standing for vitality and yellow symbolizing the sun.
Innovations
The Sujani is not merely a traditional craft. It is also a way to convey social and political messages. A typical Sujani embroidered quilt, conveys two different messages – from a drunken man physically abusing his wife, to women compelled to observe the purdah, and practices of dowry being given on one hand. Alternately, the other half includes motifs and scenes like a woman as the speaker or host of a public gathering, a female judge, or a scene depicting a woman selling goods and earning a living for herself.
Present-Day Scenario
With the rising popularity and vibrancy of other Bihar originated crafts like Madhubani and papier-mache, Sujani embroidered got overshadowed. But today, the production of Sujani embroidery is done in about 15 villages of India. The rural women of Muzaffarpur district in Bihar continue to embroider in the Sujani style, using combinations of a fine-running stitch and chain stitch. When rural women are not allowed to step out and work outside their homes, practicing this art form acts as the prime source of earning a livelihood for them and that's how they add to their family's income through this art.
References
Categories: Motifs & Embroideries