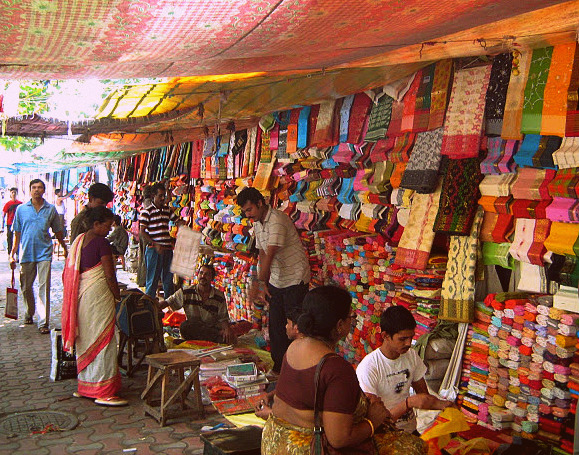 Kolkata's Gariahat: A Shopper's Paradise
Wandering through curios, walking in flea markets, bargaining with sellers till the rush hour; a distant call away from branded showrooms is indeed a memorable chapter from every shopaholic's tryst with street shopping. A Mecca for saree connoisseurs, street food junkies, to one who has a fetish for terracotta jewelry and home décor and, here's cruising through Gariahat Market, Kolkata's famed flea bazaar. Amidst the congested and busy bylanes of Gariahat market, is where every shopper experiences the colors and exuberance of the City of Joy.
The changing face of the city to a more urbanized sketch may have sent shopping malls and complexes shooting up across the city. However, the sheer joy of making one's way through the tide of shoppers to reaching say, a favorite shop is an adventure in itself for fashion lovers.
Reigning in the southern part of Kolkata, Gariahat has been nothing short of an addiction for every bargainer and lover of Indian ethnic fashion. From tiny hut like stores, mini temples, florist shops, street hawkers shouting at high decibels to attract the shoppers, to fish and grocery shopping, Gariahat draws shoppers of all ages – from local crowds to a tourist with an eye for fashion. Essentially the Saree hub of the city, a few renowned saree shops like Tantuja, Basak, and Saree Kutir with their sarees for every celebrations; from exquisite bridal Banarasi Sarees to Korial Sarees for Durga Puja, is nothing short of a haven for Saree lovers. From Tant cotton Sarees, Baluchari, opulent Garad Silk, earthy Batik print sarees to Dhakai Jamdani, Katha stitch Sarees and Bengal handloom Sarees; one is eventually be spoilt for choices. For those with a pocket-friendly shopping in mind, one can find street hawkers offering these nine yard drapes at surprisingly throw away prices. Other than sarees, one comes across Kantha stitch cotton Kurtis, Terracotta jewelry, colorful beaded chunky jewels, block-printed bedspreads and vibrant wooden bangles, to name some of the wonders.
Shopping at Gariahat is never complete without a round of indulgent snacking. Besides treating everyone being a shopper's haven, the market also offers food corners for street food lovers. Mobile trolleys of the famous Phukhchas, Beguni, Aaloo Bora, Jhaal muri, to Mughlai dishes like Chicken Biriyani, egg roll end up evoking foodie's culinary passions.
Finally, their march way back home, amidst the exhaustion, one is filled with a sense of euphoria of the shopping spree. And that's when you'll find the rare sight of rickshaw pullers of Kolkata meandering their way through the traffic, while the shopper settles comfortably on the seat of the rickshaw., with a sense of jubilation. From hoping this travelogue to Kolkata's Gariahat was a joyous ride for you all, stay tuned, as we explore more treasures of Indian Ethnic Fashion.
Categories: Ethnic Alley