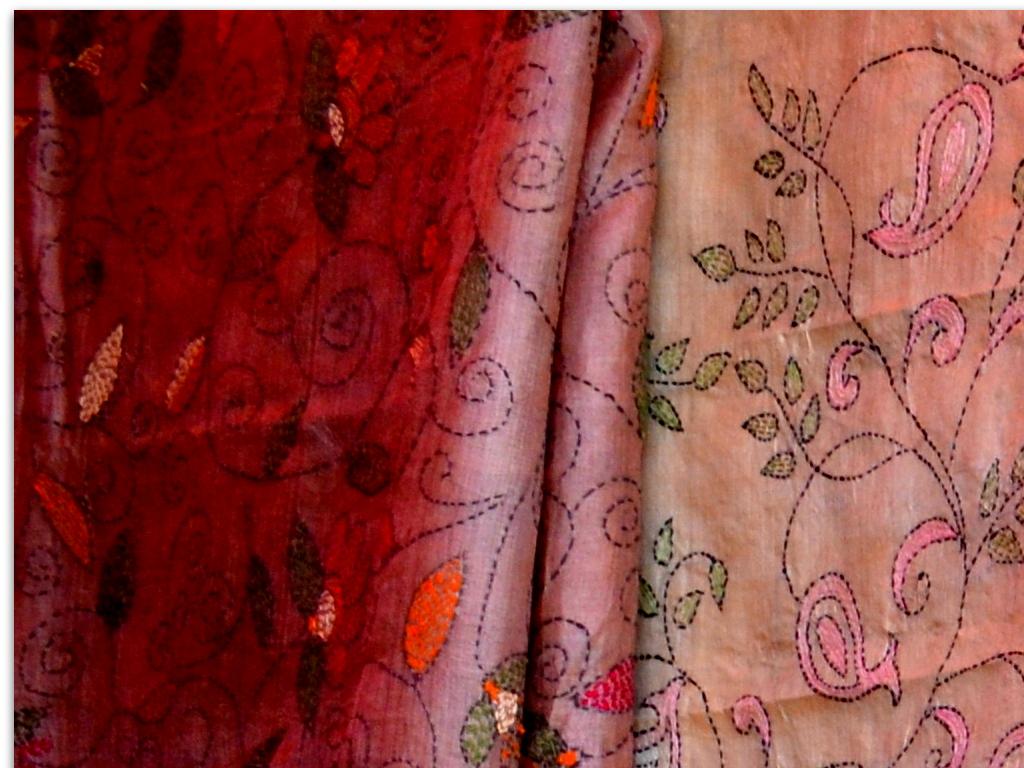 Kantha Embroidery
Kantha, a popular style of embroidery that comes from West Bengal, is a significant symbol that displays the skill and talent of the rural women in Bengal. Kantha, which basically means 'throat', is associated with Lord Shiva. The story revolves around how Lord Shiva consumed poison while stirring up the ocean, and therefore the significance of this word goes all the way back to the Vedic times. This type of stitch is basically the 'running' stitch, and is very simple.
Traditionally this embroidery was used for quilts, dhotis and sarees, but over a period of time it has evolved and made its way right into the heart of Indian fashion. The yarn is taken from old saree borders; the design is then traced and finally covered `with running stitches. Today this kind of embroidery can be found on shawls, pillow covers, dupattas, and home furnishings as well.
Origin and history
Kantha is perhaps the oldest forms of Indian embroidery as it can be traced back to the first and second A.D. The thought behind this needlework was to reuse old clothes and materials and turn them into something new. This is what makes kantha embroidery only one of its kind.
Kantha work is approximately 500 years old, and there is a myth surrounding it which points out that Lord Buddha and his disciples used old rags with different kinds of patch work to cover themselves with at night, and this gave the kantha embroidery its origin. Traditionally women would take 4 to 5 sarees, layer them together and create different running stitches on them which they then used as blankets to cover their children with. However, what started as a way to make life more comfortable went on to become a big trend in clothes and furniture as well.
Sources of Inspiration
Day to day life was the biggest source of inspiration behind this craft. The motifs designed on clothes or bed spreads were of birds, animals, folk scenes, fishes and imagery that depicted different views of livelihood for the people living in Bengal. Reprocessing was another form of motivation, since initially women recycled their old clothes and turned them into something more practical, like covers for furniture, or blankets. Economical, practical and yet beautiful is what Kantha embroidery is all about.
Faces behind the fabric
For decades Kantha embroidery has been the source of income for the rural women living in West Bengal. However, the literal face behind the revival of this skill and technique is Shamlu Dudeja, who is a revolutionary and teacher, and more importantly the one who realized the importance of this craft work. She took great initiatives in the early 80s' to empower the rural women of Bengal who practiced the art of Kantha embroidery and encouraged them to take it more seriously and professionally which then helped to lay a strong foundation in making this stitch work more popular and sought after.
Varieties
There are 7 different types of Kantha stitches. The first kind is the Lep Kantha, which is used to make warm, padded quilts. Then there is the Sujani Kantha which is used to make bed covers for ceremonial occasions. Baiton Kantha is used on covers meant to wrap books and other precious objects.
Oaar Kantha is used on pillow covers, while Archilata Kantha is used for covering mirrors and usually comes with colorful motifs and borders. Durjani Kantha is small pieces used to make the insides of a wallet, and the last kind is the Rumal Kantha which is used to cover plates, and come with a lotus motif right in the center.
Present Day Scenario
Kantha embroidery has definitely taken the fashion industry by storm. Sharbari Datta, an Indian fashion designer, has displayed beautiful ensembles of Kantha work, along with other Indian traditional embroideries, in several of her fashion shows. She took the traditional Kantha embroidery and gave it a unique twist by including it on dhotis kurtas, sherwanis and even hot pants! Moreover, Hillary Clinton, on one of her visits to India, was greatly impressed by the rich cultural display in Bengal, especially through its embroidery and handicraft. In one of the fashion shows she attended, she fell in love with the exquisite displays of Kantha embroidery. This kind of embroidery truly marks a flair for style in any individual who wears it, while maintaining the appeal of comfort and leisure.
Innovations
Kantha work has been around for ages and has been favorite amongst those who love taking fashion and style to levels beyond the ordinary. Conventionally, the motifs used were of animals or birds, but now with modern-day designers, experiments in designs are also being done. One can see cave art, Egyptian murals, Hindu mythology and even pop art being illustrated through this fine stitch work.
Global Wearability
The demand for this type of embroidery is not limited to India alone, but designers in UK and Japan have also reached out to local sellers and have used this embroidery in their designs as well. Kantha work is famous worldwide and Indian designers who use this embroidery to promote originality in their style helps make Kantha work accessible and more so likeable by many.
Kantha work has been around for centuries and still makes Indian fashion go around. With the current development in its technique and the different flavors of style that it brings to the table, kantha embroidery has become a favorite form of stitch work with designers across the globe.
Wearing Kantha
The best thing about Kantha work is that it can be an accessory in itself, and does not need any additional embellishment to make it look better. This is because it can be used in different forms and for different purposes. It can be a unique and fun looking table cover, and it can also be a funky border for a saree.
One can accessorize it, however, and not worry about going wrong since this kind of embroidery is adaptable to any occasion. Since Kantha embroidery can be found on all kinds of objects and garments, it can be molded to a specific use according to one's needs and preferences. Ideal to attend a mellow gathering or a Pooja next door.
Maintenance
Maintaining the quality of a kantha blanket or even a kantha saree is not complicated. Any special trick of the trade is not required to keep it in a good condition. Normal hand or machine wash would be adequate and would not ruin the longevity of the fabric or embroidery.
Interesting facts and comparisons
In Sanskrit, the word "kontha" means rags.
Kantha is the most popular form of embroidery in West Bengal and has been around for more than 500 years.
Initially Kantha was used on cotton or silk. But now it is used on other fabrics as well like Georgette, crepe and chiffon.
Reference
Categories: Motifs & Embroideries