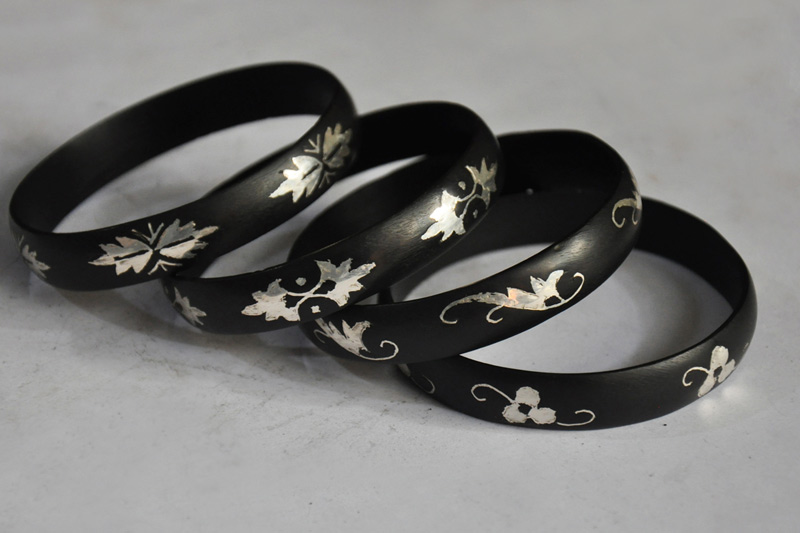 Bidri Art
A beautiful amalgam of metals such as copper and zinc, Bidri contains the pure qualities of both the metals. The black color of the Bidri metal is obtained from zinc while copper contributes to the temporary color of the metal. Several intricate designs have been experimented with this type of metal, while maintaining the visual and aesthetic appeal intact. Bidri art is indeed a treat for art collectors and connoisseur's all across the world.
Origin & History
A legacy that started two thousand years ago, today Bidri art is counted among the most popular forms of metal work that dwells in various forms. Introduced by numerous rulers from  different parts of the country, this art holds a significant position in the ancient pottery, handicrafts and, cutlery. This art was originated in the beautiful lands of Karnataka. It was introduced in India by the Bahami sultans who reigned over the Bidar lands during the 13th to 15th centuries. There has been no change in the manufacturing process of Bidri art since its inception.
The Persians, Iranians and Syrians are believed to be the have introduced this art to the world. This art has been handed down to various succeeding generations among the local Muslim and Lingayat sects since its inception. Bidri ware is considered to be an important source of income for the people of India as it is the most exported items in the form of  handicraft, and this is the very reason why it symbolizes the wealth and heritage of India.
Style
Each Bidri jewelry box is made attempting a unique design. This makes the whole appearance of these boxes absolutely stylish yet classic. The various designs engraved on this box are traced by individual craftsmen and truly define the hours and hard work they put into the design. This makes these boxes highly alluring and eye-catching. They are simple boxes made of the blackish alloy. The designs in spite of their uniqueness and individuality are uncomplicated in nature which make them beautiful and enchanting.
Innovations
The innovation in this art lies in the way the metal was formed. Initially, when Persians introduced this art to India, it was made by inlaying a part of gold/silver on a base made of steel or copper. But, with time things changed and therefore rendering Bidri art some freedom from gold and silver.
The idea was to make the metal inexpensive yet retaining its beauty. This was done by mixing copper and zinc to form an alloy wherein zinc was used for coating. The newer improvised version of the metal was engraved using silver or brass. The trinket boxes designed using this metal appear to be very simple and are available in various sizes.
Influence over the Years
The journey embarked by Bidri ware has been interesting. This art was introduced to Indian lands by Persia; therefore traces of Persian influence can be seen in this art. The simplistic designs of these  jewellery boxes carry bits of Persia and Syria in their overall designs and appearance. In India, the Nizam carried it forward to various other regions including Aurangabad. Taking a closer look at the journey of Bidri art, it can be said that this art form has been influenced by many races and cultures that dwelled in India at that time.
Occasion Dressing
Bidri comes across as oxidized metal and hence it suits almost every occasion. The boxes are best suited for storing precious jewelry or to gift someone special on occasions or buy it as a collectible. The colors and textures of these boxes make it universally appealing and acceptable for all occasions.
Global Influence
This complex and refined technique that forms bidriware has found several consumers. People across the globe are interested in buying this enriched form of metal that is simple yet stylish in nature.
[youtube]http://www.youtube.com/watch?v=Jnu8cSuqOqw[/youtube]
References
Categories: Attires