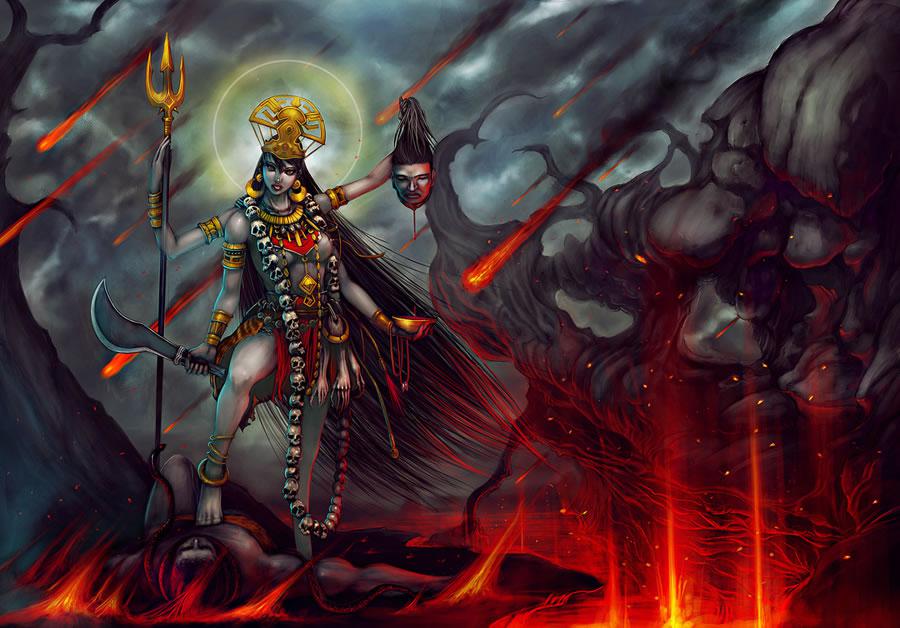 Navratri Day 7 | Dedicated to worshiping Goddess Kalratri
Goddess Kalratri, also known as Maa Kaali, is the seventh avatar of Goddess Durga. Devotees worship her on the seventh day of Navratri. They seek her blessings to eliminate all troubles from their lives. This form of Maa Durga is believed to destroy all demons, ghosts and negative energies. She is also believed to be the destroyer of time and death. Although, intimidating in appearance, this Devi is benevolent towards all worshipers.
Origin and History
There are many mythological stories that tell us about the transformation of Goddess Durga into Maa Kalratri. According to the most common legend, two demons Shumbha and Nishumbha invaded and defeated devlok (the realm of demigods). These demigods prayed to Goddess Parvati for help who readily transformed herself into Goddess Chandika, to battle with demons on behalf of all devtas. Goddess Chandika, also known as Chamunda, transformed herself into Goddess Kalratri and killed both these demons. Maa Kalratri fought another demon called Raktveej and kept drinking his blood till he was completely dead, causing her tongue to appear blood-red.
Appearance and Form
Kalratri Devi, also known as Maa Kaali, is the most ferocious form of Goddess Durga. This Krishna (black) colored Goddess has long tousled hair and three round protruding eyes. She exhales flames through her nostrils while breathing and has four arms that depict her immense strength. Also, she holds a cleaver and a deadly sabre in each of her hands, while her other hands are in Abhay and Varada mudras to grant blessings and protection to her sadhakas. Sometimes, she is also seen standing on a demon's corpse and holding it's freshly cut head while in her other hand she's holding a trident. This Goddess wears a necklace of skulls and is usually depicted mounting a donkey.
Customs and Rituals
Saptami Pujan of Goddess Kalratri on the seventh day of Navratri is considered to be auspicious. When it comes to other festivals, Ganesh Chaturthi precedes Durga Saptami of Navratris. After Saptami, comes Ashtami, which is then followed by Maha Navmi, Vijaya Dashmi and Diwali. On this day devotees observe fast as well as perform rituals to seek the Goddess' blessings.
Ekveni Japakarnapura Nagna Kharastitha |
Lamboshthi Karnikakarni Tailabhyakta Sharirani ||
Meaning: "She is naked, rides on an donkey, has a long tongue, lustrous body, wears ornaments on her legs like lightning, is black in color, has unlocked hair, big eyes and ears and is very dangerous looking. Meditating on this form of Kalratri removes all obstacles as well as removes all magical effects created by others."
Kalash Pujan and Worship of Lord Shiva and Brahma
Kalash Puja is also performed on this day to invite all the planets, deities and family members of the Goddess. All the chapters of the religious book 'Durga Saptashi', are recited on this day. Apart from this, several rituals are performed to worship Brahma and Lord Shiva on this day. Madira (alcohol), being a part of these rituals, is offered to this Devi. This night is considered to be highly auspicious by Siddha Yogis and sadhakas to practice penance for Shashastra.
What to Wear on the Seventh Day of Navratri
Mahasaptami is the beginning of Utsav Puja. Since white is considered as the auspicious color for this day, the devotees wear traditional or contemporary dresses, embellished in white color.
For Women
Lehenga: Women can choose from beautiful white or off-white lehengas with blouses in contrasting colors. This traditional attire will not only add an elegant touch to your appearance but will also lend a charm while you dance your way to spiritual realm on the Navratri Saptami. You can add some glitter to your outfit with big silver jhumkas and brightly colored jootis.
Sarees: Ladies can opt for white colored chiffon sarees to flatter their forms, while also looking graceful at the same time. Additionally, high heels can be used to add inches to your height and charm to your personality. You can also make a statement with delicate stone studded silver jewellery in silver and blue.

For Men
Ethnic Kurtas: Men can go for ethnic white kurtas that can be worn with payjamas or churidars. Wearing this dress with a pair of comfortable mojaris or colorful kolhapuri chappals will bring compliments your way. You can even accessorize this dress with a matching stole.

Nehru Bandhgala and Patiala: You can also go for a classy look in a pair of well-fitted Patiala and a white ethnic Nehru Bandhgala. Also, you can opt for bandhgalas from fabrics like khadi, silk or brocade. A plain bandhgala can be made interesting by replacing the conventional buttons with more ornate ones.

Interesting Facts
Maa Kalaratri is also known as Goddess Shubhamkari or one who does good things.
Shanigrah or planet Saturn is governed by Maa Kalaratri.
After immersing themselves in Sahastrar chakra, devotees can feel themselves be in unison with God.
References
Categories: Festivals