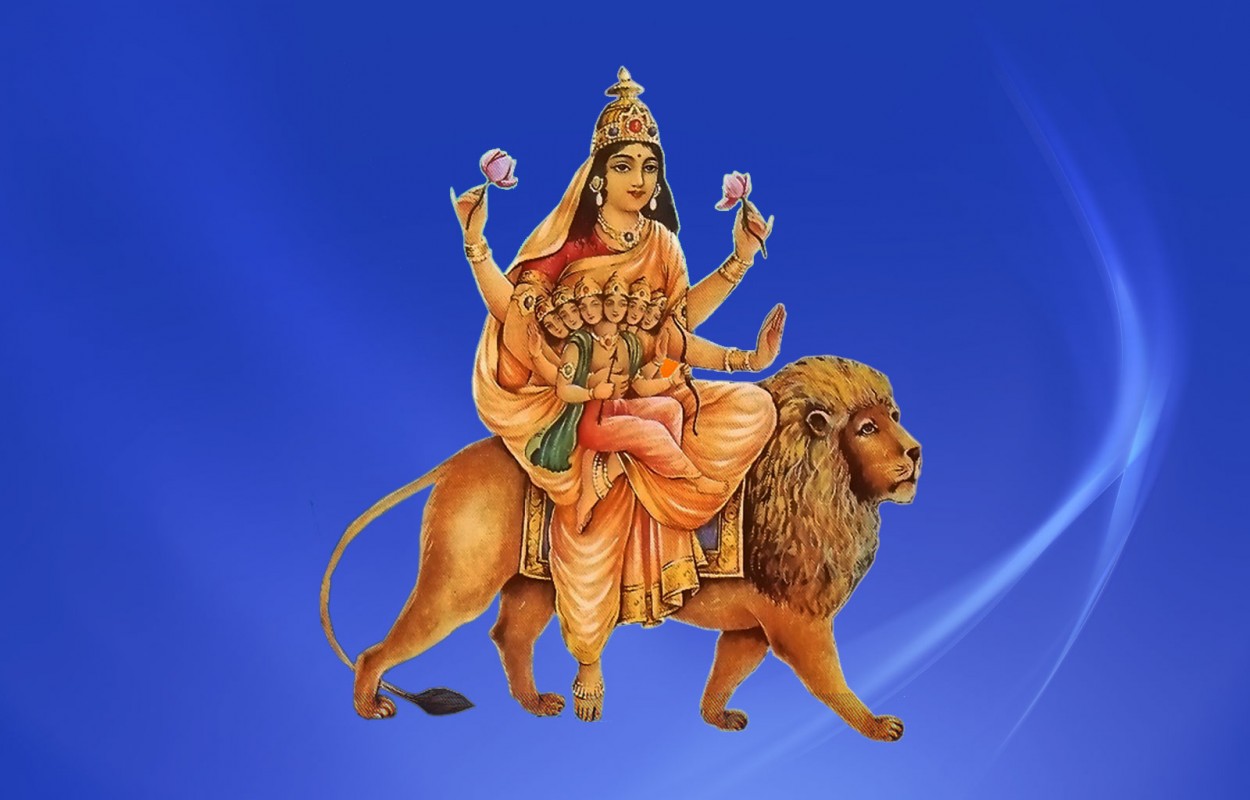 Navratri Day 5 | Dedicated to Worshiping Goddess Skandamata
Skandamata, or the mother of Kumar Skanda, is worshiped on the fifth day of Navratri. As a symbol of fertility, motherhood, mother-child relationships and endurance, she is often depicted holding her six-headed-son in her lap. Worshiping this goddess is believed to bring purity of mind, as her devotees enter the Vishudh Chakra i.e., a state of being in undiluted thoughts. After attaining their true desires, worshipers shout the slogan "Jai Skandamata".
Origin and Deification of the Maternal Form
According to Hindu mythology, when all devtas (deities), manushya (mankind) and rishis (sages) were tired by the atrocities of demon Tarkasur, they sought help from Brahma to help end this demon's tyranny. Brahma, who was earlier pleased by the hard penance of Tarkasur, granted him with the boon of invincibility from all, except Lord Shiva's son.  Upon being urged by all the devtas, Lord Shiva agreed and got married to Parvati, the daughter of Himalaya and later, their son Skanda destroyed the demon. Being the mother of such a valiant son, Goddess Parvati came to be known as Skandamata. This devi became the fifth form of Goddess Durga.
Remarkable Appearance of Ma Durga's Fifth Manifestation
One can easily tell apart this manifestation of Durgadevi from her other forms by looking at her appearance. This fair or shubra (white) complexioned, three-eyed and four-armed deity is seen mounted on a ferocious lion while holding two lotus flowers in each of her upper two arms. With her lower right hand, she holds her son Skanda, while her other hand is raised in Abhay mudra to bestow blessings upon her seekers.
It's believed that she usually sits on a lotus flower while meditating. Because of this, she is also known as Padamasani and Vidyavahini.
How to invoke, worship and perform rituals on Navratri Panchami
Devotees invoke the blessings of Skandamata Devi through chanting mantras, fasting and praying. Several other deities are also worshiped along with her on Navratri Panchami (fifth day) for their blessings.
During early morning hours, the portrait of this deity is decorated with good clothes and embellishments. The beginning of this day is marked with devotees offering her sweets and money. All the chapters of 'Durga Saptashi', a religious book, are read on this auspicious occasion as well.
Worship of this goddess begins with the chanting the following mantra:
Sinhasan Gata Nitayam, Padmashrit Kardvaya |
Shubhdastu Sada Devi, Skanda Mata Yashashvini ||
Meaning: "Skandamata, who rides on Lion with Kartikeya, holds a lotus in her two hands and Varmudra (pose to grant boon) in one hand, be propitious to me."
It is said that worshiping Skandamata is incomplete without the worship of her Skanda. In Sanskrit, Skanda means six-headed and corresponds to the mind, as well as the five senses. It also refers to a person who can control vices like krodh (anger), mada (ego), lobh (greed) and matsarya (jealousy). Lord Shiva, Brahma and Lakshmi Devi are also invoked for their blessings on this day.
This Devi is worshiped in accordance with the Panchopkar ritual or Pancha Mahabhutas i.e., water, earth, fire, air and space.  After this ritual, Lord Shiva and Brahmaji are worshiped as well.
Some people observe the Upang Lalita fast on this day as it is believed to be fruitful. Alsi (Lin seeds) are offered to the goddess in worship and are after that taken as Prasad. This fast facilitates the devotees entering the Vishuddi Chakra for calming the mind.
It is believed that worshiping this 5th avatar of Durga Maa cleanses all impurity from the entire being. The puja brings divine happiness, purity in thoughts, banishes meaningless anxieties and serious problems are vanquished from the life of all saadhaks.
Tips to look Religious and Gorgeous with Trendy Dresses, Hairstyles and Jewelry
Dressing up for rituals is no longer a boring task. With a widespread availability of chick yet traditional outfits, and an ever growing number of hairdressers and jewellery, one can surely turn heads with their style.
On the 5th day of Navratri, women like to adorn themselves in a variety of vibrant and gorgeous ethnic wear. On this day, Goddess is supposed to wear blue colored saree while the devotees are dressed in vivacious grey saree.
For Women
Dresses for women can range from traditional to designer sarees, salwar suits and lehenga cholis that can be complemented with a low bun made at the nape a high coiffure bun. Women can also wear their hair in a classic 'French Plait' with a white gajra or can simply leave their hair open.
Women can choose from a wide range of grey silk sarees with thick borders or patterns or they can opt for flowing fabrics like Georgette or chiffon. The saree pallu is used to cover their heads during the puja and other rituals. Women are certain to create a style statement with a set of pearl necklace and earrings.
Salwar Kameez or Anarkali Suits
This three-piece dress is an instant favorite among women because of its comfort and easy movement. Beautiful grey Salwar Kameez and Anarkalis are available in the market in several fabrics like cotton, chiffon, poly-fibres, Georgette and silk. Dangling silver earrings look beautiful with this outfit as well.
For Men
Their choice ranges from traditional white dhoti kurtas to grey kurta payjamas and modish sherwanis. One can get them stitched or buy readymades if they are running short of time.
This modest dress comes in several fabrics like cotton and silk. The design can be simple or ornately patterned, giving it a classic look. Kolhapuri chappals, mojaris and jootis lend a charm to this attire.
This elegant and rich outfit can be purchased, pre-stitched or customized according to the taste of the wearer. Embellished mojaris in silk also go well with this regal dress.
Interesting Facts About Goddess Skandamata
Navratra Panchami is also known as Lalita Panchami.
Parvati Devi is also known as Maheshwari and Gauri.
Kumar Skanda is also known as Lord Murugan and Lord Kartikya.
Goddess Skandamata is believed to rule Budh Grah or planet Mercury.
References
Categories: Festivals