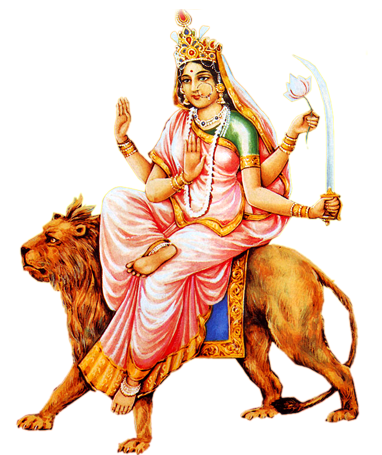 Navratri Day 6 | The Day of Maa Katyayani
As per Hindu mythology, Devi Katayayani showers her blessings on those marriageable girls who worship her with complete devotion. This devotion towards Devi Katayayani is part of an age old tradition that started from Gokul in Braja. It is believed that, centuries ago, Gopis in Gokul used to fast during the first month of winter to fulfill their wish of marrying Lord Krishna. Since then, the sixth day of Navratri has been considered to be significant for those girls who have stepped into the age of marriage and, as such, it is devoted to the worship of Devi Katayayani.
Origin and History
According to legends, Devi Durga has been worshiped by several rishis and priests, the most prominent among them being Rishi Katyayan. It is said that Rishi Katyayan was a spirited devotee of Maa Durga and worshiped her for several years. When Maa Durga was pleased with his years of hard meditation, she incarnated as his daughter and came to be known as Katyayani. In her Katyayani avatar, Devi Durga ended the pain and sufferings inflicted by Danva Mahishasur and brought peace to the humankind.
Worshiping Devi Katyayani
Devi Katyayani is usually worshiped by young and marriageable girls who want to marry their soul mates. This tradition began in Gokul where the Gopis who wanted to marry Lord Krishna, fasted during the month of Margashirsha (the first month of winters). As time passed, this tradition started getting related with girls of marriageable age.
Customs and Rituals
While earlier Gopis used to fast for an entire month, nowadays the ritual goes on from anywhere between 21 to 41 days. Young girls worship Maa Katyayani for the purpose of timely marriage. While performing the rituals, nine minor girls and three small boys are worshiped as well, in order to please this Devi and obtain her blessings.
"Om Katyayani Mahabhage Mahayoginy Adhishvarim
Nand Gop Sutam Devi Patiam Me Kurute Namah"
Meaning: "Oh Goddess Katyayani, Oh great potency of the lord, Oh possessor of great mystic power and mighty controller of all, please make the son of Nanda Maharaja my husband. I offer my respect and homage to you"
This mantra should be chanted five times a day for at least 21 days. It is believed that repeatedly chanting this mantra is an effective way of removing all obstacles that are delaying the marriage of a girl, such as Manglik Dosha.
Colour for the day
While the Devi herself wears a yellow saree on this day, it is suggested that devotees should adorn themselves in orange color ethnic wear. Since the puja is done for the purpose of timely marriage, it is significant for girls to wear clothes that are orange in color.
Elegant Orange Attires
Saree

: Suitable for every Indian woman, saree is an attire that is perfect to embellish ones aesthetic curves. An orange georgette saree with a border and delicately designed pallu can instantly transform one's appearance into a sophisticated and suave looking young lady. A clutch along with stone danglers can be the adorning pieces of accessories.
Anarkalis: A convenient and quick option to dress up can be Anarkali suits. An orange anarkali suit teamed up with sleek contrasting embroidery can present a radiant bridal look. A pencil heel sandal combined with jhumkas and kadas can bring added flair to your appearance.
Lehenga Choli: Lehenga Cholis have always been the top choice of outfit that can be worn on a Navratri poojan. An orange Lehenga worn with contrasting choli, Kurti or an achkan can give the attire a resplendent and highly attractive look. Normally, traditional jewellery goes best with Lehenga Choli. So, women can add bangles to their regular jewellery to complete the look.
Interesting Facts
Devi Katyayani has four hands and three eyes.
Devi Katyayani is also known as the warrior goddess
Over a period of time, her presence has also been felt in Buddhist text, Jain text and Tantric text.
Categories: Festivals