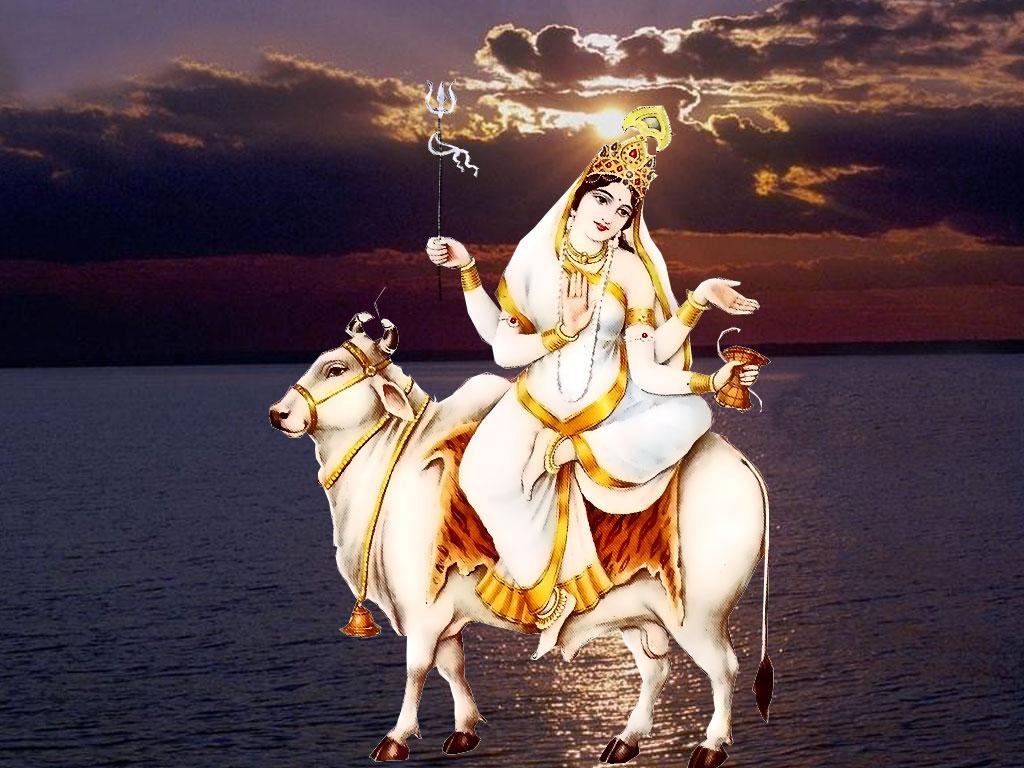 Navratri Day 8 | The Day of Goddess Mahagauri
Mahagauri is the beautiful manifestation of Goddess Durga in her eighth form. She is worshiped on the eighth day of Navratri, more commonly known as Ashtami. Being a symbol of purity, serenity and tranquility, Mahagauri is said to put an end to all the suffering of her devotees. It is also believed that Mahagauri is the 16 year old unmarried form of Goddess Parvati.
Origin and History
It is believed that the 16 year old unmarried Goddess Parvati wanted to marry Lord Shiva and, as such, did rigorous meditation (tapasya) for a very long time to please him. Because of this, she ended up facing a lot of hardships and her complexion turned dark with dust, heat and starvation. Lord Shiva, however, was pleased with her tapasya and agreed to marry her. Using the gangajal flowing out of his matted hair, he washed her clean. Consequently, her white clothes and fair complexion started glowing radiantly again. Since then, she is known as Mahagauri.
Appearance and Form
This eighth avatar of Navdurga in her physical form is depicted as a three-eyed and four-armed beautiful Goddess mounted on a white vrishabha (bull). Two of her arms on either side are in the Varada and Abhay mudras (poses) to bless and alleviate fears from the lives of her devotees, while her other two arms hold a trishul (trident) and damru (tambourine). On this day, the goddess is dressed in peacock green clothes and is adorned with white ornaments. Because of her fair complexion, Goddess Mahagauri is often compared with the moon, a conch and jasmine flowers.
Customs and Rituals
Devotees observe fast and perform several rituals on Ashtami. They worship the kalash to invite planetary deities and family members of this Goddess. Like other days of Navratri, all the chapters of 'Durga Saptashi' are read. Additionally, this beautiful Goddess's blessings are invoked with a Mahagauri pujan mantra.
Devotees bathe themselves and wear clean clothes during Brahm muhurath (daybreak) before invoking this Goddess with a Mahagauri pujan mantra. Incense, roli (coloured rice), kumkum (vermilion), flowers, akshat (a mixture of vermilion and unbroken rice to put on forehead) and deep (lighted earthen lamp) are essential ingredients required for the puja.
Shwete Vrashe Samarudhah Shwetambar-dhara Shuchi |
Mahagauri Shubham Dadhyanmahdev-pramodada ||
Meaning: "The meaning of her name is Maha (great or extreme) and Gauri (white complexion). The very beautiful Mahagauri rides on a white Vrishabha (bull) and wears pure white clothes and ornaments."
Prasad: People offer fresh un-boiled milk, sweets made from mawa, halwa, black chana (gram) and fresh flowers to this devi. Later, these items are distributed as prasad among themselves.
Kanya Pujan: Kanyapujan or kanjak is done as a part of honoring this feminine deity. On Ashtami, people invite nine girls aged two to ten and worship them as the nine forms of Goddess Durga. All nine kanyas are invited into a clean house and are asked to sit in a row, on a pedestal. People wash their feet and apply tilak on their forehead. Each girl is worshiped with a separate mantra. Halwa, puri and black chana are served to them, with people seeking their blessings and offering them money or presents.
Other Important Festivals around Ashtami
Durga Ashtami is the eighth day of Navratri which falls after Ganesh Chaturthi i.e., the day when large idols of Lord Ganesha are installed amidst much fanfare. Right after Navratri comes the tenth day or Vijaydashmi. On this day, people celebrate the victory of good over evil by burning an effigy of asura Ravana. This festival is called Dusshera, 20 days after which comes Diwali.
Looking Ethnic and Trendy on Durga Ashtami
Although Goddess Mahagauri is dressed in peacock green on this day, her devotees usually opt to dress themselves in pink as it is considered to be an auspicious color for this day.
For Women
Anarkali: A beautifully designed Anarkali suit will be nicely complemented with stone studded jhumkas and an embellished clutch. This dress will make you feel like a diva and grab everyone's attention.  You can even add height with a nice pair of stilettos.
Lehengas: The quintessential ethnic wear, will certainly add some beauty and charm to your appearance. Team it up with a nice pair of heels and an embroidered potli bag to give it a nice ethnic look. This is certain to be a great attire for this festive season.
For Men
Kurta Payjama: Men can wear kurta payjamas in different shades of pink. The neck can be adorned with beautiful embroidery or colorful prints. Cotton and silk are popularly used fabrics for kurta payjamas. This ethnic dress can also be completed by teaming it up with a pair of Kolhapuri chappals.
Sherwani Kurta: This traditional attire can be teamed with a pink stole, zari embroidery on the neckline and slim fit pink pants to create a distinct look. With this attire, you will definitely stand out from the crowd.
Interesting Facts
Mahagauri is also known as Shwetambardhara because she wears white clothes.
She is also known as Vrisharudha because she rides a white bull.
Planet Rahu is governed by Mahagauri.
Categories: Festivals