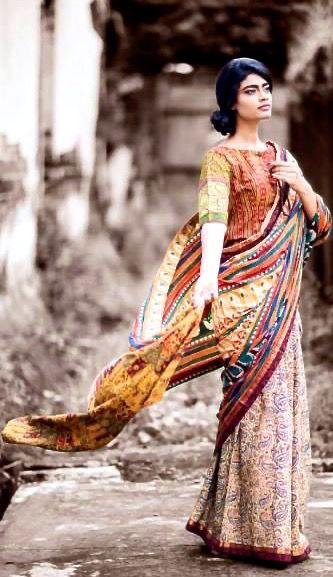 Srikalahasthi Kalamkari
With fabrics designed with the help of a free flowing pen, Srikalahasthi Kalamkari is a distinctive style of Kalamkari in India.The term Kalamkari, or Qalamkari, refers to hand printed or block printed cotton textiles that are used to create a variety of different garments.
Kalam means pen while kari means craftsmanship. In Srikalahasthi Kalamkari, the free flowing pen is also used to fill in the colors. It originates from the town of Srikalahasti in the Chitoor district of Andhra Pradhesh, India.
Origin and History of Srikalahasthi Kalamkari
Originally, Kalamkari was used as a means to tell a story. Tales of the court as well as the prevalent ruler's bravery were illustrated on large canvases.
These were filled in with colors, with the help of dyes obtained from plants. Furthermore, this type of work also flourished in and around Hindu temples and therefore, ended up having a strong religious connotation.
As a result, most kings and members of the royal family gave many artisans their patronage in order to ensure the continuation and development of this art form.
(Also Read: Kalamkari)
Sources of Inspiration
As this style was developed mostly in temples and in the courts of kings, the motifs and patterns used were deeply inspired by the scenes seen around them.
They were also inspired by religious texts and often illustrated the same. Thus, most Kalamkari prints depict art work of people going about their daily lives. They also have certain nature based motifs like plants and animals.
Faces Behind The Fabric
Srikalahasthi is a town known predominantly for this style of Kalamkari work. The artisans that work on this art hand down the secrets from generation to generation.
The Making of Srikalahasthi Kalamkari
To start with, the cotton fabric that is used as a base is first doused and soaked in a prepared mixture of Myrobalans (a type of plant) and cow milk. This helps the fabric attain its glossiness, which then provides a rich background for the art work to be done on.
A makeshift pen is constructed out of bamboo. This pen is dipped into fermented jagry and water and then used to create various outlines or shapes onto the fabric.
Once this is done, dyes are used to fill in color and darken the outlines. After all the colors are added to the artwork, the fabric is then washed in order to help it retain and soak the dyes.
Style and Variety
Srikalahasthi Kalamkari is a form of Kalamkari itself wherein art work is created by free hand. The other form of Kalamkari is one where block prints are used to stamp in images on the fabric and create the motifs and patterns.
The latter, however, does not have a distinguishing name and is often only referred to as Kalamkari work.
Kalamkari fabrics can be used to create a vast variety of garments ranging from sarees, kurtas for a salwar kameez set, dupataas, informal lehengas, long skirts, indo-western t-shirts and printed pants.
In terms of contemporary usage, Kalamkari work is also used for items pertaining to home décor, such as lamp shades, bedspreads, cushion covers, linen, shower curtains, curtains, rugs and table linens. As it has an extremely unique look, it works very well as a décor element.
Present Day Scenario and Global Influence
Srikalahasthi  Kalamkari went out of style in India during the Mughal Rule but was resurrected under the British Rule as they found the prints quaint.
Today these are popular throughout the world as both, garments as well as décor elements.
Wearing the Work
Srikalahasthi Kalamkari garments are usually worn for semi-formal and casual events. They bring together quirky art work on traditional clothes, which is what makes them so popular with women across all ages.
Most women choose to capitalize on this informal look by pairing Kalamkari garments with funky street jewelry. This includes accessories made from gold or silver metals or beads. It give a very young and fresh look.
(Also Read: Kalamkari: Revealed By Kalavati)
Maintenance
As Kalamkari work is done on cotton, it requires very little maintenance as cotton is an extremely sturdy fabric.
Interesting Facts and Trivia
Natural ingredients such as cow dung, leaves, seeds and crushed plants are used to create the dyes for Srikalahasthi Kalamkari.
Reference links
Categories: Textiles