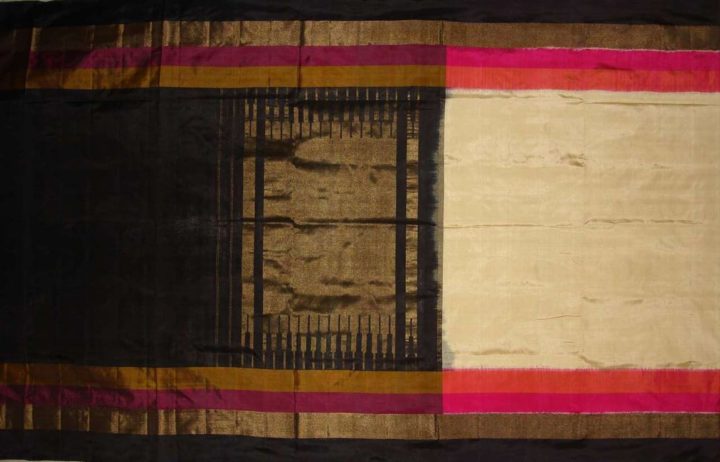 Pochampalli Ikat
Pochampalli Sarees, also known as Pochampalli Ikat, is a traditional garment that originates from Bhoodan Pochampally in the Nalgona District, Telangana State.
These sarees are distinguished by their characteristic Ikat prints. Ikat, also known as Ikkat, is a traditional technique that is used to dye garments. The process used to do so is known as Resist Dyeing, wherein a host of methods are used to prevent the dye from spreading all across the fabric.
As a result, the dyed areas are used to create specific patterns and motifs, which is what Ikat is all about. This technique is used in all Pochampalli Sarees with minor variations here and there.
(Also Read: Ikat or Ikkat)
Origin and Background of Pochampalli Ikat
Resist dyeing is one of the oldest techniques in the world. One of the oldest fabric samples using this style dates back to Egypt. Strips of linen were discovered by historians while unearthing mummies.
These strips were first soaked in wax and then symbols and designs were scratched onto to them with the help of a sharp stylus of sorts. These strips were then dyed with the help of blood and ash and then washed to get off the remaining wax.
The final product had abstract designs all over the surface. In Asia, China popularized this technique as it was widely used in the T'ang Dynasty. The technique was then introduced to India via the silk route.
Pochampalli Ikat sarees were mainly popularized in the 1800s. Traders across the silk route often associated these designs with power and affluence, which really contributed to their popularity.
Sources of Inspiration
Most Ikat designs are totally abstract and do not use a specific set of motifs and prints. However, one can say that the abstract design element itself is a motif as it is repeated across the surface of the saree.
Faces Behind the Fabric
Most artisans who excel in creating this form of saree live in Pochampally, which is a cluster of 80 villages in Andhra Pradesh. These villages are equipped with traditional looms whose structural designs are from centuries ago.
With over 10,000 families that participate in the weaving process, this area is now known as Silk City. The secrets to the trade are handed down from generation to generation.
The Making of Pochampalli Ikat
These hand woven fabrics are woven in an extremely interesting way.  What sets it apart from other fabrics is the fact that the warps and weft threads are colored or dyed first and then added to the loom to create the fabric. In India, Ikat is carried out with the help of Batik and wax.
Batik is a traditional technique wherein dots or lines are created with the help of a sharp tool known as canting. The resist is printed with the help of a copper stamp called the cap. The wax which is used along with this resists the dyes and thus, the patterns are created.
Style and Variety
Pochampalli Ikat is, apart from being used to create sarees, also used to create a variety of other Indian ethnic garments such as salwars, anarkalis, skirts and lehengas.
Contemporary usage also allows this print to be used in interior design or décor. It is not uncommon to find Ikat printed bed spreads or cushion covers as well as smaller rugs.
Present Day Scenario and Global Influences
In 2005, Pochampally was awarded with a Geographical Indicator that helps ensure authenticity of the sarees as well as the Intellectual Property rights of the artisans weaving the saree.
Pochampally sarees are now the registered property of Pochampally Handloom Tie and Dye Silk Sarees Manufacturers Association as well as the Pochampally Handloom Weavers Cooperative Society Ltd.
Internationally, this print is sought after for both, clothing and décor purposes.
Wearing the Work
Due to the intricate nature of the designs on this saree, most women choose simpler forms of jewelry so as to avoid a clash of visuals.
More often than not, South Indian gold jewelry is paired with these sarees. However, younger women have also been spotted breaking free of the traditional look and accessorizing with street jewelry made from faux gold or silver as well as beaded accessories or jewelries.
Most women prefer wearing high heeled shoes with their sarees as it complements the fall and shape of the garment itself.  This is considered a formal saree and is appropriate for weddings, festivals and other occasions. It can also be worn to the workplace.
Maintenance of Pochampally Ikkat
The best way to maintain this type of saree is to get it dry-cleaned. This preserves the tie-dye effect for longer and does not contribute to a faded look in the future.
Interesting Facts and Trivia
Pochampally's annual business yields a stunning 10,00,000,00 INR
Air India's air hostesses wear Pochampally sarees
Aishwarya Rai Bachchan wore a Pochampally saree on her wedding day as well as on the reception.
Reference links
Categories: Attires