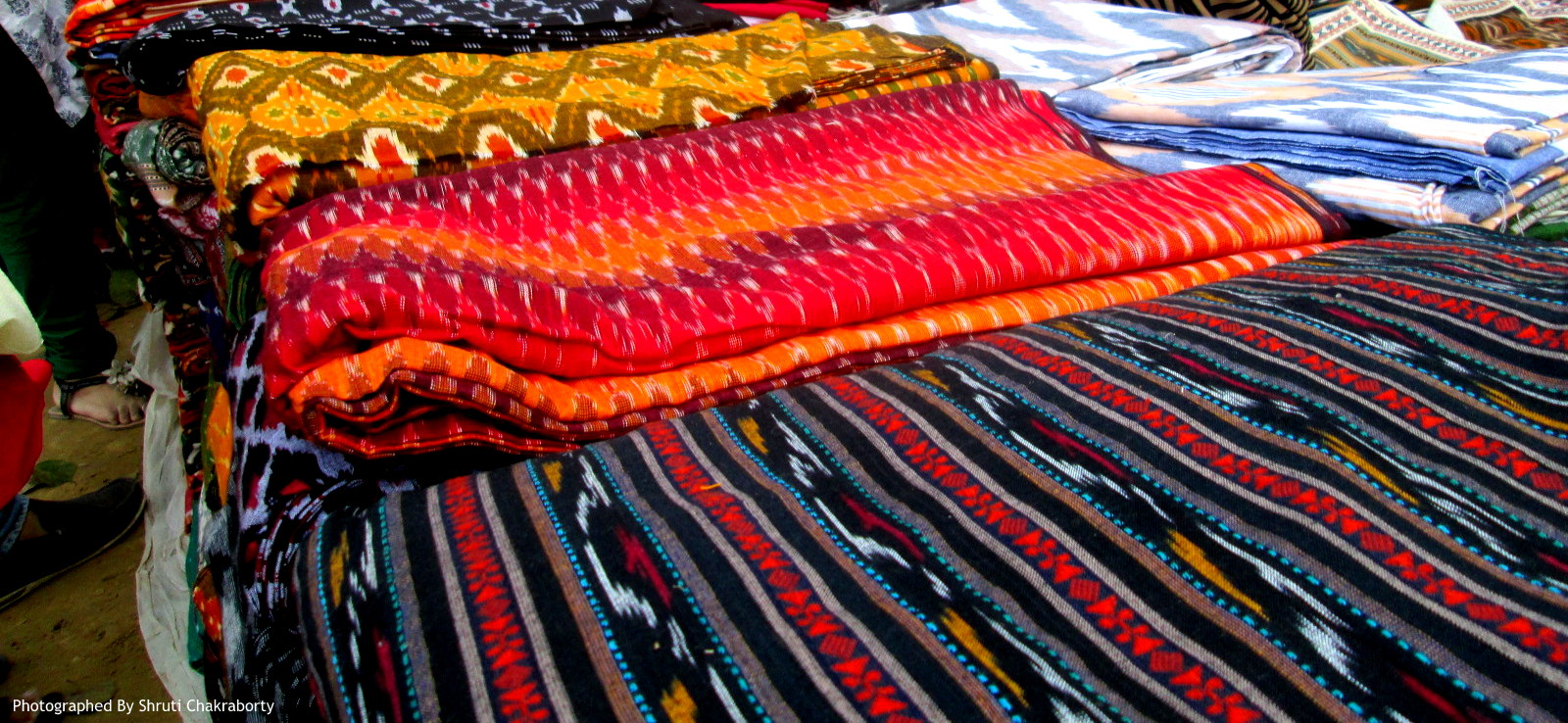 Ikat or Ikkat
Ikat is an elaborate dying process done with silk or cotton fabrics. The end result is a piece of cloth bathed and glittered in colorful patterns. More often than not, Orissa Ikat is associated with sarees. Ikat patterns are dyed and binded into the threads before cloth is weaved. This differentiates it from the Tie and Dye process where the fabric is woven in the first place.
Origin and History
The technique which is known today as Ikkat had it's origins in different parts of the world such as South East Asia, Central Asia, South America and West Africa. Ikat is one of the most ancient techniques of dyeing fabrics. The term "Ikat" itself is a derivation from the Malay word mengikat which means to tie or to bind.
As per sources of information, Orissa Ikat dates back to the 12th century when artisans from the Patan region of modern day Gujarat migrated to Orissa and carried forward the craft.
Varieties
Orissa Ikat mainly showcases three varieties:
Single Ikat is a process in which either the warp yarns or the weft are dyed.
The second procedure of combined Ikkat has both warp yarns and the weft being used together in different parts of the fabric.
Double Ikat involves both warp and weft threads tied in a greatly precise manner so that when the threads from both axis mesh with each other at certain points to show up a completed pattern.
The Making
Orissa Ikat uses a process called `resist dying'. Essentially the core fabric materials used in the Orissa Ikat are silk or cotton. The tools required for carrying out the process are – Pick, scissors, dye vats, rubber bands, or other tying material to resist dye.
The process starts with the warp or weft threads being bundled and bound with rubber bands which can resist the action of dye colors. The bundles, then, are tied to a wooden frame and put into the dye vat. Here they are given repeated dye treatments to generate bands of pattern.Once the dying process is completed, then starts the complex and intricate process of weaving these threads into a stable piece of fabric. The entire process involves almost an entire family's participation in different aspects.
Traditionally colors from plants, flowers, and barks of trees were used as dyes in the process. But in recent times, increase in demand for Orissa Ikat has fueled the need to use chemical dyes as well.
Faces Behind the Fabric
While it is an ancient craft, it is dominated by the people from the Meher community of Orissa. Radhashyam Meher, Kunja Bihari Meher, Chaturbhuja Meher and Krutartha Acharya are some of the leading exponents of the craft who have helped showcase it on the world stage.
Ikat Exports Pvt. Ltd. based in Bhubaneswar, Orissa is probably one of the largest producers of Orissa Ikat handloom fabric and other products.
Present Day Scenario
Apart from other countries where Ikat is practiced, in India, Ikat is prevalent in 3 states – Gujarat, Andhra Pradesh and Orissa. Ikat as a craft has reached its pinnacle of perfection in Orissa. Orissa Ikat work is carried out in the regions of Bargarh, Sambalpur, Sonepur and some other districts of Orissa. The artisans of Orissa Ikat predominantly belong to the Meher community. The craft has been particularly perfected in the Bargarh and Sambalpur regions. Nowadays, one sees Orissa Ikat being used not only with sarees but also with Footwear, Handbags and Upholstery. Sarees made in the Orissa Ikat process are priced anywhere between Rs. 2000/- to Rs. 20000/- depending on the intricate designs and process involved.
Wearing Ikat
Orissa Ikat sarees have appealed to the tastes of celebrities like Aishwarya Rai Bachchan and world leaders alike. While Orissa Ikat sarees of the lower price range double up as everyday wear for a lot of middle-class housewives, the premium sarees have a special place during weddings, festivals and public functions.
Maintenance
For silk sarees, a gentle wash by hands or dry cleaning is recommended while the ironing should be done at a moderate temperature level.For cotton Ikat sarees, a thorough wash in the washing machine can be done or better still a dry cleaning session.
Innovations
Traditionally Orissa Ikat was practiced by artisans using hands. Given the rising demand and modernization of processes, today Orissa Ikat is carried out in an automated manner using machines.
Global Appeal
Renowned international fashion designers world over like Missioni and Jhane Barnes have taken inspiration from the Orissa Ikat designs and successfully used the same in their works.
Comparisons
Within the Ikat itself, Orissa Ikat sarees are compared to Patan Patoli Ikat sarees from Gujarat and the Pochhampalli Ikat sarees from Andhra Pradesh. Additionally, while there might be comparisons drawn with Uppada, Gadwal, Paithani, Banarasi and Kanchipuram sarees, Orissa Ikat sarees hold their own place.
Interesting Facts and Comparisons
With the traditional process of making Orissa Ikat sarees by hand, the process can take up to seven months between two people to complete one length of a saree.
To produce a single length of a saree even using the automated process, the numbers of steps involved are 14 elaborate ones.
References
Categories: Textiles