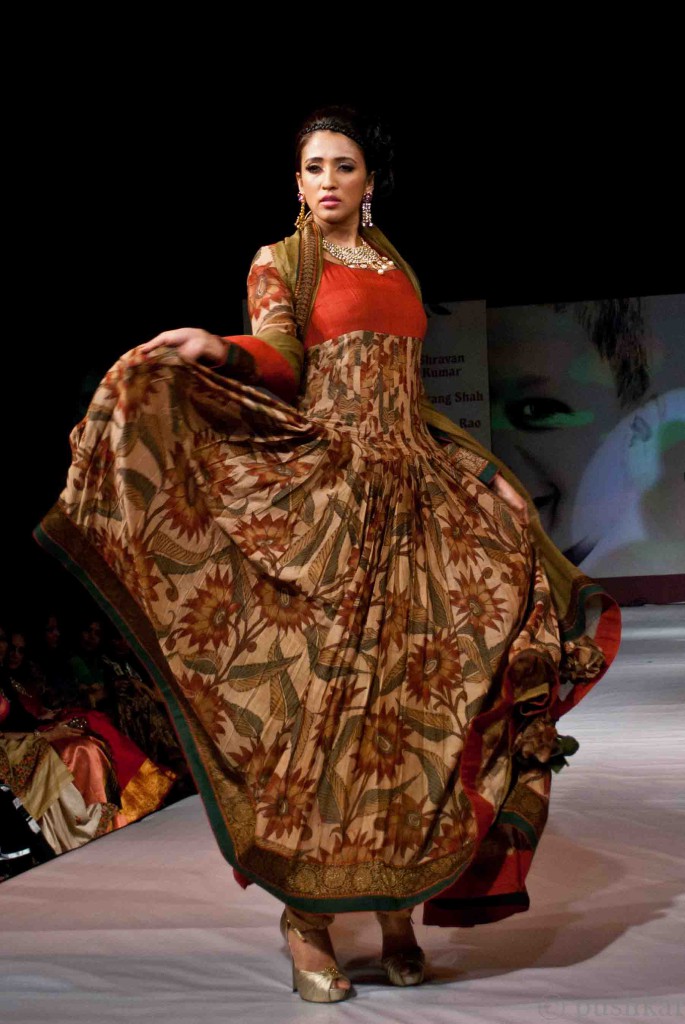 Kalamkari: Revealed By Kalavati
From the traditional block prints to the oxidized metal jewelry, the treasure trove of rustic jewelry, beautiful textiles, colors and embroidery that India holds within is endless. My numerous encounter of these artistry fills my heart with sheer bliss, always.
Reliving the spirit of Kalamkari art, I was pleasantly taken aback when encountered with the actual artists of this beautiful craft. The mini stall of Kalamkari clothing at Surajkund was frescoed in fabrics portraying cultural-driven paintings and traditional patterns of age-old Indian flora & fauna. From breathtaking dupattas, 6-yard sarees to wall hangings, little lanterns, gorgeous jewelry, sarees, blouse material, dupattas, stoles, salwar kameez, kurtis, ugh, I was spoilt for a choice!
Knowing Kalavati: The Artist
In a tête-à-tête with the diffident and self-effacing Kalamkari artist Kalavati, the brilliance behind these beautiful designs, I was thrilled to know that she had traveled all the way from her little village in Andhra Pradesh to Delhi along with her husband and son. Kalavati shared her comprehensive knowledge on the tedious process of Kalamkari drawings that spans across centuries.
From the first representation of this immortal art as temple paintings, depicting gods and goddesses of Hindu religion, through the reign of Mughal dynasty, today Andhra Pradesh is the largest producer of Kalamkari. While conversing with her, I was spellbound at her passion. "Craftsmen spend hours, hand painting each textile with beautiful motifs inspired from the famous folklore and epics like the Mahabharata and Ramayana. We do the tale-telling to our children via this beautiful art," says Kalavati.
When Kalam does 'Kalamkari'
Kalamkari is a Persian word derived from two words – 'Kalam' which stands for pen and 'Kari' means craftsmanship. The making of Kalamkari involves 23 steps. From natural bleaching and softening of fabric, sun drying, making dyes, painting with vegetable dyes, to air drying and washing, it is indeed a task requiring great skill.  With great precision, the craftsmen use 'tamarind twig' as pen, also called 'kalam' to paint beautiful motifs of folklores, religious identities and epics like Mahabharata and Ramayana. Swift pen strokes and use of vegetable dyes create a harmony of visuals and emotions on an extensive array of cotton fabrics.
Once the fabric is bleached and softened, it is treated with a solution of 'myrobalam' and buffalo milk wherein the former helps in attaining the right off-white tone of the fabric, while the buffalo milk avoids blotting of dyes on the fabric. Taking a closer look at the vibrant colors around, I realized that the palette in Kalamkari art is predominantly ruled by hues of rust, indigo, mustard, green and black, which injects a rustic essence into this art.
Smuggling the Raw Colors from Nature
Kalamkari is painted in natural dyes. Hence craftsmen only use natural raw materials and no artificial or chemical products to create dyes. Shades of red are obtained from 'algirin' or the bark of madder, while yellow or mustard color is created by boiling dried pomegranate rinds. Blue comes from indigo and green is obtained by mixing yellow and blue together. And black color used primarily for the outline is derived by mixing iron fillings, jaggery, and water.
After spending years exploring Indian art & crafts across streets of Delhi, my shopping bag was no less than a colorful carnival. Discovering the glorious, identifying and experiencing the making and knowing the real faces behind the art, was inexplicable!
Kalamkari is bound to be my next obsession, have you smuggled it yet?
Categories: Ethnic Alley, Street Clothing