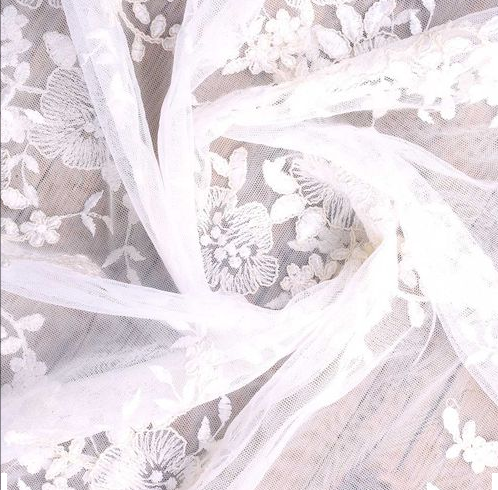 Net Fabric
Net has been one of the most sensual fabrics available in the fashion industry. It is used widely to create Indian ethnic attires as well.Net fabric is usually used to create sections of the garment. Or is layered over a sturdier fabric in order to cover the garment in its entirety. It owes its popularity to the mystical aura that it generates when worn.
Origin and History
Garments with elements of net can be traced back to ancient India as well as western civilizations. While historically the origin of this fabric remains unclear, it is apparent that it has been used for centuries. In terms of ethnic fashion, the oldest net saree is traced to the pre-Mughal era.
Net was used mostly by women in the court and as they gave away more and more of their belongings (as it was a custom to refrain from repeating garments), this style filtered into the sartorial choices of the common folk as well. Lace, which is considered a form of net, traces its origins to the Victorian Era. This was introduced to India during the British Empire and was worn when Indian women wanted to emulate the fashion styles of the British women.
The Making of Net Fabric
When creating this fabric, the yarns of thread are looped, knotted or fused only at their intersections. This helps create open spaces between the yarns. This is how net fabric gets its light, gauzy look.
Style and variety
There are many different types of net fabrics that are used in ethnic fashion. These are:
Bobbinet
This style of net is made with the help of hexagonal mesh. This enables the net to be very thin and transparent and is mostly used in bridal wear to add more fullness to the garment. Though it is very thin, this type of net can be found with stone or peal embellishments as the fabric is sturdy enough to support a few scattered adornments here and there.
Tulle
This is also a hexagonal mesh however, it is specially made from yarns of silk or nylon. As a result, this style of net tends to be stiffer than Bobbinet, albeit still as thin and transparent. Like Bobbinet, it is used to create an illusion of fullness, especially for bridal attire. Due to their similarities in creation and usage, most artisans club these two types under bobbinet.
Fishnet
This type of net is called this because it resembles a fisherman's net. It is tied coarsely with larger openings in the yarn than its other counterparts.
Filet Net
This form of net is made with the help of a square mesh. The holes that are formed are, therefore, hexagonal in shape and have a very diaphanous look.
Net Fabric can be used for a vast variety of applications. In ethnic fashion, it can be used to create sections of the saree, such as the pallu, and the dupatta of a salwar kameez set. In other cases, it can be used to create elements of the garment as opposed to the whole piece. For instance, it can be used as a layer over any other fabric to give the garment a fuller look. At the same time, it can be used to create aspects such as sleeves, a neckline, and hemline and so on.
Global Influence of Net
Net is a fabric that is lauded globally. Used to make a variety of both, Indian and western garments, this fabric is one of the most popular ones to be found in the market. In certain sub-cultures, net clothes are donned without an underlining to highlight the sheer look. This is especially true in urban sub-cultures such as Punk (and was widely popularized by bands like the Sex Pistols).
In terms of ethnic fashion, this fabric is used as extensively abroad as it is in India to great a plethora of garments such as salwar kameez, saris, anarkali suits and many more.
Innovations
Apart from being used to create garments, this fabric is also used to create a variety of household décor items such as cushion covers, curtains, table cloths and, in certain cases, lampshades. These are used across the globe with varying frequency. Indian fashion designers and fashionistas have widely used the net fabric to showcase spectacular net sarees, kurta, and net lehenga choli designs.
(Also Read: Kurta or Kurti)
Wearing the Net Fabric
Depending on the garment, net sarees can be worn in a variety of different ways. When wearing a net saree, the diaphanous pallu is usually the highlight of the garment. It can be paired with light jewelry that does not take away from the gauzy look of the garment and high heeled shoes. The ensemble is usually received well at both, formal and informal occasions.
Anarkali suits that are made with elements of net are also worn in a similar fashion. However, in this case, heavier forms of jewelry are also acceptable to wear as the focus of the net in the Anarkali lies more along the lines of the full skirt and, at times, the sleeves. This is also considered appropriate for both, formal and informal events.
Interesting facts and trivia
The technique of making net fabric is also used to create hammocks, fisherman's nets and in camping tents to create windows
Before 1809, all net fabrics were made by hand. After that year, a machine was invented that allowed people to create net in a easier way.
Several Bollywood actresses like Preity Zinta, Katrina Kaif, and Kareena Kapoor have donned various saris or dresses made out of the net   fabric, which look beautiful and fashionable at the same time.
Fabrics like cotton, wool, and silk have also been in comparison with Net fabrics. However the westernized look along with the traditional  as well as comfort essence of this fabric makes it a winner.
Net fabric bear the biggest holes than the other variations in such related fabrics
Reference Links
Categories: Textiles