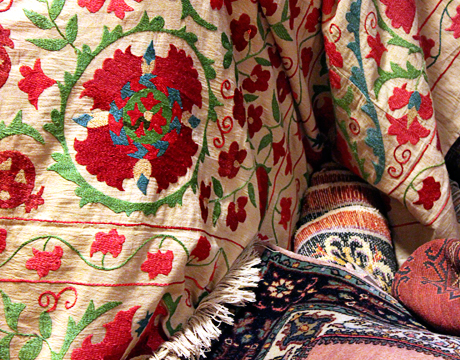 Kanni Weave
The Kanni Weave is another name given for the intricate woven shawl of Kashmir called the Jaamvaar, which is the name given to the final product, whereas the 'Kanni' is the name of that particular weave. This garment used to be a garment worn by kings and noblemen as a shawl or even as a gown. The Kanni shawl's superfine texture was one that baffled the most expert connoisseurs. The art of the Kanni weave is indigenous to Kashmir and it can be dated as far back as 3000 B.C. which is also known as the Neolithic Age. History has it that the Kanni shawl was considered as a royal garment by Caesar, the great Roman emperor as well.
Origin & History
It is said that this craft has been around for the past 5 thousand years and it particularly flourished during the time of the Mughals. There are various portraits and miniature painting of Akbar, the Mughal Emperor, donning gowns and robes made out of Kanni shawl, being a great supporter of the craft. History states that the Kanni shawl was a great favorite with Empress Josephine who was the wife of Napolean Bonaparte, to the extent that she took it in her marriage trousseau. These shawls were particularly in high demand in Europe due to its ability to be folded into a triangular shape, thus taking up less space; and secondly, they could be draped over a bustle, which was in great fashion in those days. 'Kanni' is the name of the weave that is derived from the Kashmiri name of the wooden spool that is used on the loom when weaving the shawl.
The Kanni shawl used to take a long time to get woven, up to a year, as it followed a double twill technique which is used in tapestries. In order to get these shawls woven earlier, a single Kanni shawl was done in parts by various weavers and they put together by skilled darners or 'Rafugars'.
Sources of Inspiration
The inspirations behind the various intricate designs of the Kanni shawls are mostly derived from nature. The paisley or 'Ambi' pattern is, by far, the most popular design in Kanni shawls. Apart from that, a lot of the designs are floral patterns, whereas some have the 'Badam' or almond motif or motifs of the local Kashmiri flowers and the Chinar leaf.
Faces Behind the Fabric
Earlier the fine Kanni shawls were woven from Pashmina wool, which was later banned. Weaving a Kanni shawl is the work of a patient and highly skilled artisan who needs immense concentration for even producing one inch of woven Kanni shawl. Due to the high craftsmanship and skills involved in this technique of weaving, not more than one inch of Kanni shawl can be woven at the loom on a daily basis.
The shawl is oblong in shape and it generally takes anywhere between 1-2 years to complete a single shawl by two weavers. The village of Kanihama in West Kashmir is perhaps the only village that solely weaves Kanni shawls and trades them too. This very delicate and time consuming art form comprises of 50 different colored threads that are interwoven to create a single shawl. Usually soft yarns are used for producing Kanni shawl, and therefore, this shawl is also known as the 'Ring Shawl' as it can pass through a ring.
Present Day Scenario
The Kanni weave had almost died during the first few years since 2000, however, the Government, as well as private sectors, made great efforts to revive this art form in Kanihama in order to keep our rich heritage and tradition alive. Kanni weave has been revived as the export figures are soaring, indicating high demand from the West.
Innovations 
In order to reinvent and restyle the traditional Kanni shawls, there are other applications that are being found in the Kanni weave such as bed spreads and cushion covers too. Kurtas, stoles, and odhnis are also in much demand and considered very trendy too. A few Indian designers have also tried to give the Kanni weave a new lease of life by using them for their designer collections.
Wearing the Attire
Kanni weave is essentially very expensive if the original product is purchased. However, there are some replicas in other less expensive yarns that are produced on the power loom, which make it convenient for daily wearing.
Made out of pure and fine wool, Kanni woven textiles need to be stored in a cool dry place and should be preserved to make sure that they are not attacked by moths. Likewise, they need to be dry cleaned and not hand washed.
Global Appeal
Kanni shawls are in great demand in Western countries. They are very delicate and look very elegant which makes them great accompaniments to western outfits. Kanni garments can only be worn in cold weather.
Accessorizing
There are a lot of contemporary options for Kanni such as scarves, stoles, and kurtis that are extremely popular for youngsters who want the fusion look, as these can be effortlessly combined with western wear to create an individual style statement.
Interesting Facts and Comparisons
Kanni shawls take nearly two years to get woven.
The ban of using Pashmina for making the Kanni shawls dealt a huge blow to the Kashmiri economy.
The price of a Pashmina Kanni Shawl is around USD 2000
An original Kanni shawl made on the loom has more colours than that made in jacquard on the power loom.
References
Categories: Motifs & Embroideries