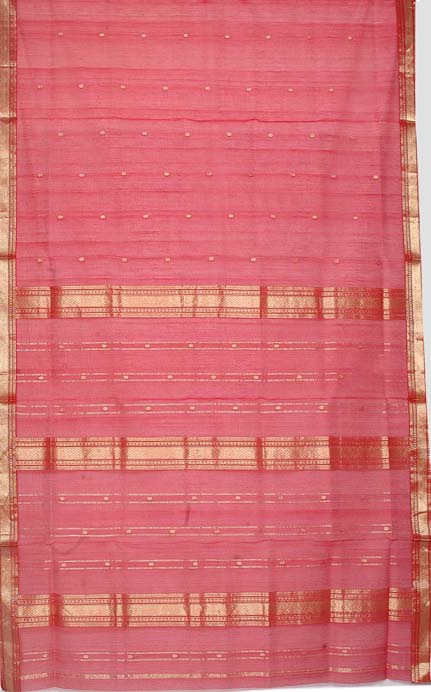 Maheshwari Saree
Maheshwari Saree is a cotton and pure silk fabric woven with zari or brocade in varied designs. These designs include stripes, checks and floral borders. Originating from the town of Maheshwar, Madhya Pradesh, Maheshwari fabric is mainly used in designing Maheshwari Sarees, other than dupattas and dress material for Salwar Kameez.
Origin and History
The beautiful conception of the Maheshwari saree dates back to 18th century Madhya Pradesh. These sarees were first found and produced in the town of Maheshwar, hence the name. These sarees were initially made of pure Silk, but with the passage of time, Cotton was also one of the major fabrics used for these exquisitely designed sarees.
The interesting legend behind these sarees is of Queen Ahilyabai Holkar who ordered various craftsman and artisans from Malwa and Surat to design a special saree with 9 yards, which later came to be known as the Maheshwari saree. These sarees were supposed to be a special gift for the royal relatives and guests who visited the palace.
In fact, it was the queen herself who designed the first saree. Following this, Maheshwari sarees became extremely popular in and around Madhya Pradesh.
Sources of Inspiration
The grandeur of the forts in Madhya Pradesh and their designs is what played an important role in inspiring the technique, weaves and motifs on the Maheshwari saree. Some of these popular designs include the Mat pattern, which is also known as 'chattai' pattern, along with 'Chameli ka phool' which is inspired by the Chameli flower.
One can also see the 'Eent' pattern which is basically a brick and 'heera', which is a diamond. These motifs and designs have not lost their prestigious place on the Maheshwari sarees and are still a common design found all over, and in large varieties.
Varieties
The beauty of the Maheshwari saree is that each kind of Saree under this style has a name or a term of its own, which marks its distinctness. The sarees are either plain in the center with exquisitely designed borders, or have checks and stripes in different variations. There are 5 major categories, which are namely 'Chandrakala, Baingani Chandrakala, Chandratara, Beli and Parbi. The Chandrakala and Baingani Chandrakala are the plain kind, whereas the Chandratara, Beli and Parbi fall under the striped or checked technique.
Present day scenario
Post independence, this craft, and style did witness a major decline in productivity and popularity, however, with the help of an NGO named 'Rehwa', the reputation of these sarees was revived to a great extent and this craft underwent great renewal. Currently, under Rehwa, the market value for Maheshwari sarees has increased a great deal, especially in cities like Delhi and Mumbai. In addition to that, there is a major export market in France, U.K, and Germany.
Innovations
Initially, there was a limited range of colors used to design the Maheshwari saree, which were predominantly shades of Red, Maroon, Black, Green and Purple. However, with modernization and experimentation in Indian fashion, lighter colors have been introduced, along with the use of Gold and Silver threads.
Wearing Maheshwari Saree
Since Maheshwari saree is available in both Silk and Cotton, it can be adorned for both casual and formal events. From weddings, engagements, parties, conferences, to religious festivities, a Maheshwari saree can make anyone look classy and effortlessly graceful. As Maheshwari saree is a fairly light wear saree, it is suitable for any season year round.
Accessorizing a Maheshwari saree completely depends on the type of saree one chooses to wear. If it is cotton with subtle design, then it would be best to accessorize it with chunky Silver, Gold or Copper jewelry. However, if the saree is of a Silk texture with Zari work then it would be best to go minimal with the jewelry so that it balances out the overall look.
Maintenance
It is best to send the saree for dry cleaning for the first wash, after which it can be either hand washed or machine washed with mild detergents. In addition to that, one must always use cool water to wash these sarees with.
Global Appeal
After the current revival in these sarees, they have taken the fashion industry by a storm, not only in India but in countries like France, U.K, Germany and U.S where the demand for these sarees seems to be gaining momentum with each passing year.
Interesting Facts and Comparisons
The border of the Maheshwari saree is reversible, therefore one can wear it from either side
The colors of the Maheshwari saree are made using natural vegetable dyes
These sarees are extremely lightweight and easy to wear
Reference
Categories: Motifs & Embroideries