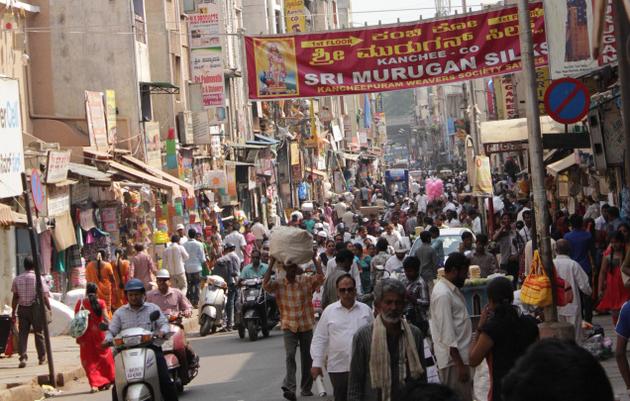 Chickpete, Bangalore
Known as one of the oldest shopping destinations in Bangalore, Chickpete (also known as Chickpet or Chikpet)  has been a part of the culture of the city for nearly 400 years. Considered as one of the best places to shop for sarees as well as silver and gold jewelry, Chickpete offers women's outfits and accessories at highly affordable rates. The streets of Chikpet are crowded and yet one of the most popular shopping destinations in Bangalore. Over the years, a variety of other merchandise has also emerged as the mainstays of the market.
History
Chickpete, now located in South Bangalore, literally translates to 'small market' where 'chick' means small and 'pete' means market. Chikpet along with other surrounding markets were created in the 16th century. These markets came about when the founder of Bangalore, Kempegowda, ploughed out multiple major trading roads around two main markets including Chickpete. Over the years, all these by lanes have developed their own specialized trade, wherein a majority of the shops in Chikpet sell sarees.
It is said that in the earlier days, traders from Chikpete supplied silk sarees as well as other rich textiles to the royal family. In fact, Tipu Sultan's summer palace is located in the vicinity of Chikpet.
Specialty of the Hub
Karnataka is known throughout the country for producing some of the best silk weaves in the country such as Mysore Silk and Molakalmuru. Traders from around the state bring faux as well as genuine varieties of these silk sarees to sell at this hub. To meet the needs of the modern consumers of Bangalore, Chikpet traders have ushered in a variety of saree types into the market. Right from designer sarees in silk and cotton to slightly more contemporary fabrics such as georgette, chiffon and faux, all varieties are easily available in the market.
Along with sarees, this hub also specializes in elaborate jewelry in precious metals like gold and silver. One of the most popular neckpieces in Karnataka is one with coins of gold, which is readily available. Other than this there are symbolic floral patterns or intricately designed impressions of deities that are commonly worn by women in this part of the country. Bridal jewelry is also available in Chikpete.
Style & Variety
Among the silk sarees that are sold at Chikpet, there are certain types of silks that are more popular than others. Most of these varieties are indigenous to Karnataka and are different in the type of embroidery that is done on them.
Mysore Silk
Mysore Silk sarees are a trademark of the city of Mysore in Karnataka. These sarees boast of 100% silk threads and pure zari that is intricately woven to form looms. A totally of 159 looms are now in production. The recent production of Mysore Silk sarees includes innovations like thickly woven pallus, colors like lilac and use of different kinds of embroideries like Kasuti.
Gandaberunda Silk Sarees
Gandaberunda is mythological bird which has two heads and is believed to possess supernatural strength. This bird is the insignia of the erstwhile rulers of Mysore. This type of saree mixes hand weaving with this motif on the pallu as well as the body. The first of the Gandberunda sarees was created in the 18th century for the family of the Maharaja of Mysore. From thereon, this print has become a popular choice among the locals of Karnataka and is a popular buy in Chikpet.
3D Silk Sarees
This handwoven saree is usually woven in three complementary colors along with prominent butta designs. These butta motifs too are hand woven and have a soft finish to them.
Brocade Silk Sarees
The brocade sarees found in Chikpet come in a variety of elegant color palettes with bright borders and pallus. The extensive brocading in Zari makes these sarees the ideal party wear.
Coin Silk Sarees
This type of saree has been named after the gold coin like embroidery that is done on the body of the saree. The border and pallu of these sarees are attractive with a soft finish.
Tissue Silk Sarees
This type of saree is made by weaving zari with the silk thread thereby creating a wave-like effect. The color scheme of these sarees needn't necessarily be uni-color but can be a mix of two complementary colors as well. The pallu and border of the saree have beautiful zari embroidery on it.
Kanjivaram or Kanchipuram Sarees
Although originating in Tamil Nadu, this is one of the most famous silk sarees in the country, worn specially during festivities. There are any number of zari embroideries that can be done on a Kanjivaram saree including birds and animals like lions, swans, peacocks, parrots, flora such as jasmine buds, mangoes, leaves and other miscellaneous designs like parallel lines across the body as well as suns, moons and chariots. Traditional Kanchipuram sarees are distinguishable by a separate colored border as opposed to the rest of the saree.
Designer and Faux Sarees
Since many younger women, although South Indian, are looking out for fancier sarees that put them on a style platform similar to Mumbai or Bangalore, many shopkeepers are bringing sarees that are made with trendier fabrics like georgette, viscose blends etc. as well as with prints, motifs and embroideries that reflect modern tastes as opposed to traditional ones.
Present Day Scenario and Global Influence
Chikpet is one of the most famous tourist hubs in Bangalore. In fact, many foreign visitors also flock here to explore the vast variety of sarees that are available here. The price range of sarees here is also slightly more reasonable, making this hub a popular one.
Maintenance
To avoid damage by insects, these sarees should be kept wrapped in plastic sheets along with naphthalene balls. Washing silks, as well as sarees with heavy embroidery, should be avoided. Dry cleaning such sarees is a safer option.
Facts and Trivia
There are many temples and mosques in the area, which attract tourists and eventually lead them to Chikpet for shopping.
Certain shops in the hub have been in the business of selling sarees for more than 70 years.
There are thirteen more 'petes' or markets that have emerged surrounding the original Chikpet.
Beauty accessories like nail-paints, bindis etc. are also extensively sold at Chikpet.
References
Categories: Bazaars, Ethnic Hubs