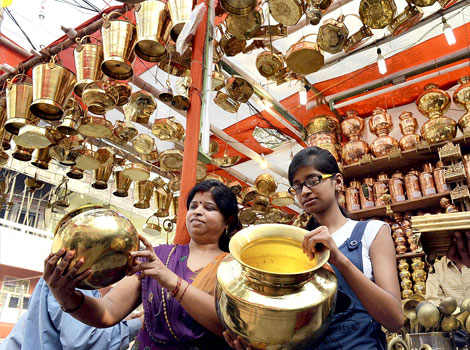 Dhanteras | The Festival of Wealth and Prosperity
Dhanteras is a Hindu festival which is celebrated two days before Diwali. This festival is celebrated in every corner of India. Devotees offer prayers to Goddess Lakshmi, the Hindu Goddess of wealth and prosperity on this day. The day holds a special significance for people belonging to the trading community, as it is considered auspicious by them for making business deals.
Origin and History
There are many mythological stories that are linked to this auspicious day. The origin of this festival is believed to be associated with two legends, of which King Hima's story is the most famous one. According to the legend, an astrologer told King Hima that he would die on the fourth day of his marriage. After hearing this, his wife laid out ornaments made of gold and silver coins at the threshold of their sleeping chamber in the evening and lit oil lamps. The next day, when Yama (Hindu God of death) arrived at the King's doorstep disguised as a serpent, his eyes were dazzled and blinded by the brilliance of the lamps and the jewelry. And instead of killing the King as intended, Yama climbed the pile of jewels and listened to the tales and anecdotes that the king's wife narrated to him, throughout the night. As dawn broke, Yama returned without killing Hima. Thus, the day was commemorated as Dhanteras.
Another legend states that Dhanteras is celebrated to mark the emergence of Dhanvantri (incarnation of Lord Vishnu) from ocean as a result of Sagar Manthan, a cosmic battle between demons and gods, who were competing to find amrit (sacred nectar from the ocean waters).
Rituals
To celebrate this festival of wealth and prosperity, rangolis (traditional Indian decoration) in Indian ethnic motifs are designed at the main entry of the house. This is followed by worshiping Goddess Lakshmi. Besides, small footprints symbolizing those of Goddess Lakshmi are drawn facing the main door of the house, using rice flour and vermilion. It is believed that this brings wealth and prosperity into the household. Thirteen earthen lamps of wheat are lit and placed all night. Jewelry and utensils in gold or silver are purchased as they are said to bring good luck. However, customs vary from regions to region. For instance, in Maharashtra, people create a mixture of coriander seeds and jaggery and offer the same to the Goddess Lakshmi. In Southern India, cows are adorned with ornaments as they're believed to be embodiments of Goddess Lakshmi.
Present Day Scenario and Global Presence
Even today, Dhanteras is still celebrated with great enthusiasm. Hindus across the world prefer to shop for gold and silver jewelry, utensils etc. on this day. Dhanteras is also regarded as an auspicious time to plan wedding dates, purchase cars and houses, start new business ventures, housewarming, etc. Generally, besides the traditional aspect to the celebration, people also step out to meet relatives, friends and exchange greetings and gifts.
Dhanteras Fashion

Dhanteras is all about colors, designs and infinite styles along with extravagant fashion choices. Fashioning yourself in various ethnic outfits is exactly what this festival is all about. Multifarious traditional Indian wear is splattered all over the market. It's easier for one to make choices in Dhanteras that also stands out. Let's take a look at some of the best attires that you can try this festive season.
For Women
Sarees: The much-loved attire of each and every Indian women is a saree and considering the festivities it's the perfect choice. With an enormous range of choices available in the market, you can now choose different materials like silk, crepe, chiffon to look elegant and gorgeous as well. Since gold is worshiped during Dhanteras, it's a common practice for women to opt for gold sarees. You can also team it up with blouse in contrasting color to create a bold statement, or opt for a pair of dazzling golden ear ring to stand out from the crowd.
Ghagras: Popular in Rajasthan and Gujarat, ghagra is also a common choice of Indian women for this occasion. Opt for bright shades and a blend it with embellished dupattas to create a suave look. With high heels, add inches to your height and a gorgeous look to your attire.

Churidars: Extremely well known, easy to wear yet stylish attire of all times, churidars are one of the finest choice for this festive season. Don't forget to mix and match with studded clutch and colorful bangles.

For Men
This festive season even men don't stay far behind when it comes to fashion. They dress up powerfully with embroidered kurta-payjamas and exquisite sherwanis. Men can also go for designer kurta-payjamas and match it with Jodhpuri jootis to look ethnic and stylish. However, some men also opt for kurta with jeans to mix and match the ethnic look with the contemporary one.
References
Categories: Cultural Connections, Festivals