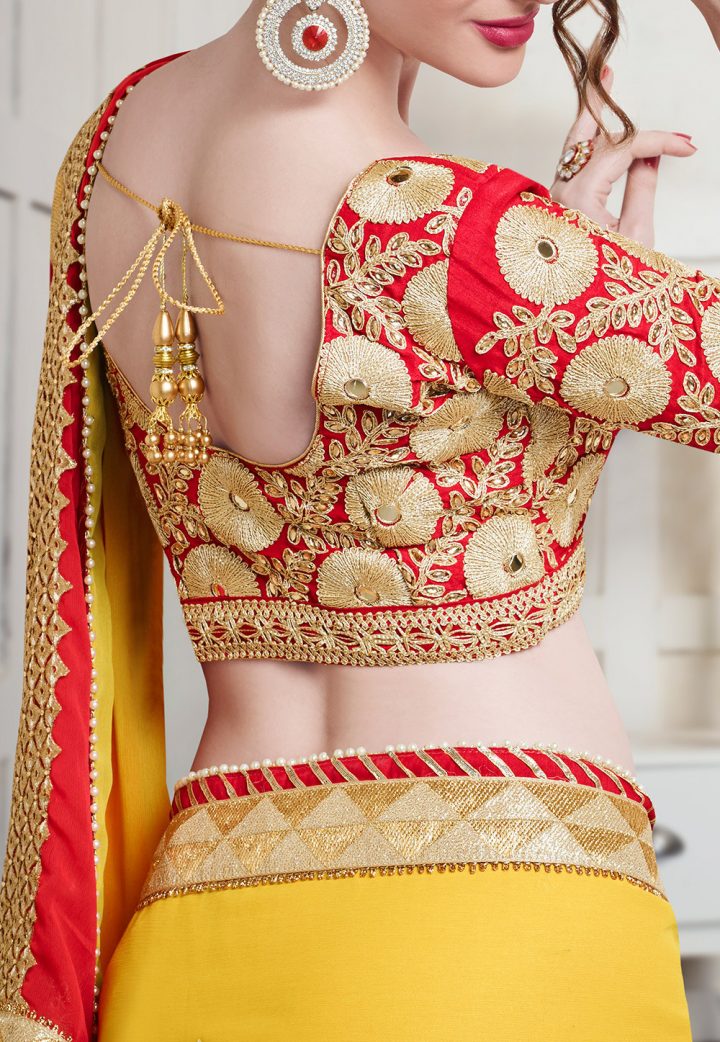 Tassels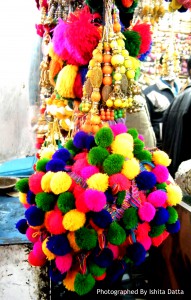 Tassels have an ancient history dating back to the Hebrew Bible and the Middle Ages (A.D 600-1400), their usage being in prayer beads. Since ancient times, they have been used as ornaments to enhance the beauty of clothing worn by both men and women. Later on they denoted military or social rank, and got more ornate as time passed by. They are extensively used in saree blouses and salwar kameez.
Background
Sculptures from the 16th and 17th century in south India show seated bulls with carvings of bells, clappers, sashes and tassels on them. Statues of maidens with ornamental belts, sashes and it can be seen in alluring poses. The more famous statue is the one in bronze of dancing Shiva or the 'Nataraj' dated to 1511, shown with one foot raised in a posture of dance with flowing scarves and tassels.
The word tassel has its foundation in the Middle ages where cloaks or mantles were fastened with metal ornaments called 'tasseaus' from the Latin word 'tassa' meaning clasp.
 It can be assumed that tassel making is as ancient as weaving, and as people became aware of patterns and designs, the idea of trims, tassels and lace evolved. They became icons of royal, military and civil regalia. First came braiding, and these twisted, knotted and designed braids progressed into tassels. To support the emerging clothing industry around A.D 330, clothing was made necessary and the demand for edging in clothing spilled over to interior décor.
With sericulture in A.D 540, Silk was regarded as a prized commodity and became a symbol of the privileged.  Adopted by the Middle East, it soon spread to Spain and Europe to adorn their canopies, draperies, chandeliers, cushions and clothing.
Chinese women were known to have attached tassels to their tiny shoes to show off their bound feet.
Lace trim or edging originated in Europe in the early 16th century, but due to its time-consuming production, it was reserved for nobles. The 18th and 19th century saw an emergence of the association of lace with purity and romance, and bridal gowns with lace, which were considered classy. Lace in gold and silver was valued in providing edging to garments.
Tassels were used by nomads across Maharashtra, Andhra Pradesh and Karnataka in combination with cowrie shells, coins, lead and glass beads, mirrors, lead and buttons too. The motive was to ward off the evil eye by the jingles of the tasseled garment. It also served as an indicator of identities, wealth, and demarcation of tribal affiliations. Silk and cotton were used along with goat hair. The fabrics were hand spun, woven and embroidered. They were dyed using vegetables and minerals.
Being hand made earlier, tassels and trims, in general, were expensive but with the advent of sewing machines in the 1930's, they began to be mass produced. In the 1980's and 1990's manufacturer of tassels became fashionable.
Fabric such as silk, rayon, wool and cotton threads and yarns are required to create tassels. Other materials include polyester, viscose, and jute. Rayon chenille makes excellent tassels due to its sheen, wide variety of color and fall.
They have crossed social, cultural and regional borders and become enmeshed in our daily lives. Right from interior furnishings, couture ensembles, fringed lampshades to shoes and prayer beads, tassels are seen everywhere in diverse styles.
Used on clothes (kurtas, tops, dupattas, choli) bags, hats, scarves, door mats, curtains, shoes (both for ladies and moccasins for men), mobile covers, fringed rugs and a lot more. They are an important part of interior décor, the varieties and designs are endless to suit any kind of budget, need or taste.
Prices start from Rs.800/- to Rs.30000/- and above for ornate chandeliers and similar products.
Innovations
The use of tassels in stretchy pants are delightful as the tassels are looped through designed cuts on the thighs and sway gracefully with movement. They have been incorporated in diverse objects like wine bags, jewelry pouches, photo frames, wall hangings, Christmas tree ornaments, invitation cards, with keys, fashion belts, book markers, gift packaging, kitchen aprons, chandeliers, decorative light fixtures and table runners.
They have been defined very charmingly by mimicking it in terms of shape with pearls and other precious stones in designer jewelry.  Belly Dancing hip belts and chains featured with ghungroos (bells) finished in tassels and their headpieces too have ornate designs in tasseled sequins and bells.
Besides furnishings, the next popular usage for tassels is in bags. The wide array in which it has been applied is astonishing.
Recently tassels are being made using glass/metal and finished with metal embellishment work. Also seen are metallic ghungroos and glass beaded tassels with zari work in exquisite colors.
Personalization
Tassels are emerging as a unique accessory and is being imbibed and applied according to one's own sense of style, whether it is in clothing, furnishing or spiritual needs.
Accessorizing  
The innovative use of tassels and bells in costume jewelry is fresh apart from the established application in furnishings. Tassels have served the purpose of decoration and though it was never the centerpiece, its functionality cannot be denied. From hanging a set of keys to the decorative drapes at home, tassels have always been an object of admiration.
Maintenance
Tassels as part of furnishings or apparel have to be cleaned taking into consideration the material and colors it displays. Dry cleaning is advised for silks and other delicate fabrics. Furnishings should be maintained by a specialist for the same, for example, Persian rugs are best taken care of by a rug specialist.
References
Categories: Attires, Costume Accessories