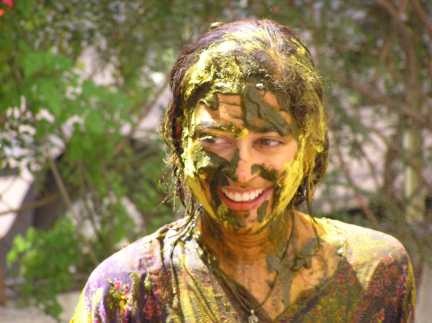 Holi
When it comes to colors, the soul of the world roars up with rejoice that echoes at every nook and corner, especially in the cultural country of India. Holi, a word that entwines in it the spirited elements of fun, joy, happiness and most importantly 'Life'.  India is defined by its ethnic festivals which spread the essence of bonding throughout the globe. Holi, which is one of the most celebrated festivals makes people celebrate the rhythm of ecstasy and utter elation.This occasion is a spring festival of colors which was originally celebrated in the countries of Nepal and India and later on mesmerized a million countries all over the world.
Background
The origin of this festival goes way back to the mythological era of the Vaishnav Period, which marks the triumphant victory of King Hiranyakashipu's son Prahlad over his own father, as he foiled all the plans which were meant to kill him. When he sat on the holy pyre along with holika, who was the king's sister, Prahlad escaped unharmed while holika got charred to death. Thus this moment was etched in the glorious pages of history and is celebrated as the auspicious occasion of 'Holi' till date.
Style and Attire
On the eve of the festival, a ritualistic bonfire is lit which is called Kacy Dahan along with prayers. On the main day, scented water of different ayurvedic colors made out of medicinal herbs, either in liquid or powdered form are thrown and applied on each other, as a symbol of fun and joy.
In Mathura, a town in north India, Holi is a week long celebration and goes beyond playing with colors. On the day of Holi, women playfully beat the men with sticks and men go around with shields to defend themselves in a fun manner.
Off white salwar kameez and sarees are the traditional outfits donned by the women and young girls. Men are mostly seen in milky white kurtas and pyjamas. Fabrics of chikan, silk and cotton are woven delicately suiting such occasions. These fabrics are designed to absorb maximum amount of color, by leaving little or no scope for the colors to touch the skin. Cotton is also an ideal fabric which helps protect the wet body from catching wreathing sicknesses. Accessories are limited to a single delicate piece of the chain along with simple ear studs. Traditionally women wear several colorful bangles to enhance the overall appearance. Men and women to go in for casual chappals, since normal footwear can get spoilt due to the colors. The overall appearance is laid back and casual, and people are not as concerned about their clothes, as they are about coloring each other's faces.
Present Day Scenario
Nowadays, synthetic colors are used to play Holi with, due to which many people opt for environment-friendly colors which are mostly herbal in nature. Today's generations are more inspired with the Bollywood style of dressing, which includes hot pants, trousers, jeans, tank tops, backless blouses, and cholis, which have glamorized this festival to a large extent.
Several Bollywood movies have songs that showcase the mirth and excitement of this festival and are always played during the festival.
References
Categories: Festivals, Weddings & Festivals