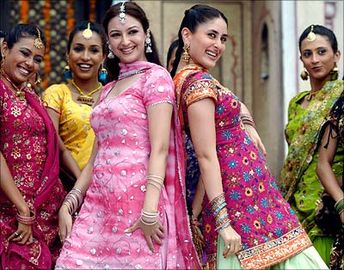 Kareena Kapoor in 'Jab We Met'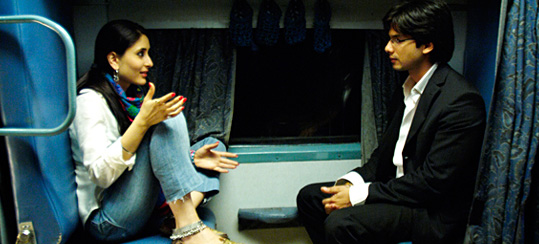 The Hindi film 'Jab We Met' released in 2007 and became a hit overnight. Endearing and fresh, it got ranked as the Hindi film industry's top ten most romantic movies. Visions of flowering fields in Punjab, snowy backdrops of the Himalayas, the colorful girls from Himachal with the traditional wear and bright headscarves make this one of the most iconic movies of Indian cinema till date. To add to the vibrancy, Kareena Kapoor, who has always defined fashion trends with most of her movies, displayed a unique dressing sense in Jab We Met, a kind that became a style statement for many women, especially teenage girls.
Background
The film produced by Dhilin Mehta under Shree Ashtavinayak Cinevision Ltd starred Kareena Kapoor and Shahid Kapoor in the lead. Directed by Imtiaz Ali, the film shooting started in March 2007and was completed by October 2007. It was Shot in picturesque locations such as Shimla, Manali, Rohtang Pass, Chandigarh, and Punjab.
Kareena Kapoor, who is the granddaughter of veteran actor Raj Kapoor, and an actress who has made it big on her own steam, has acted in a variety of movie genres ranging from light romantic roles to dramas and comedies. She has received six film fare awards and is known for her outspoken and assertive nature and fashion style.
Although her debut movie 'Refugee' was applauded by critics, the subsequent movies got a mixed review from critics and some movies were successful at the box office. From 2004 to 2006 she tasted victory with commercial and critical benefits.
Kareena's role in Jab We Met was described as uninhibited and spontaneous and the film grossed Rs.302.5 million at the box office.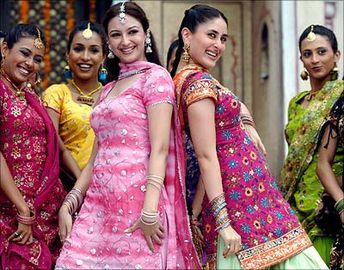 Kareena 's style of dressing up in Patiala pants (a layered salwar pant) teamed with long T-shirts, inner shirt in a contrasting color and mojaris (flat leather slip-ons with embroidery) or juthis as they are called in Punjab set the fashion scene on fire and suddenly clothing outlets, from local bazaars to high end boutiques were running out of stocks. The kurtas had chikankari work, lace edging and floral patterns in pastel shades. The dupattas had borders in zari, sequins, lace and floral motifs in various shades from pristine whites, muted violet to rich orange.
One of her famous outfits in the song 'Nagada', where she wore a bright pink kurta with blue and orange embroidered flowers, sequins and zari patterns that was paired with light green salwar and orange dupatta was copied by young girls the world over.
Her style spelt a casual elegance with short kurtis edged with lace worn with denim jeans and shrugs. Kareena brought back into fashion, the evergreen Harem pants. Kareena wore a Himachali costume-flowing embroidered kurta with patterned bodice and belt, churidar and printed head scarf. The black full-length skirt with a sequined skirt which she wore with a fitted kurta with short sleeves and gold embroidery became extremely popular. Kareena's clothes were mostly in pure cotton and some in silk, the colors ranging from white and pastel hues to bright reds.
In the second half of the movie, in order to create an atmosphere of sadness, her salwar kurtas were in single colors and in lighter shades like pale blues, whites, and lavender. These scenes shot in Manali and Shimla had Kareena wearing simple woolen shawls and sweaters.
Fashion influences people's lives, and a prime example is Manish Malhotra, the face behind Kareena's wardrobe in Jab We Met. Every outfit worn by Kareena in the movie was an exterior expression of her mood and went in sync with the scene.
Personalization
Kareena's Rajasthani print bags, waist chains with harem pants, and red nail paint also became a mode of fashion with many young women and till date is a style associated with the effervescent actress.
Sequins were used to create ornate belts and tassels which accentuated Kareena's slim figure. Kareena personalized the look of wearing T-shirts with denim jeans and a double-colored dupatta looped around her neck with one end in front.
The use of harem pants with an embroidered spaghetti top and an intricate belt in silver made Kareena's look chic and sensual.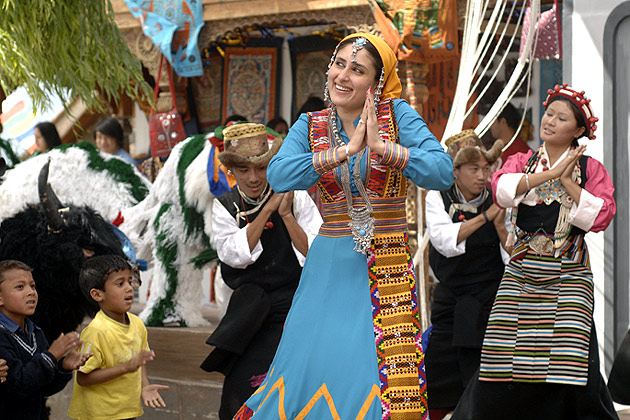 Accessorizing
Kareena's clothes were complimented by simple plastic bangles, sequined headgear, hooped earrings, oxidized danglers, the Punjabi kada (bangle), bangles with Minakari work and jhumkas (traditional earrings).
Suitability
The clothes worn by Kareena with a few exceptions are for casual wear and can even be for events that don't demand heavy formal dressing. These outfits are suitable for summers and would need a warm outer garment for harsher temperatures.
Maintenance
Most of the outfits worn in Jab We Met by Kareena can be washed and ironed at home. The salwar suits in silk and clothes in multi colors should be dry cleaned so that the colors are preserved.
Kareena is a stage performer and has contributed as a co-author to three books: an autobiographical memoir and two nutrition guides. She has also launched her own clothing line in association with the clothing brand Globus. On October 27, 2011 Kareena's wax statue was unveiled at Madame Tussauds, Blackpool, U.K.
 References
Categories: Bollywood & Beyond, Indian Cinema