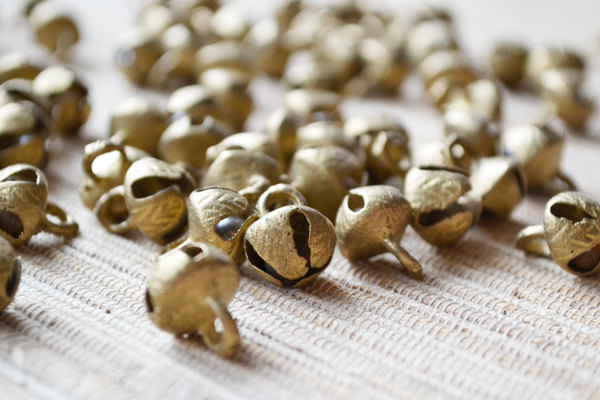 Ghunghroo
Ghunghroo, also known as Ghungroo, Ghoonghroo, Ghunghar, Ghunghur, Salangai, and Tinklebells. Many tinkerbells are strewn together to create this musical feet ornament that adorns the feet of Indian classical dancers.  A musical leg piece or an anklet, Ghunghroo sounds and weighs differently based on the composition and size. They have a dual purpose of providing music according to the beats and also add grace to the dance.
Origin and History
Ghunghroo, apart from being the prominent ornament of classical dancers, was also associated with courtesans who used to wear them while dancing.  Hence, the usage of Ghunghru by the common women was none due to societal boundations.  Eventually, Ghungroo caught the fascination of the royal women. However, a similar societal fear that they were associated with dancers, didn't allow them to wear a Ghunghru, hence they improvised the Ghungroo into something slicker, known as 'Payal'. In fact, payal was commonly worn amongst the royal women, particularly due to purdah, as the sound of the payal would mark their presence.
With the passage of time,  Ghunghru has acquired a personality of their own which has been reinforced through poetry, literature and cinema. Ghunghru, has been portrayed as ornaments used by dancers.  Although Ghunghroos have been traditionally worn by Bharatnatyam, Kuchipudi, Odissi and Kathak dancers for centuries, this ornament gained the reputation of adorning the feet of a courtesan through Indian cinema.  For instance, popular movies such as Umrao Jaan, Pakeezah and Mughal-e-Azam show courtesans donning ghunghru.
Variety & Inspiration
The purpose of wearing Ghungru was to produce the sound according to the movement of feet and the vice-versa. Hence, the composition and size of each Ghunghroo is made depending upon the pitch required. The association of Ghungru is not only with the dancer's movements, but the spectator's tendency to relate to the rhythmic aspects of the choreography and the intense foot movement by the dancers. A single string of Ghunghar may range from 50 bells to more than 200 bells knotted together. With increasing sets of bells and added strings, a dancer advances in his or her technical ability for that dance form.
Innovations in Ghunghar
With much practical approach of the next generations, passion for Ghunghroo was improvised. Hence, the modified version of Ghunghru gave birth to the Payal. Ghunghrus have still retained their previous forms; however, the payal has considerably been transformed into various beautiful and intricate jewellery pieces.  From gold and silver payal, to those encrusted with gems- there are designs galore to choose from.  Even the metallic variations, which are highly affordable, have the most impressive designs and are well worth the money.  The payal has also been transformed into sleek anklets to cater to the young women and girls who want ornaments that are less intrusive and more stylish.  These thin anklets need not be bought as a pair, as girls prefer wearing a single anklet.  Furthermore, a majority of such anklets do not contain the bells either as they are only worn as an accessory and not as an ornament.
Global influence
It is said that payal or anklets were worn by Egyptian women since times immemorial.  However, owing to conservative Islamic traditions, Egyptian women no longer wear anklets; although, belly dancers still wear them.  It is said that women in Europe during the Bronze Age used to wear anklets.  Even western countries like the U.S saw the increase in young women wearing casual anklets made out of metal and beads.
Wearing Ghunghroo
Ghoongroo is worn by the Classical dancer while performing for dance and theatre forms like Bharatnatyam, Mohiyattam, Kuchipudi, Odishhi, Kathak, Yakshajana, and many more.
Reference