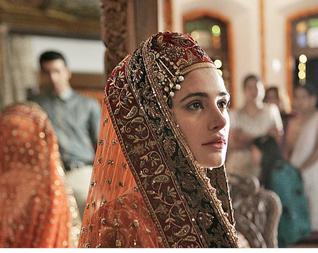 Weddings in Kashmir
With stunning landscapes, snow clad mountains, feathery clouds, bright springs, sapphire-like water and enchanting environs, nature has bestowed its paramount beauty on Kashmir. And if you have seen the popular Bollywood flick, 'Rockstar, you must have known by now that what is commonly referred to as  'heaven on earth' is also one of the most stylish regions on earth with elaborate wedding procedures and several ethnicities combining together to create exotic, enthralling outfits. With embroideries, luxury fabrics and intricately hand woven patterns, dressing in Kashmir, especially during the wedding can leave one in complete awe and fascination.
Origin
Kashmir, which is an amalgamation of Hindus and Muslims, is one of the few regions that follow a diverse pattern and elaborate events when it comes to weddings. Quintessentially, weddings in Kashmir, especially the ones that follow Islamic traditions are a blend of Iranian, Turkish and Indian dressing styles which make these weddings a pure delight.
The outfits, which have evolved over the years see a more contemporary version in Hindu weddings, but the idea behind them is still the same with women and men wearing 'Pherans' which are stylish as well as practical for the colder regions like Kashmir. These are accessorized with 'Shawls' or winter scarves that are exquisitely adorned with intricate hand woven patterns in embroidered style. It is the shawl's fabric and design that reflects the family's wealth.
Varieties in Style and Attire
Pheran is stunning, a graceful form of clothing that features the Iranian style of a long gown. Both men and women wear Pheran that features long top with heavy embroidery, especially on the collar, hem line and around the pockets. Hindu men use Pheran along with Churidars, tight fitted pajamas with pleats, while Muslim men wear it with salwar or broad pleated pajamas.
While Muslim women wear it with a robe on the top and have Zari work around, the length of these Pherans is long when Hindu women wear them for marriage. For weddings, women wear elaborate headgear, with an exquisitely ornate skull cap. Some women may wear Taranga, which is a headgear stitched with a suspended cap and forms a narrow shape at the back.
To highlight the intricate work on the clothing, women wear exotic accessories such as shawls. Jewelry like elaborately detailed nose rings, which stretch till the ear, earrings, anklets and bangles are popular. Silver jewelry is widely worn by Muslim women during weddings, while Hindu women may wear 'Dejharoos,' which has two gold pendants suspended through gold chains or silk threads that are worn and can be tied to the hair. This particular ornament is first worn during the wedding ceremony and later, it is symbolic of a woman's marital status.
Different varieties of dresses are popular during Kashmiri weddings. For instance, in Dogra tribes, women wear fitted pajamas with tunics or kameez that features full sleeves along with intricate color patterns on the borders, such as maroon, green and blue. Head dresses and kamarbands (exquisite belts) are used. For Gujjar community, Pherans are supported with baggy salwar, which has a Turkish touch to it. Bright and contrasting colors are used.
Present Day Scenario and Innovations
Presently, Pheran as an outfit has been the symbol of couture in Kashmir. The elaborate Zari work detailing is what describes it the best. The neck pattern may also show mirror work, which is symbolic of present-day changes. Colors like blue, green, maroon and white are quite popular with contrasts in cream, yellow and pink.
Over the years, several innovations have been done and cotton has been employed in making Indian suits, which feature Churidars along with fitted tunics or Pherans. The detailing is till the waist while the rest of the tunic features base colors. Printed outfits are not in vogue in the Kashmiri region, especially at weddings, and people prefer to use Kashmiri Shawls with designer handcrafted embroidery. It is said that no two Kashmiri shawls, especially Pashmina Shawls are the same. Paisley Motifs have also gained popularity. Saris have become widely popular among Hindus.
Global Wearability
The current innovation, featuring Indian suits with tight fitted tunics has become popular world over. With several Indian designers giving innovative additions to Pherans, the demand for same has grown from India to countries like Canada, Australia, and Northern Europe, where the feasibility and popularity of these outfits is more due to the cold weather conditions.
The comfort of these outfits, along with the ways in which they unify the diversity among Kashmir inhabitants is what makes these dresses so popular all over the world.
References
Categories: Wedding Types, Weddings & Festivals